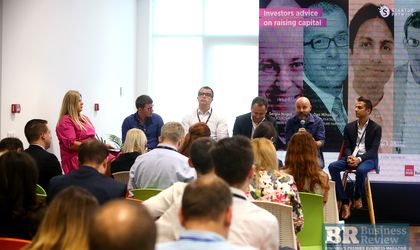 Startup PATH is an event dedicated to growth, to learning and to connecting the dots while having unique experiences. It brings together all actors of the startup scene, from universities, accelerators, to investors and thought leaders that would help entrepreneurs on their path to growth.
Here are the main statements from Day 1 on Investors' advice on raising capital.
Dan Mihaescu, partner, GapMinder:
"Until now there have been mostly regional funds and no the ecosystem is getting completed with funds that are more focused on Romania."
"In the last 12 months there are things that are changing. GapMinder is now a fund in excess of EUR 30 million. We think there would be at least two other funds that will launch in Romania. One like us and another one larger with regional focus," said Mihaescu.
"In the next 12-18 months I think we will also see two additional funds of EUR 2-5 million – starting with an investment from the EIF."
The ecosystem has been polarized by rounds of up to EUR 800,000 and other rounds of EUR 200,000. Mihaescu said that GapMinder is looking for fill the space up to EUR 1 million in funding.
Mihaescu says that there are some angel investors with their own portfolio of investments that allocate funds to funds in order to invest in other start-ups.
"In March we screened 150 companies, 110 were from Romania. We invited more than 20 to an event to pitch live to us. We wanted to know very well the team, the projects. Out of all these we selected 14 and closed with 11," said Mihaescu. He added that the average investment in each start-up tops EUR 100,000.
"We want to see companies that have flavor of deep tech, or that they have business models that can scale up globally. If you look at the success stories – most are B2B," said Mihaescu.
He said that the scope of the acceleration program is to help start-ups bring products on the market as fast as possible.
Marius Ghenea, investment director, 3TS Capital:
Hungary, Poland, Czech Republic and Bulgaria still have more funds available. It's about having the right investment funds for the right development stage of a company.
"We're are looking more at growth capital, sometimes early stage but companies need to have some traction in terms of customers, proving the business model. This is what we are investing in," said Ghenea.
There's going to be a new fund for Romania, of around EUR 40 million, said the director.
"We are looking for companies looking to go global and companies that aim to become local market leaders," said Ghenea.
"Team is critical and should be presented well. With product, how to present it in very few words – if you can't summarize it in 3-4 words you have a problem," said Ghenea.
Sergiu Negut, angel investor:
"Right now there are six companies in my portfolio," said Negut.
"People get to me on social media and on events for pitches". "Sometimes, I approach them."
"Angels as specialists, people that made an exit, developed some skills, you would take on your board of advisers, they will continue to exist," he said.
Romania has some 100,000 people that live out of writing code. Think how many people for tech products in the market you know – very few.
"I'm looking for scalability and market understanding," said Negut, adding that the competences of the team are crucial.
"I need an exit route from the business," said Negut, asked about the way he looks at start-ups.
The guys from Bittnet wanted me in their company – I wanted to invest in them for a different valuation. Another guy invested and got 20 times his money back.
"There is an emerging opportunity in the market with corporate VCs. They are looking of relations with entrepreneurs as a source of innovation," he said.
Gabriel Dombri, marketing associate, Spherik Accelerator:
"Before you need money, you need a product and an opportunity in the market," said Dombri.
"We have talent at coding, but those opportunities do not translate in capabilities to delivering companies," he said. "We have funds, angel investors, corporate partners connecting these areas of innovation."
"We are trying to have an ongoing acceleration program."
Anubhav Jain – Co-Founder GoDoctor
It makes sense to make research a lot on to whom you will pitch.
With GoDoctor, we were traditionally an Indian company, we raised USD 250,000 from a technology company and built a small prototype. In Dubai, I met a person and secured a 7-digit investment.
If you want to join an accelerator, you should also look externally.