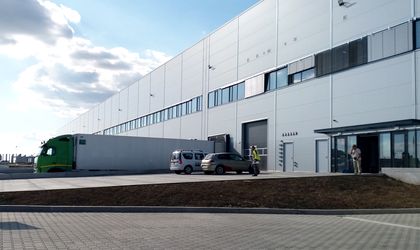 Industrial parks developer CTP will record investments of over EUR 150 million by the first quarter of 2018 at CTPark Bucharest West, which is set to become the largest logistics park in Eastern Europe.
The company currently has 100,000 sqm under development at its industrial park near Bucharest and the overall built surface could reach more than 700,000 sqm by 2020.
CTP said it is also looking to "heavily investment in improving the infrastructure surrounding the park", located at 23 km West of Bucharest, also enhancing the access routes to the park.
Future investments will also include catering services, restaurants within the park, buses that will provide direct transportation between the park and the city, as well as hotel-type buildings to accommodate the employees of tenant companies.
"We currently have 30 tenants in CTPark Bucharest West, a number we wish to increase. We are committed to providing premium services and helping our customers grow their business. I strongly believe that a long-term owner, such as CTP, who is constantly expanding its logistics spaces, who does not compromise on quality of the buildings and who manages its properties with the utmost responsibility, will attract valuable customers and will build long lasting business relationships with them", said Ana Dumitrache, country head of CTP Romania.
The developer currently owns approximately 500,000 sqm of leasable area, distributed in two logistics and industrial parks, both with direct access from the A1 motorway: CTPark Bucharest (located at km 13) and CTPark Bucharest West (km 23). Across Romania, the company manages 650,000 sqm of leasable area, located near Bucharest and other nine strategic cities in the country.
CTP aims to reach a total leasable area of approximately 1 million sqm in Romania by the end of 2018.