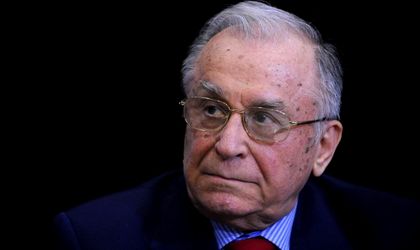 Romania's Prosecutor's Office decided to expand the prosecution against the former president Ion Iliescu, who is accused of crimes against humanity in the case regarding Romania's Revolution from December 1989.
Prosecutors investigate Iliescu for the period spanning from 27 to 31 December 1989, when he was member and president of the Council of the Front to Save Romania (CFSN). This body acted as a transitional government immediately after dictators Nicolae and Elena Ceausescu were removed from power. Iliescu is also investigated for alleged illegal acts committed between 22 – 27 December 1989.
Iliescu is accused of accepting and making official military measures, "some of which had an obvious diversionist character." Prosecutors said that Iliescu had the power to stop these measures, but he failed to do it.
The diversionist military orders coupled with rumors of terrorist presence in Romania during the days of the revolution resulting in friendly fire incidents and the killing of innocent civilians.
Other former officials accused of crimes against humanity were lieutenant general (retired) Rus Iosif, who was commander of the Military Aviation and member of the Superior Military Council and retired admiral Dumitrescu Emil, who was captain at the end of 1989.
Last week, president Klaus Iohannis approved the start of the prosecution against Iliescu and former PM Petre Roman.