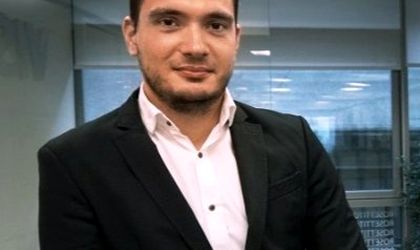 It's a fact that culture is still underfinanced in Romania, although official data shows that the Ministry of Culture's budget has increased by 51 percent since 2016, meaning RON 766 million. It's also a fact that each year, more and more companies decide to sponsor the cultural sector. Why? It's festivals' time in Romania so we asked some of the brands with whom we are meeting at these festivals what drives them to invest in this particular sector. Today's interview is with Madalin Nitis, VISA marketing manager for Romania, Croatia, Slovenia.
You are one of the few companies that invest yearly in some of our best known cultural projects with a great tradition in Romania. How does the budget differ from last year? What cultural partnership do you have this year?
Visa is the official payment partner for some of the most desired festivals of the summer in Romania: UNTOLD, SUMMER WELL and NEVERSEA. Our aim is to build long term successful partnerships and our investment in cultural sponsorships has been increasing over the past years in line with our business objectives. The best proof is the growing number of festivals that we are sponsoring and our strong commitment as partners. This is the 2nd year for our partnership at UNTOLD, the 3rd for Summer Well and the 1st for NEVERSEA as it is just being launched this summer.
Cultural sponsorship is very well integrated with our business strategy as we get the chance to reach our audiences and create positive brand associations with the festivals.
As part of our engagement, we are also promoting the festivals through a mix of marketing and communication activities. For instance, Visa has been running over the last couple of months a promotional campaign rewarding Romanians who paid with Visa contactless cards with 100 double ticket packages to a couple of the most awaited festivals this summer: UNTOLD and NEVERSEA. Thus, the partnership is beneficial for all parties involved, as it drives awareness for the Visa brand and the festivals at the same time. For NEVERSEA, which is at its 1st edition, all the communication effort is particularly important to promote the festival and position the brand.
Read also: Analysis: How is the private sector boosting Romania's cultural scene
From your brand point of view, how does an ideal partnership with a cultural project look like?
Each partnership begins as a blank sheet of paper and you write your own story, with infinite opportunities for innovation in connecting audiences to the things they love. Yet success is far from guaranteed, as there is no recipe. It depends on the ability to come up with smart, value-enhancing solutions to create a link between brands, technology and arts.
A cultural partnership is an opportunity for us to get closer to our target audiences, such as the millennials in the case of festivals, and create meaningful interactions, through visual aspects and experiences. It offers the appropriate platform to convey the brand values in a user-friendly way and shape the consumers' habit of paying. If someone enjoys a convenient and secure contactless payment at the festival, they will probably be more likely to use it again another time.
When we speak of challenges, what do you see as the greatest obstacle to the successful development of cooperation between culture and arts on one side and successful companies on the other?
Successful collaborations are based on both sides' intentions and efforts to make it a mutually beneficial engagement. One of the main challenges consists in building long term successful partnerships. We are an active partner and we are trying to create a memorable brand experience related to payments and innovative technology, in a natural way for the people attending the festivals. We get an opportunity to interact with young people and to connect with Visa cardholders in a cool way, to create positive brand associations in a subtle manner.
Read also: Top festivals in Romania to check out in July
From your side, is cultural sponsorship gaining ground in Romania? Should there be some tax incentives for companies to finance the development of the arts?
Sponsorship investments have almost doubled worldwide over the past decade and arts sponsorship in particular has experienced a growth in recent years, according to IEG, an industry leader in sponsorship research. We believe that sponsorship is gaining popularity also in Romania, as a means for brands to tap into specific target audiences. It has become increasingly important both as a marketing tool for companies and as a source of funding for culture and arts. Any support coming from local authorities is beneficial for cultural sponsorship and could help boost investments in this area.
Read also: Top festivals in Romania to check out in August