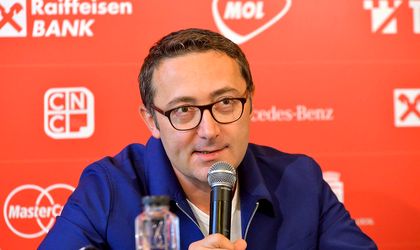 It's Transylvania International Film Festival (TIFF) time again, and Business Review got a sneak peek with Tudor Giurgiu, president of what is one of Romania's biggest arts festivals.
What should we expect from TIFF 2017?
It will bring many surprises, including the promotional campaign and special guests. I must keep the main special guest under my hat for a bit longer. However, it will be worth the wait.
In terms of the program, TIFF audiences should prepare for more than 400 screenings in the ten-day festival. We have special screenings of films that debuted at Cannes, Venice, Berlin, Locarno, Karlovy Vary and Toronto, courageous movies from newcomers in the competition sections, Romanian premieres, a meeting with Radu Mihaileanu and foreign actors from The History of Love (partially filmed in Cluj), a focus on Austria and Slovenia, a collection of new romantic comedies as part of a thematic section, a Jean-Pierre Melville retrospective, and HR Giger's Portrait, the fabulous artist who designed the alien from Alien.
Of course, we'll also have concerts as well as cine-concerts: we will bring Public Service Broadcasting, the new alternative sensation from the UK; British folk artist Charlie Cunningham; Jozef van Wisse, a frequent collaborator of Jim Jarmusch, who will sing songs from the soundtrack of Only Lovers Left Alive, for which he was awarded at Cannes; and Christine Ott, who will unofficially open the festival the day before, on June 1, with Lotte, mon amour, a live music show combined with animation by Lotte Reiniger, for children and parents.
What can you tell us about the venues and other side events?
We'll be back at Banffy Castle in Bonţida with Weekend at the Castle and with a spectacular cine-concert, Metropolis, and at Vlaha, in the park with hay sculptures, where we had a record of over 900 people for one screening in 2016. A hill full of people watching a movie screen is definitely a sight to see.
We will open a new space in the former fashion house in Cluj, the TIFF Experience Zone, with film screenings in virtual reality; a Doom Room, a VR facility which leads you through some very strange and interesting experiences; workshops; projections of home videos from the YouTube era and more. We are very interested in new technologies and how they will influence cinema as we know it today. We also hope to attract the IT community from Cluj among the moviegoers.
A concept that worked very well last year and that will be expanded in 2017 is Culinary Cinema – themed movies with a gourmet dinner prepared by a famous chef.
Educationally, we will continue with EducaTIFF and Let's Go Digital! – the film studio for teenagers which is now on its 15th run. This will be the most substantial run and we have invited more than 400 producers, distributors, selectors, experts as well as Romanian and foreign filmmakers. TIFF was chosen by Eurimages, the Council of Europe fund for co-productions, among the ten festivals to receive the Eurimages Co-production Development Award, worth EUR 20,000. Therefore, we are expanding Transylvania Pitch Stop and organizing an international platform for film co-productions for projects from Romania, Moldova, Hungary, Bulgaria, Serbia, Ukraine, Russia, Greece, Turkey and Georgia. Also, we have a Transylvania Talent Lab, for those involved in the management of cinemas; The Pitch, for filmmakers with short-length projects from Transylvania; and we're hosting LIM – Less is More, a European platform to develop films with a limited budget, and First Films First, an intensive training program for junior filmmakers from South-East Europe.
What are the main challenges this year?
I think there are two major challenges that we face every year: guaranteeing all the necessary funding and surprising our audience. With every year, with every new element that we insert into the festival structure, with each big guest that we bring, we raise the public's expectations. Every year, we have this big gathering and we know we cannot let down our public – this is not an option. As such, the pressure increases gradually and the team must become increasingly skillful and adept at juggling all these expectations and emotions. But, as the pressure increases, so do the rewards.
You've been president of the festival since the beginning. How do you keep its approach fresh?
I'm trying to age graciously, listen to those much younger than me and pretend I'm just 16 years old, as old as TIFF! Mihai Chirilov (e.n. the artistic director), myself, all our colleagues on the festival board, we all feed ourselves with TIFF's energy and adrenaline, so we want to provoke the audience and challenge ourselves to be fresh and different every year.
How does the funding compare with last year? Are all stakeholders back on board? How about support from local authorities?
The main supporters have remained roughly the same as last year; these are well cemented relationships. Without their support, TIFF wouldn't be possible. We don't have the same sponsors as last year because new ones joined our team with whom we hope to maintain long-term collaborations. Instead, we have the same key institutional partners: the Ministry of Culture, the National Film Center, the Creative Europe Program – European Union's MEDIA, the City Hall and City Council of Cluj, and the Romanian Cultural Institute. Their support is vital every year.
Where would you position TIFF 2017 on the international film festival scene?
TIFF has grown enough in recent years that it can be compared with the biggest film festivals in the region. Major festivals such as Karlovy Vary and Thessaloniki look jealously at Cluj. Moreover, since 2011 we have had FIAPF (International Federation of Film Producers) accreditation, which places us among the 40 largest film festivals in the world. It's a standard that we not only want to maintain, but to improve on every year, to bring something new and be connected to what happens in other places and even take steps before others. TIFF is already positioned on a highly selective festival map and marked as "not to be missed".
Cluj itself and Transylvania have excellent potential for filmmakers and one of my oldest dreams is to make the region a second center of Romanian cinema, after Bucharest. We took the first step with the Transylvania Film Fund project, the first regional fund in Romania.