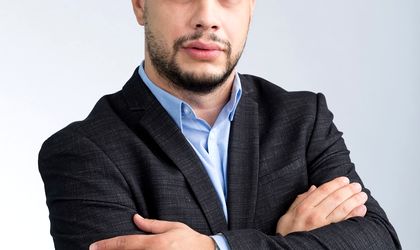 Business Review talked with the general manager of Daescu Bortun Olteanu, Tudor Daescu, about 2017's successes, trends in the industry, creativity and what 2018 has in store for the Romanian PR market. The PR agency is part of Millenium People – Communication Bussiness Group and is currently working for companies such as  P&G, adidas, Logitech, Philips, AOC, King, Amber, Cosmopolis and British American Tobacco.
By Romanita Oprea
How was 2017 for the agency in terms of turnover /revenues?
We had EUR 800,000 in terms of revenues.
What were the departments that were most successful? What about the least successful ones?
Financially speaking, the least successful department was the one that promotes creative businesses or any events regarding the industry. We have assumed this fact by taking in consideration that we took in lots of pro bono projects, besides the ones related to The Institute, part of or our communication group that is in charge with Romanian Design Week, Diploma or Internetics. From a pragmatic thinking point of view, we consider it as a marketing investment for the agency.
The best financial performance was achieved by Corporate PR and Tech & Gaming PR departments, the last one mentioned being also able to build our own project, Bucharest Gaming Week.
What about the pitches entered?
We carefully selected the pitches that we went for and last year we had our main focus on tech and gaming clients.
How would you characterize the local PR industry in 2018 in terms of budgets, campaigns, creativity, etc?
There are still existing briefs that sound rather fancy, if I may say so, where one hopes to make a difference by proposing a smart strategy. In fact, the winning solutions are the tactical ones, which come from a safe zone and can be applied on short-term. Increased budgets, as we anticipated since 2016, are allocated to reputation-building in order to help organizations in recruitment and employee retention.
What were the campaigns done by the other agencies in Romania that you admired and why?
Without discussion, my favourite is The Practice campaign for Enel, the one that had the objective to realize the census for storks. During spring every one that goes on a road trip raises his or her eyes looking for a stork nest on an electrical pillar. I believe that this is a beautiful idea that humanizes a player from power industry.
What were the most important changes & novelties in the agency in 2017 and how did they come to happen?
We have created Bucharest Gaming Week concept and brought it to life. Everything started with a need and an internal brief followed.
From this perspective, the Romanian game development industry is one of the most successful among creative industries from our country, with a fiscal value worth of USD 150 million per year and it has the potential to bring even more money here in Romania. More than that it offers the opportunity to keep brilliant minds from moving into other countries, the ones that we are afraid we are going to lose. From another perspective there are so few people which take this industry into account, thinking that it is all about some teenagers playing games.
Bucharest Gaming Week was our way to show that millions of people worldwide play a variety of games produced by studios like Disney, Electronic Arts, Gameloft, Ubisoft or King, here in Romania, by Romanians. Another objective of this project was to remind us all that we have many independent gaming studios in Romania who have been praised for their results everywhere in the world and that we talk about an industry which should be supported by the authorities, at least in the process of preparing and growth of the most important resource – the human one – if we take into account only the education factor.
The first Bucharest Gaming Week edition has gathered over 10,000 participants, many journalists and people from media. This is a big step to change the perception people have regarding this industry.
What trends did you notice on the local market last year and how do you intend to follow them /represent them at your agency? What do you foresee for 2018 from this point of view?
What we find rather encouraging is that it is a growing appetite for local companies that used to have no communication focus to look for strategies and solutions that would help them consolidate their brand and reputation and even reposition it to fit new business. It is, for us, a good sign that Romanian enterprises are more mature and understand the growing importance of communication to profit. We also experience a repositioning of the relationship between clients and communication agencies: from a 'client-provider for quick-fixes' paradigm into a long-term partnership based on common values and vision.
That is why we believe that the PR industry will divide into two different categories, the ones that truly provide consultancy and strategy and the ones that only implement various communication tactics. Our objective as an agency is to offer consultancy and starting from there, we will follow the client's profile or employees profile that best suits this objective.
Where is the local industry still lacking and what can it be changed? 
The PR industry has a couple of issues. Looking back in time, PR was perceived as the poor sister of advertising and now it became the more expensive alternative of PR freelancing.
This is happening because the agencies throw themselves excessively into executions, allowing this kind of comparisons based on short term results vs costs.
The added value that an agency should provide to the client are strategies that position the client in the long run, strategies based on an accurate and solid research endorsed by the know how gathered over the years. However, patience is lacking on both sides.
Another issue is the combination between lack of training, experience and attitude regarding work process, alongside with the lack of enthusiasm and different life values of those that get hired right after graduating university. This isn't only the PR industry's problem. We can easily see this happening in many other industries.