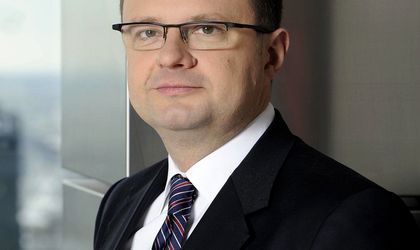 Tomasz Dabrowski, chief executive officer of Dentons Europe tells Business Review about the company's worldwide strategy and the main strategic directions that will follow in the years to come.
By Anda Sebesi
Dentons has gone through a period of very fast growth, having combined with numerous law firms around the world over the last three years.  What is the strategy behind this growth?
Since forming Dentons just four years ago, we have become the world's largest and fastest-growing law firm.  We have expanded our global footprint in the US, China, Latin America and Africa and in Europe we have opened offices in Milan, Rome, Luxembourg, Munich, Amsterdam, Georgia and soon in Scotland. In continental Europe, we have almost doubled our number of partners since 2015. This growth has been driven by our clients, who want a law firm that can work with them in all the markets where they do business. We now have 8,500 lawyers around the world, and while no client will ever need that many, what they do need is the one lawyer with the exact capabilities they need in the market they are operating in.
One notable feature of Dentons is your large presence in China.  Are you seeing interest from Chinese investors into CEE/SEE?
Interest from China is definitely picking up.  Over the last couple of years, a number of our Chinese clients have been actively seeking to invest in Europe and in CEE especially. We are seeing interest in sectors such as energy, utilities, infrastructure and real estate. With our large presence in China, and our Chinese-speaking lawyers based in CEE, we are the 'go-to' firm for such investments. A great example was our work on CEFC's acquisition of a majority stake in KMG International. This was one of the biggest transactions in the SEE region last year, and our team here in Bucharest worked closely with colleagues in China, Hungary, Kazakhstan and the UK.
What's next in your strategy?  What should we expect from Dentons in the next two years?
Building a truly global platform is extremely important, but is not enough. We will challenge the status quo in the legal service market to bring new ideas and new value to our clients, our people and to the communities in which we live and work. Last but not least, we will transform and re-invent the way we work by engaging in innovation, both within Dentons and under our NextLaw brand.
How does Romania fit into your strategy for Europe?
Under our polycentric model, we have no headquarters and no flag. Our strategy for CEE is simple – to be the first or second law firm in each key market in the region. We have been operating successfully here for 20 years, so our Bucharest team knows the law, the business environment and what it takes to do successful deals in this country. We will continue to build our market position in Romania and more widely in CEE. We also see an opportunity to further strengthen our presence and capabilities in Bucharest over the next few years.
Dentons is celebrating its 20th anniversary in Romania. What major changes have you seen in the market, and in particular the legal market, during this time?
Our legacy firm Salans was one of the first international firms to open an office in Bucharest in 1997.  At that time, Romania was truly an emerging market, and the legal profession was in the early stages as well.  The market has changed a lot since then, with Romania's accession into the EU, times of fast economic growth and development and of course the financial crisis.
Certainly, clients in Romania – like elsewhere around the world – have changing expectations of their lawyers.  Knowing the law is not enough, they want their lawyers to truly understand their business and strategy.  Lawyers like Anda Todor, our Romania managing partner, are pioneers – they've seen it all and they've been involved in some of the most representative transactions on the local market.  Anda was the first Romanian lawyer named partner in an international law firm.  Our team contributed to reforms of the legal sector in Romania and helped to shape the business environment through their work with organizations like Amcham and through our charitable and pro bono work.
Tomasz Dabrowski
Chief Executive Officer of Dentons Europe
He previously co-chaired the Dentons Europe Corporate Group (and was co-chair of the legacy Salans Global Corporate Practice Group) and managed the Central and Eastern Europe region. He has more than 23 years' experience in representing international companies, private equity funds, banks and other institutional clients in acquisitions, equity investments, corporate restructurings, privatizations, real estate, greenfield projects, structured finance and large asset finance transactions.