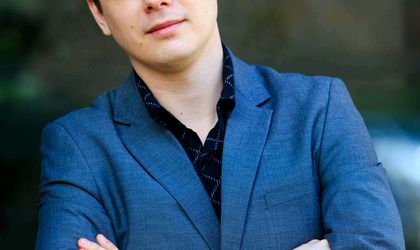 The 2015 winner in almost all major advertising competitions, POSSIBLE CEE is a force to be reckoned with in the mobile advertising world. BR met with Tibor Gulyas, innovative technology lead, and talked about the challenges of this medium, but also its great potential.
In Romania most of the people download exclusively free apps. How can they be convinced to download a paid one or, at least, make in-app purchases?
The target audiences are very different between them and also from a monetizing point of view. For example, for a younger audience, you can have purchases, because they don't have a natural resistance to them, they don't bother them. However, they don't want to pay real money for an application, because, most of the times they don't even have money yet.
Also, in terms of geography and location, the USA consumer has usually more money than a Romanian or a Hungarian one. In case of paid applications, you really have to get the initial attraction, to build up the trust that is needed to actually convince the target to pay beforehand, before they even actually try out the application. For example, at "Adventures of Poco Eco" (a paid application,) I believe we got a little lucky because we had a major banner featured on the AppStore in a place where you cannot enter easily. You need to have a reputation to get there and when people see you in that place they already know you deserve their trust and you have a good application , making them more willing to pay for the app.
But if you don't have the initial attraction, it's a harder road for you ahead, as an app producer. The only feature that can help you is an AppStore optimization. You need to have really, really good screenshots, with good descriptions (short statements about the game,) a very good preview video that shows your game in action and its main features.
I think the fact that a Romanian, a Hungarian or basically almost any other European, will never spend as much as a USA citizen.  But even with in-app purchases, the same patterns are true.
Where do you believe the limit should be placed between how much you can go on playing for free and when you really must pay inside the game, in order to be able to pass to another level?
There is a really basic system that we are trying to employ every time: the user should be able to access all the content in the game only to play in the game, without spending any cent. This rule is essential for every major title, but, what they do and we actually try to avoid, is that they press the players with the option to spend money and therefore their quality of life increases or even they get a competitive edge in the game. This method is called "paid-to-win" and it's something we try hard to avoid.
But, I believe that it's a really fine line and different in any genre. In competitive genres it has to be about balance, because if you go over the top, only the users spending a lot of money will top the charts and that may be demotivating for someone who is also spending a dime, but not as much as the "whale," as we call them. And this increases the bounce rate as well and, of course, it's a much less sustainable way to monetize.
We kept on hearing at the end of each year that the next one will be the year of mobile. But, until now, it hasn't happened. When do you believe that the year of mobile will actually come? Will it really happen? (in terms of the clients' investments in the area, revenues, etc.)
I think that we already have years of mobile behind us and we have more ahead of us, just not in terms of client spending yet. The trend is there: you can see the mobile spending, the charts, and the revenues that are going up exponentially, even if they are raw. If you compare them with the revenues of games on PC or puzzle games, they are growing constantly.
Clients are not really expanding that way yet, but I think they are waiting for a generation change in the executive level in the companies. That is my opinion.
As a behavioral change, I believe that it's clear to everybody that mobile is going to be really unavoidable in the next future, because this is the way the customer behavior is working. Just think about how much you use your smartphone, how much you can do with one these days and how the time you spend using it expands into the leisure or social activities. And with it, the demand for paid services will come as well.
Right now there is still a big gap between the accessibility and the penetration of the smartphones on the market versus how many clients invest part of their budget on this medium and how far they go with the imagination and creativity.
I think that we, as an agency, as a company, shouldn't wait for the clients to come up with these ideas. We need to pitch them, to be proactive with our approach. It should be the agency who comes up with the idea and then convinces the client that it works.  And this strategy always works. We've never had a client who invested in a mobile game and then left it because it didn't work. We've never had a client like this, we never had a project that failed because we are always looking for ways to improve and work on our existing client titles (whether it's a game or augmented reality or anything else.) The clients see that projects and ideas work and they invest even more in it and support its growth and development. Once they start, it's very easy to convince them to invest more, due to the fact that we always give results. They see that this is really cost effective.
Do you have clients that invested in more than one of your games?
I'd say it's somewhere in between. Basically, in any project, we have culturalized and localized versions of the same game, for different countries. The cultural differences demand a little bit of a different approach in each case. The most important thing is the continuous improvement and eventual transforming the games into platforms, like in the case of the Tesco game.
We also understand that the clients have ownership of limited budgets that they can spend into a given region or country and, compared to the Northern American or the Western European countries, in our situation (in Hungary), given the citizens' smaller purchase power and the smaller number of the inhabitants of the country, we pretty much see that that they have to make a difference in terms of budgets. It's not that they don't want to invest as much as in the other places mentioned, but they are also limited by the possibilities and the reach that our country can offer them.
Sometimes they have a regional or a global center where an application or a mobile solution has been developed and that is not entirely fitting the cultural environment and adapting it to a certain region may be the key, but at the same time it may not work, due to various factors. Therefore, we can also understand the clients' headaches and we try to apply the approach of "small steps" and try to find a minimum viable product or solution for the mobile that can have an effect. With most of those clients, once they see the return on investment, you can then justify your agency and your region to the global management and plan the next year with a more significant budget that matters.
Any kind of agency should be shooting for long-term relationship with the client. A success story is not created overnight. It should be an interactive story, a longer process and road that we can walk hand in hand with the client.  Therefore, the agency can even think about investing themselves at the beginning in a test project, consider it a prototype, develop it to a certain point, making it different and interesting.  At this point, the agency's business can help its management to later on consider selling it to a regional or global level.
About Tibor Gulyas
Tibor is a young, 24 year old professional that, along with his team, has in his portfolio a Cannes Lion and several awards at prestigious international festivals such as Clio Awards, Epica, Golden Drum, Golden Hammer, Golden Blade, etc for the mobile and tablet game "Adventures of Poco Eco: The Lost Sounds".