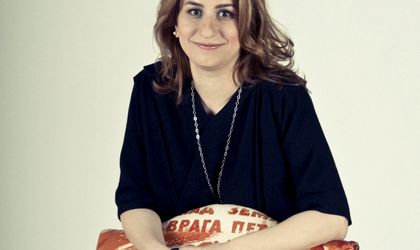 In a very diverse and dynamic market, such the PR Romanian industry, keeping up with the trends is no longer enough. Innovation is the only key to success and happy clients. BR met with Sorina Mihai, managing partner at Porter Novelli Romania, and to find out more about the agency's new approach to the market, alongside the new tools and vision deployed by the firm.
How is the agency different today from its beginnings?
Porter Novelli Romania is an experienced agency which now enters another phase. We've always been attentive to trends and the overall dynamics of the market, and innovation was that certain something which inspired our endeavors.
Now we're trying to be again one step ahead with regards to strategic & creative thinking, digital and social media communication. Thus our current repositioning and vision of PR communication mean a natural evolution for the agency. Today, Porter Novelli Romania is a #storydesigncompany. To us, the visual representation is a natural extension to written communication. Thus, story design is that visual component which adds-up to the linear brand storytelling.
Our business model is different from a classic PR agency. Our aim is to revolutionize the PR communication, as well as to offer a unique, superior offer to our partners and prospects.
What has changed dramatically and what didn't?
The vision, the structure, the team capabilities, the approach. The current structure includes, besides the classic core of a PR agency, in-house departments of strategy and creative. The team is now an interdisciplinary mix of brand & corporate communication specialists, strategists, creative people and trend forecasters. The briefs are tackled in an integrated manner, a definite upgrade from classic PR. What we created is a unique product on the local communication market that allows us to be strategic, creative, efficient and relevant in solving brand challenges.
What were your hopes while beginning this road and how did they change / remained the same/ surprised you?
 We've been testing this formula for almost 2 years. Tangible results and clients' trust were important during this testing phase. Together as a team, we still experiment, learn, adjust, in search for innovation as well as authenticity. There is no "comfort zone" when evolution is always on your mind.
What are the new tools you are bringing to the market and how did the idea of creating them come up? Please describe each one of them the best possible.
INTO is a platform that maps emergent trends on the cultural, scientific and educational scenes and the communities generated by these trends. The key objective of the platform is to connect subcultures and creative communities to innovative brands. INTO was awarded a Certificate of Excellence in Thought Leadership in PR category, @In2 SABRE AWARDS EMEA 2016.
HypeHeads is a platform with influencers relevant for extended audiences, who have the potential to activate brand's communication. The selection includes influencers from: culture, business, media and lifestyle.
Both are created by our Innovation unit and inspired by our desire to anticipate trends and newcomers able to (re)shape brand stories.
Who was the project manager?
 The Innovation unit was led by Strategy & Creative Directors and supported by our colleagues, specialized in trend forecasting and influencer communication
What will this repositioning bring different for you?
An extraordinary opportunity to design compelling storytelling for the brands in a manner adapted to current audiences and their behaviors.
How do you intend to monetize them?
The content of both platforms is confidential and accessible only to Porter Novelli partners. Our intention is to approach each client requirement in a personalized manner.
Whom is their main target and why? Do you think other PR agencies will be interested in it and are you going to be open to collaborate with them or not?
Brands, which are already in our portfolio or future ones. The important thing is that we want to connect communities and influencers with brands in a relevant manner and with a surprising/new result. This should offer brands strong differentiation points and new subjects to tackle in their communication agenda.
How do you see the current PR industry in Romania?
The local industry has begun a reshaping and redefining process. Some agencies restructure, others opt for niched services. We haven't reached a stable maturity yet.
What are your hopes for this industry in the years to come?
More accountability for the solutions we offer to clients. The courage to think differently and challenge the status quo. We need to be again the source of inspiration for our clients. We really need to change the conversation from classic to new PR and its role in today's brand storytelling.
What about your hopes for the agency?
Evolving and keeping up the good spirit.