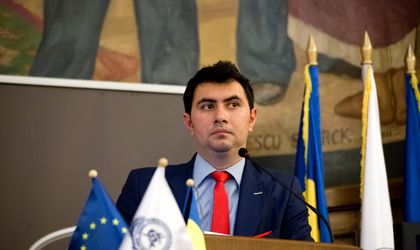 In five years, Adrian Socaciu, president of the Student Sport Association, has got over 10,000 students to take part in university competitions in such sports as football, tennis, table tennis, chess, 3×3 basketball, running and handball. Is there a recipe to get more young people into sport? He shared his views with Business Review. 
Oana Vasiliu
Over 10,000 university students are currently participating in sport and taking part in competitions. What is your view on this?
The undergraduate system organizes sports activities for the short term, with the only long-term competition being the National School Sports Olympics with its local, county / municipal, regional and national phases. However, the number of participants nationwide is low compared to the number of students (editor's note: over 3.2 million students in the undergraduate system), which shows that one hour per week is not enough for developing and implementing sports education.
Which sports are most popular?
According to recent public statements, most students play team sports like football, basketball and handball, but the total number in comparison with the overall population (270,000) is worryingly low. However, our figure relates to documented athletes. We also have to take into consideration other mass sports activities, such as marathons and cross-country, which have a large number of participants.
How do you see sports education in Romania?
Without a clear strategy that includes investments in current infrastructure and future improvements such as renovations, repairs, development, human resource training, medium- and long-term goals, and attracting financial resources from private companies, giving them the opportunity to invest, the system can't function. Currently, this is a major problem in organizing the sports activities that could promote sports education.
From my point of view, Romanian sports needs a plan for the next 20 years at all levels from pre-school to university. We must implement in society the reality of sports education, from the idea of ​​investing in your health to self-improvement, helping people to be disciplined, competitive and make good professional choices. At present, successes in Romanian sports are the results of hard-working individual (athletes, coaches, parents) who put in passion and dedication, not a system implementing good sports education and motivating children, young people and adults in a logical and coherent way.
Training young people through sports and non-formal education, teaching them the values ​​of sport, and later having 10-15 percent of them going on to compete so they can represent the country in international competitions in few years' time – this is an issue to be taken seriously because our investment in youth is an investment in our future as a society.
Who supports university students' mass sports initiatives? Is it difficult to find partners to organize events?
It is not always easy to organize sports activities, but following a serious management plan carried out with passion, we can achieve it, a step towards improving performance. Our activities are conducted with the support of Tiriac Auto, Coca Cola, Cris-Tim, Fan Courier, Banca Transilvania, the National Anti-Doping Agency, Hyundai, Trinity and Ostrov Domains. The private sector is involved in supporting sports activities, but both we and our private partners need predictability and a vision for this area. At the time being, Romania has no vision or strategy for university sports.
What should the Ministry of Youth and Sports (MTS) do to counter physical inactivity, especially among young people?
It should increase the number of hours of sport in school curricula, establish a competitive system of university sports in partnership with other ministries and run communication campaigns to promote the benefits of mass sports to the young.
If the MTS wasn't in charge of sports facilities, do you think that the local authorities would be able to improve and maintain them?
In terms of infrastructure, meaning sports facilities, the situation is pretty poor and the MTS is not able to invest in more than small repairs, because of its budget, which does not allow it to "fix" anything now or over the next four years. If there were decentralization, I am confident that local authorities could improve these sports by funding them, through their own income or with European funds. We must think positively and accept the fact that a ministry cannot manage a large number of sports facilities, especially when we are also talking about the human resources for their maintenance. Most importantly, these sports facilities should maintain their purpose under current physical education and sports laws, especially so young people can have a place to spend their free time in an enjoyable and healthy way.