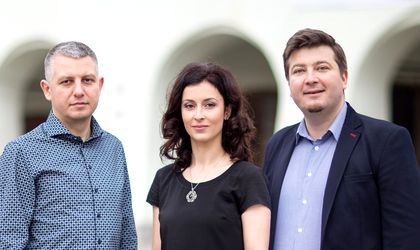 The three founders of Smart Bill, Ioana Hasan, Radu Hasan and Mircea Capatina, hail the success of their company, whose turnover expanded close to four fold since 2014 to EUR 1.5 million last year. They were also able to attract EUR 1 million worth of private equity funding in 2016.
How did you come up with the idea of founding Smartbill?
Our most important moment was the beginning of 2007, when we saw a new opportunity in the market: companies were allowed to issue invoices on the computer as well, not only on pre-printed paper as it was until then. So, Smart Bill was born after months of very hard work from morning till midnight. There were many competitors who saw this opportunity and a lot of them launched before us, but Smart Bill had some important competitive advantages, that made it rise above the crowd in a short period of time, becoming market leader as early as 2008.
What is the business's potential?
Smart Bill is concentrating its efforts to become a business's operating system, at the center of its operations, providing crucial business information and automating many tasks. Actually, Smart Bill is all about the customer, a product made by entrepreneurs for entrepreneurs.
What impact does Smartbill have on the industry in which it operates?
Our goal was to create a solution that is accessible, user friendly and easy to use for everybody, no matter their field, industry etc.
In terms of usability, Smart Bill is continuously working to keep its position in line with the biggest players in the world, those worth billions of dollars. Unfortunately, in accounting, the software must be very localized, making it impossible to build a product that fits different international markets because of the specific regulations in those markets. Of course, this is an advantage for us in terms of competition.