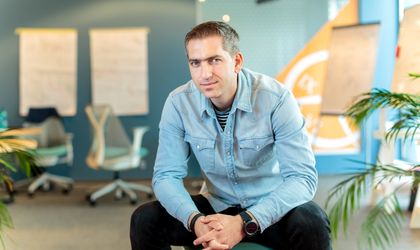 This year, MindMagnet, one of the biggest Romanian agencies offering software solutions dedicated to companies, became part of the group Pitech Plus, allowing it to grow and diversify its services even more. BR met with Sandu Babasan, CFO MindMagnet and CEO Blugento to talk about entering the online market in 2006 and how the Romanian e-commerce market looks like today compared to other European countries.
 By Romanita Oprea
Have did you get the idea of starting your own company?
I am from Satu Mare and studied at the University of Timisoara. In the first year as a student, I played around with the idea of bringing PCs to my hometown and selling them, as there was a need in the market. As I became more acquainted with the technology, I started to see that it represented the future and therefore decided to launch my own company.
It all came naturally: I saw that the market lacked in online image, I knew some specialists in the field and I felt and understood the business side very well. In 2006, I launched the company in Satu Mare, but because there weren't enough specialists, I moved to Cluj. I started with one partner and in only one year we had 25 employees. We hit success pretty fast due to the fact that human resources were low-priced at that time and we all had ambition and drive. At that time, online was something new that attracted a lot of ambitious people, ready to work hard.
The business grew stronger and, at the beginning of 2008, we even bought a part of our own supplier's business and grew even more. Today we are part of Pitech Plus, a big organization of 300 people. We, alongside the software company, represent just a part of it, a specialized division. We are specialized in Magento – an e-commerce platform and a world segment leader.
Since the launch, we've been mostly working for international companies, and in 2014 we received the license for organizing the big event called Magento. We are very close to the worldwide event's organizers which is something that allows us to have access to the latest trends and news in technology and e-commerce, just as they happen.
How did the services you provide evolve in time?
From the simple projects that took us 2 hours, today we have projects larger than EUR 4-500,000 and on which teams of 5-7 people work for 2-3 years. But, I don't think this is something special with us in this regard, I believe this has been the flow for all the organizations on the market.
Usually, an IT business has at least a partner that understands the technical side very well and, in order to have success, a partner that knows the business side very well. From selling simple things (although complex at that time, due to the fact that computers could deliver to a certain limit, today, having a more complex technology helps us a lot), today we sell very intricate things. For example, we had a project for the American State, software that was carried on the ships while going out to sea and, depending on the engine's number of revolutions, when they came back to port, they connected to a server and the taxes for the state were calculated. That meant that the amount of the taxes owed depended on the emissions released, not on the capacity of the ship.
The projects' complexity grew from year to year and so did the IT sector. We started from a point in which we had specialists when there were none  in other countries. In 2016, those specialists were working in this field mostly due to curiosity and ambition. They were self-taught. Today there are IT schools. As the complexity of the projects grew, so did our rates. The rates allowed us to have a bigger capacity, both in terms of employed personnel, as well as buying power and salaries.
Some say that there is still a lack of enough specialists on the Romanian IT market, the demand being very high. What do you believe?
There is always a need for great specialists, in every company. We have a large request from our clients and we could easily grow in numbers by 20-30 percent. But, in general we tried to avoid a forced growth. I like the organization to grow organically, even though, on demand, when we have a big project, we feel like we could have hired more people. We continue to lack in the employment area and I believe we would benefit from more specialists, but I don't see the situation as being as drastic as it is presented out there.
We already see students in the first year that are starting to develop their skills, people that finish academies and are good professionals, we see freelancers that want to enter an organization because they want a steady job (and here we have to make the distinction between remote work and freelancing). On the other hand, I would love to see a person's skills' development outside the academic centers. We are a technological company and we can hire remotely. Why can't Galati or Pitesti, for example, be a human resources' supplier for an organization that anyhow works with clients online and that, at the end of the day, connects all its employees through software? In my opinion, the daily stand-up is not that important anymore, when in the virtual environment we are together in the same little room and we tell each other our technical needs.
Have you ever tried employing people from these cities?
Yes, we did. Moreover, we also work remotely, something we've learnt from our clients, due to the fact that they were hiring us as a remote team, part of their bigger teams. I believe that the relaxation in HR is done exactly in this manner. On one hand because youngsters are embracing technology faster and sooner nowadays, even from the 11th and 12th grades knowing what type of technology they like and why, what fits them better and, on the other hand, because we must find a way to be able to open these markets that are not of proximity yet.
You were saying earlier that your company used to work in a very large percentage for foreign companies. When did you start working for Romanian clients and what determined this step?
We have super-specialized services, especially in niche technologies, the prices being pretty high. But the infusion of capital that came from European Funds which comprised in the financing packets the hardware and software part, offered the possibility for the organizations to budget high quality applications that also implied a higher price. Moreover, for those organizations, it was easier to find suppliers on the local market as they were in need of more than just specialists, but also of know-how and business support in explaining some of the procedures. We've been offering support to many companies starting in 2014, companies that now have reached maturity. For example, if a few years ago they didn't know that an application could optimize their business flow, now they do and can appreciate the advantages brought by our services. As a plus, in the cities where there is a good consultancy company, one can easily see the rise in requests and also the results.
How would you characterize the Romanian e-commerce market and where do you believe it should develop more?
The e-commerce market in Romania, compared to the European one is four times under-developed, even if we look at our Hungarian neighbors that, with a population of 9 million people, have an double the online business one of Romania, even with a population of 19 million. No need to think about the UK market where the online business reaches EUR 150 billion, while Romania is somewhere around the 1.4 billion margin.
Moreover, there are talks that on the Romanian market are around 10,000 online stores, while the data provided by Visa and Mastercard show around 4,000 online payment implementations. If the store is not taken care of live, it means it doesn't bring value to the business and, therefore, not taken into consideration. I believe that if we reach 20,000 active online stores in the next three years, it would be a normality.
Here, we have a product developed on the Magenta platform that functions on a monthly subscription business concept and we are Banca Transilvania's partners with this product. A product that will be exposed to the bank's IMM's portfolio (the 220,000 companies),we offer an application in which we deliver the online store to the clients that comes natively with Banca Transilvania's payment system. The objective is to free everything that means access to the online store because today entrepreneurs don't know how to ask for the functions they need and they also find it very hard to arrive at all the suppliers in the eco-system, in order to have a new product in the end.  Moreover, our company brings the carrier natively integrated with private banking, marketing solutions and good PR partners. We are trying not only to create an online store for them, but also to teach clients how to handle their own products, how to present them; we are trying to promote them and generate sales.
There are 3-4 well-known players in certain fields, but there are also fields in which we are wondering who is the leader as we have no answer. There are still a lot of domains in this situation.
How do you foresee your business in the next 2-3 years? What do you wish?
Starting 2012-2013, we began to look at the agency like it was a little factory; while it produces for its clients, it also creates some products for in-house use. We can already spot a trend in Cluj and Europe: the transition from services offered to companies to in-house products. We already have some products, one being in time management (very popular already, with around 50,000 users), a product that acts as a research online platform (ivox.ro – the 120,000 users we have in the panel are responding to different online research, in a very short amount of time) and we have Blugento – and here I believe that in 2-3 years' time, the products will generate at least a turnover equal to the turnover generated by the agency. And if we succeed, one of them can even surpass the agency.
How long does the development of a product take and what investments does it imply?
It is said that you can create 100 products and only the 101st will be a successful one. But we are pretty moderate. We think a lot prior to creating a product.
Do you have innovation dedicated teams?
Yes. We have teams that make proposals on those projects.
At a group level, we have very interesting projects: Unify –puts all your personal bills in a place, ParkingPlus – a parking system that can help one easily find a parking place without searching the whole city, Fast Order – an app found in restaurants that, by scanning a QR code, lets you place the order and pay directly in the app (very successful and with partnerships all around the world).
The investments are usually dependent on the teams that produce the products; we have a team cost and an opportunity cost. It may take from 1 to 3 years. I, personally, like the products that can quickly be tested and put on the market.