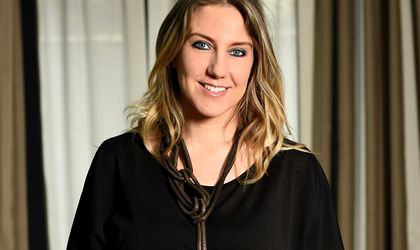 Roxana Memetea started her career in marketing and communication in 1998, and currently she is holding over 14 years of extensive top management expertise, during which she coordinated successful businesses with important turnovers and extended teams. Business Review talked with Memetea about last year's changes, pitches, the local advertising industry and this year's challenges.
By Romanita Oprea
How was 2017 for the agency in terms of turnover /revenues?
2017 was a dynamic year for DDB with many new business opportunities and great efforts put into delivering the best visions for them; and they worked: we managed to growth our clients' portfolio, sustaining a revenue growth of over 20 percent.
What were the departments that were most successful? What about the least successful ones?
In the past year the focus has been on the strategy department and the importance of a more cohesive, applied and logical planning. Today, our clients have more and more data on their consumers which needs to be filtered, interpreted and used more efficiently. If in previous years there was more "poetry", things have become more pragmatic and rational. Clients acknowledge and appreciate, more and more, the value of a creative idea based on a real insight that respects the unity and positioning of the brand, as well as the strategic approach to personalized messages in different media. This need comes right from the market fragmentation in the past years that led to a loss of strategic consistency and creative unity of the brands. We are witnessing the return to a 360-degree integrated agency, where the crucial role is played by the three key departments: client service – strategy – creative, and where new departments such as: strategic and creative amplification in social media and technology play an important role as well.
From our standpoint, all departments have contributed to the success of the agency because they all understood the need for continuous change, development of new skills in the new market context, collaboration to deliver a complete product, as well as the creative adaptation to technological development. I believe this was our competitive advantage in 2017.
What about the pitches you attended?
As I've previously mentioned, it was a dynamic year where we were present in important local, as well as network pitches. When it comes to international brands, we notice a trend in regional alignment of the business, which allowed us to successfully approach clients that develop communication for Romania, in more countries in the region, as well as offer regional support for the localization of brand communications in Romania.
Our revenue continues to rely on clients won at the local level, as such all the clients who understand the importance of a strategic and creative partner for achieving results are very important to us. We had a good conversion rate in pitches last year and we successfully finalized two very important stakes for our agency: the takeover of PEPSI brand communication and the successful outcome of the McDonald's new image campaign for Romanian market pitch, which we won.
How would you characterize the local advertising industry in 2018 in terms of budgets, campaigns, creativity, etc?
As this year began, we are sure 2018 will be at least as dynamic as 2017, but we also hope to see an increase in terms of budgets for creative campaigns. There is still no complete, 100 percent focus on creativity, even though, as Bill Bernbach said "Creativity is the most powerful force in business". Briefs in every field ask for creativity, but seldom does it match the final budgets allocated. This doesn't help the development of the industry, as most times there aren't enough resources to maintain talent inside the agency, as well as motivate them through the finality of seeing their ideas implemented, with impact on brand image and sales. We expect to see more special projects this year, as well as more video productions / creative content developed locally.
What were the most important changes & novelties in the agency in 2017 and how did they come to happen?
For DDB, 2017 wasn't a year of change, but of consistency and consolidation of changes made in previous years. We were happy to see the results of these changes, and excited to see we didn't only cope with them, but successfully adapted. It was, and it is a constant challenge to blend the old with the new, different mentalities, different generations, competencies and work habits in continuous change. We continued our focus on the team and recruitment of creative talent, and we are glad to finally welcome towards the end of the year our new creative director, Stefan Vasilachi, to the team. He's a remarkable professional of our industry and together we have great plans for 2018 in terms of bringing a fresh perspective and creative growth.
What trends did you notice on the local market last year and how do you intend to follow them /represent them at your agency? What do you forsee for 2018 from this point of view?
In terms of creative work, we noticed the need to return to the value of creative ideas clearly embedded and supported on a strategic level, customized and adapted over the entire communication mix. I expect a return to the need for a brand agency lead in the complex development process of a communication proposal, together with the competencies of a communication group. Nowadays, clients need a company/group that can provide an A to Z communication solution, a budget optimization, mutual KPI accountability, as well as a single point of contact. DDB, as part of The Group can and does deliver such a solution today.
We have also observed a regional alignment of brands, need born out of two directions: fragmentation and the lack of consistency in recent years, as well as cost efficiency. This trend can be an opportunity or a threat for us. The important thing is to rise to the highest level of creativity and efficiency in the regions, so that we can take over as many projects as possible with a Romanian lead. We have such a recent win and we hope to have as many as possible in the upcoming year. This is a great opportunity for creative growth, as well as local business development.
What is your goal for 2018 in terms of revenue, but also new clients, employees, etc?
Our number one objective is maintaining and developing the current mindset of the team of pure joy for creating great advertising together, ambition and the constant wish for development/innovation. In the first two months of the year, we already succeeded in overpassing the growth average of the past year in the terms of agency revenue, which only makes us more optimistic for what's to come. Last year, we added important brands to our portfolio and together with our other clients we wish to develop as many creative ideas that will make an impact on the market, as well as our clients' business.
What do you wish for the local industry this year?
We would like to see more trust in one another: client-agency, agency-client, and especially between agencies that work together on a certain brand. From the beginning of a project and until it is finalized, we all have a common goal, and that is to deliver remarkable work, and most times it means that we don't follow the famous line "help me to help you"; it means more creativity and courage to take on new approaches, instead of safe ones; more budgets allocated to creative and local content production; more special projects that can make the difference, not just crazy ideas; learning that things evolve, technology evolves, and with it, consumers do as well.
In one word, making assumed, current communication work with joy and passion.
How do you see the Romanian market connected to the international one at this moment?
From certain standpoints, the Romanian advertising field has yet to reach the development of more mature markets, but we certainly have the same challenges to pass every day, the same dilemmas of how to better work interdisciplinary, how to manage a new "data driven" world, how to have the courage to assume new approaches and to convince our clients that these are the best solutions for their business, how we learn to grow constantly and the share the viewpoint of our clients, how to attract talents. Obviously, all these in line with the degree of development of each market. At the beginning of March, I attended a global DDB summit, where the biggest focus at the end of the day was on the return to the need for creativity in business and acquisition & retention of talent. Even mature markets are confronted with this issue of recruitment, the main threats coming from the financial strengths of tech giants, as well as de-standardization of markets and creatives' tendencies to work freelance or remote.
Where is the local industry still lacking and what can it be changed?
In the past year we felt more acutely than ever the lack of words: "partnership" and "long term". There is a large waste of resources in permanent pitch procedures, organizing auctions for each specific project and many times, the decision criteria are singlehandedly cost-related. Cheaper isn't better, as pricier isn't always more memorable. The patience and trust necessary to develop and long-term partnership, with a solid base, with good and bad, with trial and error, is lacking. For this reason, I feel that agencies, as well as clients, lack the courage to experiment and innovate. I would like to mention however, that we here, at DDB, are lucky to have solid long-term professional relationships with clients in our portfolio that date back over 10 years, and we are very proud of that.
A better understanding of a long-term partnership investment, on the client side, as well as agencies, would produce more creativity in the market. This is very important, as the main differentiation for Romania, in comparison with more developed and financially powerful countries, is especially this very resource: CREATIVITY.