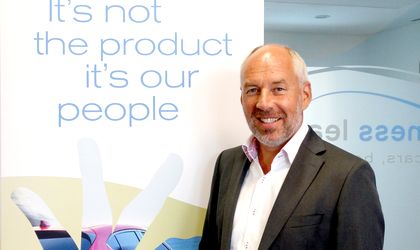 Business Lease Romania, the operational leasing and car fleet management services player, plans to grow its business in 2017 by launching new digitalized services and products to other market segments. Philip Aarsman, managing director of the company, talked to Business Review exclusively about these plans.
Georgiana Bendre
How did your experience as a coach help you in the leasing industry?
Each (operational) leasing company has in fact two main pillars, its people and the ICT & supporting systems. Since we are a service company, people are our main assets and therefore extremely important to us. Their knowledge and skills, but also how they communicate and solve issues with our customers and car users define the difference between Business Lease or just a leasing company.
As a manager it is important to get the best out of your colleagues. Part of it is related to the proper (lease) education and knowledge about systems, processes and workflows. But the other, and maybe even most important part, is related to how to use and apply this knowledge in combination with your personal skills and character. Because each human being is different, there is no general rule for this.
A major part of the daily activities of our managers is therefore related to communication and coaching them. This is an embedded part of our HR strategy.
What are Business Lease's market share target for this year? 
In 2016 according to figures published by ASLO, the Operational Leasing market grew with 8 percent. Our growth in operational Leasing contracts was 21 percent, so in that respect we are doing well. I am also very satisfied with our market share in Car Fleet Management services performed for companies with their own car fleets. From the total of new activations, Business Lease had a market share of 27 percent, which made us the market leader in 2016.
Our goal for 2017 is to continue our growth and development. How we would like to achieve this? By launching new, digitalized services and products to other market segments and by developing the lease market in other major cities in Romania. This year we will also open our Branch office in Cluj to cover the Transylvanian region, because we believe that you can only be successful anywhere when you are also part of the business community, understand the culture and speak the language. Why Cluj? Because Cluj has a lot of business potential and an active Dutch Business community.
What will the digitalization of services bring for the local operations of Business Lease in 2017?
More customer satisfaction, efficiency and a better cost price. For example, customers and their car users are able to have access to services and can schedule maintenance appointments for their car, 24/7. With our Care Online tool we guide them to our preferred partners, assuring quality (parts in stock) and speed (capacity and/or replacement vehicle available).
In 2016, the company created and developed "Care Online". What have been the results for the Romanian market insofar?
Care Online is not only about our customers and Business Lease. A major and essential part relates to our suppliers and service partners. We wanted to be sure that when launched, everything will run smoothly and therefore we invested a great part of our efforts in organizing and streamlining this part of our business.
The final test for the Romanian market is in February with a so called "Beta Launch" and a selection of our customers. The real launch for all our customers and users is scheduled for April 2017.
What are your expectations regarding the local operational leasing market this year?
The market share of Operational Leasing, when comparing the new car registrations, in Romania is still below 10 percent. When comparing this number with surrounding and more developed countries there is still a huge potential. We only have to explain to our potential customers the big advantages, so yes I expect a growth although it will move not as fast compared with the early years when (all) multinational companies switched to Operational Leasing based on their good experiences with OL in other countries.
What kind of industries are set to push demand in the sector this year?
Companies with a high employee versus company car ratio, so pharma, service industry, ICT and in general the SME sector which discovers that these advantages also apply to smaller car fleets.