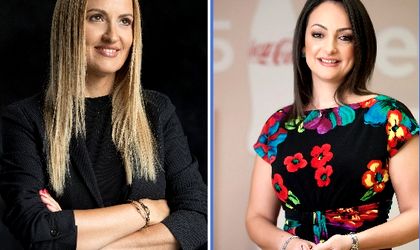 With more than 20 awards and the biggest amount of nominations, McCann PR was awarded Agency of the Year at PR Award 2017. Out of all of them, four winning projects were in partnership with Coca-Cola: "Next Big Vlogger", "Summer's official bracelet", "EveryONE. Leadership conference" and "THINK BIGar", part of the project #DupaNoi. Business Review met with Lavinia Chican, senior partner McCann PR, and Miruna Smeureanu, marketing director Coca-Cola Romania, and talked about the agency-client long-term success and challenges, what was different about 2017, but also about the Romanian PR industry at this moment.
By Romanita Oprea
What are the PR awards representing for Coca Cola Romania?
Miruna Smerureanu: It's been a great year for Coca-Cola, looking at the recognition we received, including the success our campaigns had in the most important competitions of the industry in terms of PR, digital, creativity, innovation, marketing etc. The important recognition obtained at Romanian PR Award: three Golden Awards for Excellence, 3 Silver Awards for Excellence and the two diplomas of excellence shows that our team's hard work throughout the year, our constant quest to remain relevant to all stakeholders, to communicate with an impact and to set the pace in our industry have paid off.
Just as these awards brought us great satisfaction, they also generate great expectations for the next year. We like to challenge ourselves to always do better the next time, it's what makes us performers as a team and as a brand.
Were you expecting all of them?
M.S.: We were aware that the campaigns had been successful. We trusted the insights from the beginning, we invested great energy and enthusiasm into making them happen and had already enjoyed positive feedback from our stakeholders: consumers, the media, the team. The awards came as an additional confirmation and are precious to us.
How do you constantly come up with new and fresh ideas for the market?
M.S.: No doubt that it's a challenge every time but most of all, a necessity. I believe that "new" and "fresh" are not optional where it comes to marketing and communication: they are imperative for a brand to remain relevant.
The changing lifestyles and preferences of our consumers, the way society evolves, the development of new and exciting communication channels, the rise of new opinion leaders, with great influence over their online communities – all of these represent inspiration and opportunities to innovate. We rely on the fresh spirit of our team and the creativity of our partner agencies, always trying to innovate, setting higher standards and cultivating a "thing big" mindset. One good example is our award-winning project – Next Big Vlogger. Since vloggers are the stars of the new generation, we decided to approach this audience through a unique challenge: a talent competition aiming to find the next big star among them.
How much is international inspiration and how much local?
M.S.: In order to connect with the local audience, everything must bear a local touch. While some of our campaigns' concepts are international, we always tailor the messages and all the campaign elements to best fit the audience.
One thing that we are extremely proud of is the success of our locally developed campaigns, some of which have been or are in the course of being implemented in the region. It is the case of The Festival Bracelet Bottle – a Romanian campaign, from insight to implementation – that has received solid recognition in 2017 and, on top of it all, will become regional next year. With The Festival Bracelet Bottle, we turned a packaging innovation – the bracelet integrated into bottle labels – into the coolest summer accessory for teenagers and young adults, which would offer them access to the greatest experiences.
How has the brand's approach changed on the Romanian market in the last years? Has the Romanian Coca-Cola consumer changed during the years? If so, how?
M.S.: In Romania, we're following the consumer, just as we do as a global company. Whether it is by diversifying our portfolio, to provide consumers with options for their diversified needs and lifestyles, or by integrating the newest technology trends into our communication campaigns, to harness young audiences' appetite for exciting tech experiences. We're seeing a growing audience of consumers who pay more attention to their calorie intake. For them, we're developing zero or low sugar variants of our drinks and communicating actively to promote them, as part of our global strategy to become a total beverage company. Digitalization is also a trend we're embracing and this has been reflected in all of our campaigns this year. Next Big Vlogger – the first talent competition for online video content creators, Cappy Good News Agency – the first online platform to exclusively promote positive news and The Festival Bracelet Bottle are just a few examples.
What do you believe is the key of your campaigns' success?
M.S.: I believe our success comes from a daring mindset. We, at Coca-Cola, cultivate this mindset and so do our partner agencies. With every new project, we set out to innovate and distinguish ourselves on the market with a brave approach – be it a packaging innovation, as a key to awesome summer experiences, a unique concept for a talent show or a digital mechanism to involve the audience in supporting the cause of prematurely born children, in the case of our Dorna campaign, endorsed by Simona Halep. Innovation will continue to be a significant part of our strategy in the years to come.
What is the key to the great relationship client-agency?
M.S.: I would say it's a mix of reciprocal trust, chemistry – just like in any other kind of relationship, and common beliefs. We're most happy when our agencies share our eagerness to self-improve, to set new landmarks in the industry, while remaining realistic and grounded in the implementation area.
What do you always expect from your PR agency?
M.S.: Besides what is mandatory in a client-agency relationship, I believe there must be love for the brand on both sides. Also, the ability to always surprise us with their creativity is what makes the collaboration last throughout the years.
What represented for McCann PR the PR Awards moment and its success?
Lavinia Chican: This years' awards – Agency of the Year and the various golden and silver Awards for Excellency for our campaigns – were truly a great accomplishment. The recognition we received consolidated our position as an agency, while strengthening our team and setting us on a path for further successes together. It also confirmed, once again, that the team we make together with our long time partners, Coca-Cola, is meant for greatness.
Can you give us more insight on each winning campaign? (from brief, idea to executing it)
L.C.: We were really excited for each Coca-Cola campaign this year and this was reflected in our work and the recognition it received. We placed our bets on engaging the audience through strong and memorable experiences, whether online or offline.
With The Festival Bracelet Bottle, we realized that every brand was trying to offer cool prizes to consumers, but that wasn't enough. We needed an idea to set us apart from the competition and open up new channels to connect. We had to interact, but in a fun, engaging and relevant way, by connecting young adults – festival goers – with the things they love: fashion as a statement, concerts and togetherness. This is how the Festival Bracelet Bottle was created – as a key to the most awesome summer experiences.
Always at the center of popular culture, Coca-Cola has been the local promoter of new digital media from the beginning. It was only natural that Coke would initiate the first national talent show to find and support online content creators, through the Next Big Vlogger competition. Thousands of youngsters responded to the call for submission and the very best were mentored by some of the most popular Romanian vloggers today. It all culminated with the Gala event, a fun and exciting mix of online and offline experiences, broadcast live on the internet.
What are the main challenges when working for a big international client such Coca-Cola, especially that you are doing it for so many years?
L.C.:  Working with Coca-Cola for over 10 years is nothing but a great opportunity to challenge our creativity with every campaign and project. We've added wonderful and innovative projects to our portfolio, thanks to this collaboration. Having worked together for so many years is actually an asset when it comes to agreeing on whatever new, crazy idea we might come up with, because our partners have learned to trust our insights and our capacity to make the magic in presentations actually happen.
What is the key to the great relationship client-agency?
L.C.: From our side, I believe it's giving 200 percent effort, creativity and dedication.
How would you characterize the PR industry in 2017? (creativity, budgets, clients, pitches, etc)
L.C.: Creativity is the key word when talking about the PR industry in 2017. We work in a dynamic and competitive business sector that has gone through many changes in the last years. PR is no longer just about media relations, it's about creativity and an integrated approach on a campaign or a company, about digital storytelling, integrated marketing services, CSR, advocacy, employer branding, sponsorship, influencers marketing and many more. PR can have a holistic image of the entire organization and find the best solutions, integrating research, strategy, creation, and social media, to come up with the best communication campaign that tells the story of the company.
From the numbers point of view, I think that the PR market had a slight increase in budgets due to the positive trends in consumption and it will maintain its course in 2018 as well.
How was it for McCann PR?
L.C.: The year 2017 started new people, hopes and resolutions, many projects, pitches and new clients and culminated with "Agency of the Year" award. For sure, this year was about creativity and talent – a way to mix good and skilled people, that "precious gems" that you once find you forever keep, and great projects.
We now are a stronger team with colleagues that can assure a sustainable mix of creativity, production and implementation, which transformed the way we work and the added value that we offer our clients.
I think that, maybe, this was the best year for McCann PR and the communication campaigns that we implemented talk for themselves. I would like to mention just a few: "Coke Summer Bracelet", "Cappy Good News Agency", "Next Big Vlogger", "THINK BIGar", "Health of the nation", "Coke Zero Sugar Zero calories launch", "Coke Lime launch", "Coca-Cola Christmas Caravan".
How has the agency changed in the last years and why?
L.C.: We started expanding our services and skills and I can say that we actually reinvented ourselves over the years. We are now more integrated in services that we offer our clients and as a team. We have a strong strategy and creativity department and a united team of professionals in communication who can offer expertise in corporate and crisis communication, brand and marketing, experiential marketing, influencer activation and digital and social media, mixing offline, online, print, TV and radio channels.
What are your main clients and what services do you offer them?
L.C.: Just naming a few from our portfolio of clients: Coca-Cola System, with the Coca-Cola Romania and Coca-Cola HBC Romania, Carrefour, NEPI Rockcastle, Microsoft, Gefco, UPC Romania, Nokian Tyres, Strauss, Engie, Electronic Arts, Heineken, Regina Maria, Johnson & Johnson, MSD Romania, SECOM. For all, we offer a wide range of services and expertise, from corporate communication, events and experiential marketing activations, copywriting, art direction, visual & conceptual branding, integrated ATL-BTL-PR-Digital campaigns, to Brand PR, Brand Story & Strategy, Crisis Response & Management, Sustainability and CSR Strategy, Product PR, Social Media Management, Influencer Engagement.
You've launched GREATEENS. What can you tell us more about it?
L.C.: In a world full of teens trying to make their voice heard throughout the digital sphere, McCann PR launched a program that aims at spotting, inspiring and promoting tomorrow's top online influencers. Who are the future influencers? 10-16 year olds, smart, savvy, always dreaming, in touch with online trends, looking for fame, creative, aware. A generation full of contrasts that adults don't understand anymore: they don't like being schooled, but love to learn; they're shy, but opinionated, they're young but so willing to grow. They are our GREATEENS. We mixed these insights with top influencers such as Mikey Hash, Alex Ghidush, Noaptea Tarziu and Dana Bacinschi and made it happen in two days of workshops, talks and practical work. Until now we had more than 100 teens in the program and 10 mentors and we are glad that we were pioneers in this area too.
What made you launch it?
L.C.: McCannPR usually works with the most influential influences of the moment – I think over the past few years we've had collaborations with all the big names in social media, journalism, sport (e.g. McCann PR developed a PR collaboration with Simona Halep, no 1 tennis player in the world – WTA ranking, and Horia Tecau, one of the best Romanian tennis players of the last years, currently ranked World No. 8 in doubles), television or the media in general. It's a system that has brought us a lot of insights into this new channel of communication, and from which, we learned a lot. So we wanted to continue the collaboration – to offer not only partnership but also support, mentoring and guidance to some influences at the beginning of the road. Or some who have not even started, like kids, who are savvy and really immersed in the digital world.
What were 2017's best moments for the agency and why?
L.C.: Winning Agency of the Year at PR Awards and the Most Creative PR Agency at BIZ PR Awards were some of the best moments for us in 2017. We add on top each moment spent in our team and each project or campaign for our clients.
What would you say that are industry's main challenges in Romania at this time?
L.C.: Competition exists and it is fierce, which is good, especially for clients. Every year appear new PR agencies or small boutiques specialized on communication niches are launched. At the same time, the competition among the big market agencies is strong. Finding the right people to do what today means PR & Communication and the right clients will be the main challenges for the next years. And I'm convinced that we are prepared to do it.
What would you want changed for 2018 in the local PR industry?
L.C.: We've grown and matured in the last years, as an industry. We've learned many things, positive and negative, from the financial crisis and I think we are stronger now. All I want for the next year is to see more and more creative communication campaigns and to continue developing the industry as a whole in skills, expertise and professionals.