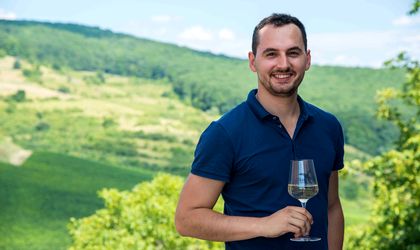 As of this month, Miron Radić has taken over the operational management of amb Wine Company. BR talked to Liliac Winery's CEO about his biggest plans in this new role, how the company is changing, and the entire Romanian wine industry.
By Romanita Oprea
What made you decide to go into the wine business?
It was more by accident than design that I went into the wine business, but I was always involved in the drinks business, even during my studies and student jobs. When I saw the tender at my university for the diploma thesis about Romanian wine, I immediately applied and that brought me to where I am now. In the end, the wine business is a very nice one, where you deal with passionate people and educated consumers.
Why Romania?
I chose Romanian as a third language at University, after Russian and English, as it was one of two Balkan languages I didn't understand and Hungarian was too difficult to learn in a lifetime. Following on from that decision I had an interest in this beautiful country and Romania is still one of a few countries with a lot of untouched potential.
Since Liliac's launch, you've held several key positions at the company. What are the main things you've learned in each of them?
First I was hired to work for the marketing side of the company, especially focusing on the export markets. After that, export sales were added to my plate and soon after that I was put in charge of the whole marketing and sales department, together with what would be best described as product management. So I was in charge of almost everything that happened after the wine was bottled. From these "jobs" I learned that each step we take in the winery is just a small cog in the bigger picture, but it is crucial to be the best in each of these tasks so that the result meets our own expectations.
In 2015 I was appointed managing director along with Victor Ciuperca. We shared the responsibilities and worked amazingly well as a team and we still do. From this year on we want to focus more on lean management and the optimization of the winery, so we decided to have only one general manager, which is me, but Victor stays close to us as a corporate advisor and he is still handling the other affairs of the holding company.
What have the challenges been so far?
Working in an international environment is always challenging, especially with two so completely different mentalities as the Austrian and Romanian ones! Communication is these fields is always an issue, but I try to be a mediator and understand both sides and so far I think we work great as a team. Another challenge is to be a young person in a traditional field like the wine business. It is crucial to respect the experience of older people and to learn from them, but you also have to show them that things can be done differently and that you sometimes have to go off the beaten path.
What have your first moves been in your new position and why?
One of my first decisions was to reduce the sales team and to focus more on our core competencies, which is making great wine. Also, I want to bring the team closer to the winery; we have to understand that what happens in Batos at the winery is crucial.
What challenges do you expect?
The competition on the local market is growing each year and we have to continue to stand out and enhance our position on the market. Also, changes need some time to be effective within the team. It is a process that takes time as we are building on what we have achieved so far.
What do you believe your main qualities for the position are?
It is very important to stay calm when things move fast and everyone needs everything yesterday. We are following a clear strategy and plan and although it sometimes may be tempting to do otherwise, we have to stick to our decisions to achieve long-term goals. Another thing is that we are in a people business. For me, it is very important that we invest in the people behind Liliac, to build them up so that we build our business in a sustainable way.
How was 2017 for Liliac? In May you predicted a turnover of EUR 1.5 million.
2017 was a record-breaking year for us. We sold more than 340,000 bottles and achieved the target turnover of EUR 1.5 million. This growth should continue in 2018, when we expect to achieve an increase of 10 percent. This will bring us close to our production capacity.
In September, Liliac Winery started selling the first 6,000 bottles from its sparkling production that has been sitting on yeast for 18 months. How were they perceived by the target market?
We decided to leave the wine longer on the yeast, as each month really improves the quality. We will launch Sparkling by Liliac in the first half of 2018.
What are the main changes that 2018 will bring for the company?
Our new office and storage space in Bucharest are now fully operational and we are investing in the last phase of the cellar this year. We will enlarge the cellar surface, and build our own storage facility in Batos and our own "barrique room", to ensure the highest possible quality. Also, we will continue our efforts to create accommodation directly at the winery and we hope to have this done by the end of the year.
What made you decide to hold a competition for new designers?
The idea came from analyzing the market, especially so-called Millennials. Most of the label designs in Romania are rather traditional, or even boring, and we were looking for a different approach. With our contest, we also have a great way of creating loyal customers, as many people look forward to the new design each year.
How is the competition evolving?
The entries have become more and more professional over time. The nice thing is that people now enter the contest with really well thought-through concepts, a whole story to the final design.
How would you characterize the Romanian wine industry?
It is undergoing a change right now. We have to be honest and admit that the market is dominated by the big players, who create millions of liters of wine and are mostly positioned in the lower-cost segment. More and more boutique wineries, like us, are coming to the market and fighting over the premium and super-premium customers, as the demand for this kind of wine is increasing.
What do you foresee for it in 2018?
The change will continue and HoReCa will play an ever bigger role. Most restaurants list the big producers because they subsidize the listing, not because they are selling a lot of their wine.
What are the trends in this market?
There are currently two different trends. The first and largest is rosé wines. There is a lot of rosé on the market now and I think that this trend will continue for the next few years, as rosé wines are easy to approach, also for non-wine drinkers. The second trend is one I especially like, as more and more consumers and also producers are again focusing on locally produced varieties like Feteasca. This is very good for the local HoReCa market, but also for the producers, as these wines have a special character that can't be found anywhere else in the world.
What about the Romanian wine consumer? How would you characterize him/her?
There is not one type of Romanian wine consumer, as there is a big difference in the preferences of the older generation, people used to demi-dry and sweeter wines, and the young and hip group, those who enjoy drinking wine while having dinner or going out. We can't change the habits of older wine drinkers. We produce our wines in the way we like them the best, which is dry, and we target an audience that appreciates this style and is also ready to pay a premium for the high quality that we offer.
How has Liliac's position changed through the years and what are your hopes and aims for the brand?
When we started we were the newcomers with a very different style than anyone else in the market. We also dared to introduce new wine types such as young wine and orange wine, and we were soon seen as innovative, as many of our competitors copied our style. Now we are aiming for the super-premium and ultra-premium segment. Our best wines should and will belong not only to Romania's elite, but also match the international benchmarks of famous wineries around the world. But we will always stay as we are and try new things from time to time.
Which is the key Liliac product and why?
Our flagship wine is our Liliac Sauvignon Blanc. It put our name on the map of Romanian wine and it is our best-known wine. Also internationally, we have shown that Romanian can produce wines of high quality and with a unique touch for even such a widespread grape variety. We did not copy New Zealand or France; we made an authentic Transylvanian Sauvignon Blanc.
 Miron Radić
He has over eight years of experience in the wine industry, and wrote his dissertation on Romanian wines, at the University of Economics and Business in Vienna. Radic has been part of the Liliac team since the official winery's launch in Romania, in 2012, handling export sales and the marketing until 2015. That year, he was appointed managing director of amb Wine Company, alongside Victor Ciuperca.