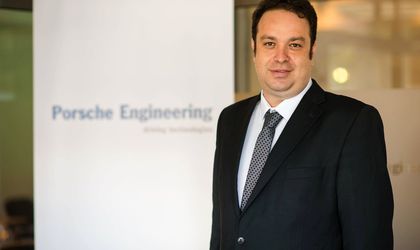 July saw the opening of Porsche Engineering Romania in Cluj-Napoca. With a focus on software and function development, the sixth and newest subsidiary of global engineering services provider Porsche Engineering Group GmbH completes the overall spectrum of services provided by its other locations in Weissach, Bietigheim-Bissingen, Prague, Shanghai and Nardo. Location manager Marius Mihailovici told Business Review about the company's plans to grow its Cluj-based team and become actively involved in the city's academic automotive engineering landscape.
Georget Gheorghe
You are planning to hire 20 engineers, who will work in software and traditional vehicle development at Porsche Engineering Romania. Are you eyeing local talents? Also, are you planning to increase your team further in the future?
 Our local team numbers seven engineers at the moment and we are planning to reach 20 by the end of 2016. Our main strategy is to grow sustainably and, in the long run, our team in Cluj may grow to hundreds of engineers.
We want to attract the best talents for our Romanian subsidiary, regardless of the city they come from. Porsche Engineering chose Cluj because of the top universities educating students in the automotive field, but we are also looking at candidates from other cities – as long as they are passionate about automotive and software engineering and willing to relocate to Cluj, they may be just the people we are looking for.
What kind of projects will the Cluj-based team work on? What role will the local team play within your global operations?
 Our team in Cluj will work for the same customer portfolio as the company's other subsidiaries, with a focus on software development and digitalization. The local engineers will work, for example, on developing human machine interfaces (HMI) and car-to-car communication for Porsche cars. The range of services provided by the local team is complementary to Porsche Engineering's other development locations and does not duplicate the competencies from other countries the company operates in. Therefore, Porsche Engineering Romania is perfectly integrated and plays an equally important role in the structure of the organization as the other subsidiaries.
You chose Cluj-Napoca as the location of your Romanian subsidiary. What are the advantages offered by the city? In terms of costs, how competitive a location was Cluj?
 The choice of Cluj-Napoca for the youngest subsidiary of Porsche Engineering was based on several considerations the global management analyzed before they first travelled to Cluj – the presence of two top universities (the Technical University and Babes-Bolyai University), well-trained workforce, a lively start-up scene and a dynamic IT and auto market. Also, the moment they arrived in Cluj they got confirmation this was the right place for them to extend their global presence – the warmth and dedication of the people they met here was the guarantee that in Cluj they would not only find well-trained engineers, but also friendly and principled people, who would perfectly integrate into the company's organizational culture.
In terms of costs, Cluj is definitely a competitive market, as many IT companies have roots or have established subsidiaries here. We are aware that the competition is tough, but we are confident we can attract the best qualified engineers through both financial and non-financial benefits. Working for a brand like Porsche on international innovative projects and being part of a passionate team can also trigger the interest of many software and mechanical engineers.
Porsche Engineering Romania has partnered with the Technical University of Cluj-Napoca to develop a master's program, a sign of the company's long-term involvement plans. What are the goals of this partnership? Are you planning to become involved in society in other ways?
 We are definitely here to stay and we are planning to be an active player in the academic environment of automotive engineering in the years to come as well. Besides the master's program that will most probably be launched in 2017, we will organize specific lectures and seminars with Porsche Engineering experts in universities and also offer scholarships to the best graduate and undergraduate students in their senior year. The main goals of the partnership are to train more specialists in the highly specialized field of automotive engineering and to be able to recruit the best trained engineers for our local team in Cluj.
Our contribution to the local community will be primarily through education. While we have just entered a long-term partnership with the Technical University, we are also in touch with Babes-Bolyai University, the other top university in Cluj, in order to explore ways to cooperate.
This is the youngest subsidiary of Porsche Engineering Group GmbH. Are you planning to expand to other Romanian cities, such as Bucharest, perhaps?
 We are new on the Romanian market and we have just settled in Cluj, a city with plenty of potential that can help us reach our goals in the long run. For now, our extension plans are limited to Cluj – we want to build a highly qualified team here, with top engineers from all over the country interested in automotive and software engineering. We think the two universities can provide us with the right number of young professionals in the years to come.
For the time being, we are focusing exclusively on developing our subsidiary in Cluj and, as long as this city meets our needs and expectations, we don't see any reason why we should look at another location.
CV Marius Mihailovici
Marius Mihailovici was appointed location manager of Porsche Engineering Romania in July. He joined the firm from Alcatel-Lucent Romania (Timisoara), where he spent 16 years and held several positions, from R&D GSM validation engineer to the director of the R&D Department.
Mihailovici graduated from the Politehnica Timisoara University in 1998.His areas of expertise include R&D strategy, software project management and software integration & validation.