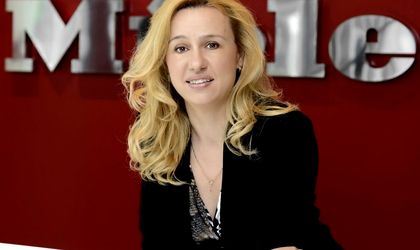 After the expansion of the business in key places in Romania and the opening of Miele Point in Dorobanti and the one in Constanta in 2017, Loredana Butnaru, the manager Miele Romania, said to BR that Romanian customers are more demanding, they want reliable and customized home appliances. She also talked about the smart technology and the plans for 2018.

What was the revenue of Miele Romania in 2017 and what was the value of investments made in Romania?
Miele Romania reached a revenue of RON 30,3 million in 2017, an increase by almost 24 percent compared to 2016. The most important investments made in Romania, last year, were the opening of the Miele Point in Constanta and the first "Shop in Shop" in the hypermarket Auchan, in Afi Center.
How many employees do you have in Romania?
At this moment, 18 people are working for Miele Romania, but the number is set to rise, as we are preparing to open 2-3 new exclusive showrooms under the Point concept. One of them will be inaugurated this year.
How does the Romanian home appliances market look, comparing to the ones in the region?
The Romanian home appliances market is very dynamic and diverse. Also, it is growing year by year, therefore it has overrun some of the markets in the region. This is because Romanian customers are beginning to invest more in qualitative products.
How do you see the evolution of smart home appliances and the user experience with smart technology?
 Smart home appliances are clearly the future and we, at Miele, have already understood that. Most of our products integrate smart features. Also, the Romanian clients are more and more interested in smart capabilities, so it is not surprising that our customers are choosing, mainly, high-end appliances, that offer such features. Therefore, they experience a modern approach to home chores, that helps them save time and money.
Which product registered the largest increase in 2017 and what are the novelties for 2018?
The largest increase was in the washing machines/dryers category, with 60 percent more products being sold in 2017 compared to 2016. In the first quarter of 2018 we will bring to Romania two new models of vacuum cleaners: the bagless Blizzard and the second generation of the robot vacuum cleaner, the RX2. Also, the entire cooker hoods range will be renewed.
How has the premium home appliances market evolved and what are your predictions for the coming years?
The premium market has the same trend as the general home appliances market: growth. Romanian customers are more demanding, they want reliable and customized home appliances. And the fact that they are finding trustworthy products in Miele showrooms can be observed in the annual revenue, which has doubled in the last years. The next period will also be under the sign of growth, because, as I've said,  Romanians have started to take much more appreciation in quality than in price.