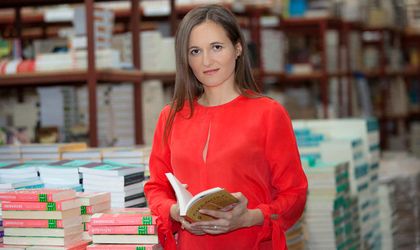 In 2017 Romania's online market grew to EUR 2.8 billion, up by 40 percent year-on-year, one of the biggest increases among EU member states. According to data released by GPeC, Romanians spent an average of EUR 7.7 every day on online shopping, with books the third most popular product category. BR spoke to Laura Teposu, director of business development at Libris.ro, about what it takes to keep a firm among the top players in the competitive online book market.
What was the local online book market worth in 2017? Did it grow compared to the year before? What do you forecast for this year?
The Romanian book market is estimated at around EUR 90-100 million, and online books sales stand at around EUR 22 million. Sales of Libris.ro follow the global trend that is seeing online sales gain ground over sales in bookstores. We also noticed a sales increase in our bookshop in Brasov; however, 95 percent of sales are done via our website. I expect the online book market to increase in 2018, by around 15-20 percent. However, overall, in my view, the market will stagnate; therefore I expect growth of maximum 5 percent.
What was your turnover in 2017?
In 2017 Libris.ro posted a EUR 6.7 million turnover, continuing a trend that has seen sales increase year by year. Data obtained in January 2018 showed that sales were 40 percent up on January 2017.
Are you planning any campaigns aimed at boosting your online presence and sales in 2018?
We regularly have one-day promotions on Libris.ro. Plus, one of our ongoing campaigns is 'Author of the Month,' which is designed to bring contemporary Romanian authors closer to the public by means of interviews and promotions of their works. We believe there should be more communication between readers and writers.
At the same time, we believe it is important for readers to interact with books, in order to fall in love with reading. According to the most recent data, only 2.9 percent of Romanians read at least 10 books per year, and 30 percent read only one book a year. We help readers meet their favorite writers and discover new ones at the book fair we organize every year in Brasov. Currently in its 15the edition, in 2018 it will take place in April.
In order to highlight the benefits of reading, in 2018 we are running the campaign 'Respect Yourself,' whose message is – gift yourself the time to read. It kicked off in January and will continue throughout the year. For the campaign, we asked well-known people who read often to share their passion for reading and talk about the way reading has enriched them, in all meanings of the word. Also, as part of the campaign, we will distribute 90,000 bookmarks with the message that setting aside time for reading is a form of self respect. In more developed countries, people read more, and this is not necessarily correlated with purchasing power. If we don't read, our wealth will not increase either, because the level of education is correlated with a country's development.
In addition, we will launch pilot projects in two schools, one in the countryside and one in a city. We will help pupils in the schools build their own library, according to their interests, by including titles they find interesting and attractive. The concept we want to promote is 'Reading in 3,' where the teacher and the parent become an active part of the reading process. There are a lot of families who encourage their kids to read, but the way they learn is by doing what the adults are doing. That is why we are encouraging parents to read with their children, by creating a library where both kids and adults can borrow books.
Moreover, we want to promote the idea that young readers should get more access to contemporary authors. We do have our classics, which we love. But we also believe that by allowing young people to get to know the works of Roald Dahl, J.K Rowling or C.S Lewis, for instance, alongside those of Mihail Sadoveanu and Liviu Rebreanu, we can encourage them to read more than the books included on the 'compulsory reading' list and enjoy reading more.
How much will you invest in growing your business in 2018?
The total investment in the Respect Yourself campaign stands at EUR 100,000. But most of the investment we have planned for 2018, namely EUR 3 million, will go on the building of a warehouse in Brasov. The warehouse will occupy over 5,000 sqm, be 200 percent bigger than the current one and will hold 3 million books as well as products from other ranges we are preparing to introduce, such as games, toys, music and gifts. It is expected to optimize the working processes, increase productivity and the speed of order processing and allow us to support the annual growth rhythm of orders, estimated at 20-30 percent. Currently, our processing capacity is 3,500 orders daily.
What is the profile of your customers?
Most of our customers, namely 70 percent, are women. Out of them, 60 percent are aged 25-40 and have secondary education level or are highly educated. A lot of those who buy their books on Libris.ro are repeat customers, namely 65 percent. A frequent reader, we believe, prefers an online store to a mall. Also, our customers know what they want; they are not impulse buyers. When you receive exactly what you want, you come back. When you buy a book online because it is comfortable, or because it is cheaper, you come back. Some 30 percent of our clients are based in Bucharest. The conversion rate is influenced by the seasons, but it is above average. Given the high return rate, the conversion rate for a returning customer is five times bigger than that of first-time customers. Also, for mature buyers aged over 25, the conversion rate is double that for those aged 18-24. The conversion rate on mobile is lower than that of clients visiting the site from desktops, but it is growing. The average order stands at around RON 80-100.
Are you planning any releases aimed at boosting your online presence?
In 2018, we are planning to introduce a rating system for books so that clients can share their opinions of the books they have purchased and read. Also, we want to attract more visits via our mobile version, so we will prioritize that. Everything is done in house by our IT department, which employs three people.
How much do you expect to grow in 2018?
We're aiming for a 30 percent increase. Apart from the growth coming from promotions, investments aimed at enhancing the online experience and the building of the warehouse, we are also counting on a big increase of sales of smart games for children. In 2017, products in this range saw a 92 percent increase; therefore we will focus on that. Also, we will introduce more products associated with books, such as bookmarks, lamps, tea and notebooks.
LAURA TEPOSU
Business Development Director, libris.ro
She set up the St. O. Iosif bookstore in Brasov in 1991 together with two partners.
Since 2009 she has been closely involved in the company's online activity, helping Libris.ro grow from a family business to one of the top players on the Romanian online book market.