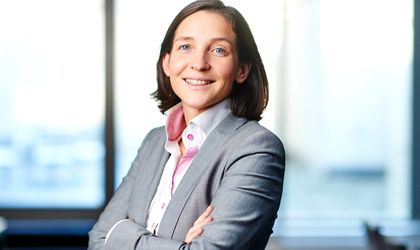 In Brussels, lobbying is a crucial element of the decision-making process, as it helps stakeholders make their interests and concerns known to EU-level decision makers, allowing the latter to draft legislation that affects millions in a well-informed manner. Over 100 Romanian entities are registered in Brussels, however, many public actors, such as the country's regions, are not represented. In Romania, legislative proposals to regulate lobbying dating from 2010 and 2011 have been roadblocked, with the past three governments giving a negative opinion. Karen Massin, CEO of the Brussels chapter of Burson Marsteller spoke to BR about the importance of lobbying in a transparent and regulated framework.
How is lobbying regarded in Brussels?
Lobbying is seen positively in Brussels. I believe that this is due to a certain openness and a willingness for more dialogue on the part of the European institutions regarding the legislative process. EU laws have an impact on more than 500 million people, with European standards directly applicable to member states and their citizens. European institutions have understood that it is better to try to do the right thing by taking the necessary time (normally it takes 2 to 3 years) and consult all relevant stakeholders so that the law is drafted in the best possible way and can be rapidly introduced afterwards.
Why is the Brussels lobby model functional?
Two reasons. The process is open to everybody and it is transparent.
First, many organizations are represented here and can communicate with EU institutions: trade associations, companies, NGOs, trade unions, regions, governments, consultancies, law firms, foundations and think tanks. Second, we operate in a transparent and legitimate framework. European institutions are in favor of lobbies who provide information and inform policy-makers. A website has been created – the EU Transparency Register- that allows lobbying entities to declare who they are working for and the amounts they receive for carrying out this work. This registration then allows them to have access to the European Parliament buildings and to meet high-ranking Commission officials. You can see the stats on who is lobbying in Brussels on the above-mentioned website.
What industries are most active when it comes to lobbying in Brussels?
It is not only industries that are active; it's also NGOs, trade unions, governments, regions… Entities are lobbying in policy areas where the EU discusses together to create/harmonize policies or legislation. These areas include environment, energy, healthcare, technology, transport, food, social affairs, financial services, agriculture and trade. You can find a list of the industries and NGOs perceived as the most efficient in A Guide to Effective Lobbying in Europe – The view of Policy-makers, a survey we did on lobbying that included Romania, available on our website.
Why is it important for Romania to lobby in Brussels? Who should be lobbying on behalf of Romania?
Many laws and standards in Romania originate from European legislation. This is why Romanian industries that are impacted by European legislation must be there at the European level to ensure that the specific nature of the operation of their sector is taken into account. For example, you do not recycle the same way in Romania, Germany or Italy.
Is Romania lobbying enough in Brussels?
It's hard for me to have a full perspective. I understand that 114 Romanian lobbying entities are registered on the EU Transparency Register, from nurses, to music, transport and telecoms. Romanian regions are not represented, unlike other European regions. Other industry sectors may be missing out as well. Direct presence in Brussels offers a direct learning process with a concrete impact. Of course, most of the federations and NGOs have Romanian members so I would think their interests are being represented too. That said, I am not sure they are sufficiently active and make their voice heard enough through these channels or directly towards EU institutions.
Could the Brussels model be implemented in Romania?
According to the same survey I mentioned earlier, a lack of transparency is most commonly cited as an example of poor lobbying practice. I think it is good to create a framework and mechanisms so that politicians can openly and transparently consult with all stakeholders and interested parties. These mechanisms should be improved to ensure that the consultations take place in the right environment, which means in a transparent manner.
Why is it important for lobbying to be regulated in Romania?
I can't really speak for Romania. What I know is that the European Commission is going to propose the establishment of compulsory lobbying rules at the European level that would affect Member States like Romania to a certain extent. The introduction of compulsory rules, applicable to all, would bring everyone to the same level and would probably improve the perception of lobbying in Romania.
It is up to each Member State to be involved in the proper functioning of their institutions at national level. In my opinion, the more transparency there is, the better.
What key elements should be included in lobbying regulation according to you?
I understand that in Romania you already have a voluntary system in place and that the Government introduced a public register of meetings with interest representatives in September 2016.
In Brussels, together with the European Public Affairs Consultancies' Association (EPACA), we have worked to clarify the definition of lobbying and created a Register to answer questions such as what interests are being represented at EU level? Who represents those interests, and on whose behalf? With what budgets? The EU has also developed a Code of Conduct and an alert and complaints mechanism. I think these are a good start.
Why do you think in Romania lobbying is mistaken for influence peddling?
As far as we are concerned, as lobbying professionals, we operate a transparent and legitimate business. The European institutions are in favor of lobbies as they provide information and inform policy-makers. Corruption and influence peddling are therefore not part of the work of the lobbyist. Moreover, these are acts punishable by law.
Why is transparency important?
Lobbying is a very interesting activity and I am happy to be able to work in the profession in Brussels. Lobbying can only function well if it is linked to transparency and trust in the system. According to our 2013 survey, public affairs agencies have a good reputation according to respondents in Romania. They are rated as mostly transparent lobbyists (40 percent seeing them as 'transparent' or 'very transparent') and effective (55 percent seeing them as 'effective' or 'very effective').
Did you lobby in Romania or on behalf of Romanian political actors and companies? For what client/industry?
When we lobby, we contact officials and politicians in Brussels and a number of countries. We have contacted Romanian officials from time to time, although not often.
Karen Massin, CEO, Burson Marsteller Brussels
Karen Massin manages pan-European projects towards regulators, industry, NGOs and media. She has played a key role in relaunching Burson-Marsteller Brussels as a public affairs and communications agency in 2016. She rose through the ranks after starting off as an intern and, when she was appointed CEO in 2014, became one of the few female executives under 40 in Belgium.