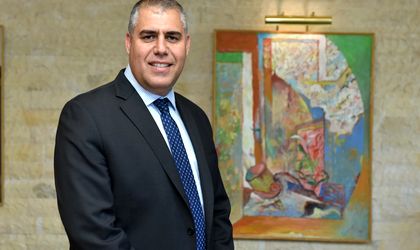 Elected global chairman for KPMG Enterprise in May 2017,  Jonathan Lavender oversees a contingent of technology experts that look into the way current disruptors, such as automation, robotics, AI and IoT are shaping the business landscape. He spoke to BR about the way innovation sustains a successful business ecosystem, the importance and the challenges of adopting new technologies and their impact on tomorrow's global economy.
How can anyone predict disruption? By definition, it is unpredictable.
You can't predict disruption, but you can be better prepared for it, even if you are not the disruptor. Usually companies are constantly checking their competitive environment, looking at what their competitors do because they think this will help them react faster if a competitor makes a move. The problem with disruption is that it brings new competitors to the market, so looking only at your current competitors doesn't help.
What you need to do is to have a broader view, and look not only at your market, but also at multiple things that might seem unrelated; they will help you spot the signals that will eventually bring disruption. Look at new technologies, at changing consumer behaviour, at regulation, at where the money is being invested. When you track these signals and others, you get a more complete picture of what's happening now, but even more importantly, you can start thinking of future scenarios and be prepared for them.
You don't need to predict disruption – but you need to understand more about things that are outside your immediate market in order to be able to react to disruption.
What does the ideal ecosystem for innovation look like?
The traditional model, that we still see around, is the triangle model. You have innovation, you have the investors and then you have the corporate side. This is the triangle that filters everything. You have the money. There were USD 130 billion of investments in 2016 and in 2017, it will probably be the same, supplemented by something like USD one trillion of investments by private equity and hedge funds.
Secondly, you have innovation. There is a hunger for innovation. Traditionally, five years ago, you saw a lot of innovation in the US, Israel, China. Now you see it in the UK, France, Australia, Canada, Ireland and other countries where there suddenly is an ecosystem. Where there's money, there's innovation and very importantly, the corporate actors that want to make acquisitions. The number of corporate acquisitions is going up tremendously because corporate actors have to buy the innovation. In my opinion, corporate acquisitions will supplement some of the lack on investments. A lot of them want to do innovation in-house, and it sometimes works, but it is very challenging to do innovation in-house. However, buying that technology and implementing it the company represents another challenge.
What are the main challenges of adopting technology, in particular automation?
One of the challenges for companies is to understand how to take technology and implement it without disrupting their own business model. In most countries you have unions, so the question is how are you going to deal with the employees? In a lot of instances, you can use the current workforce to do different things, and make a transition. But one of the biggest concerns is the current workforce, what are you going to do with that? That is why, it is always going to be easier for newcomers.  Those companies that do not have a massive number of employees and have automation as part of their core business are going to be more agile, quick and will also have less costs. So companies that have legacy systems in IT, a corporate culture that does not breathe innovation and a large number of employees, that's where we are going to see difficulties. They will compete with small companies that are leaner and faster for market share.
Why and how should corporations work with startups?
Internal innovation, the process by which organisations try to make their employees think like entrepreneurs and create new initiatives, is a great way to come up with new products or business models, but it is only a part of the solution. It is limited, as it is based on the assets the organisation has at its disposal, which basically means it is based on how innovative its employees are. On the other hand, the world is filled with startup companies, which are offering new products, so limiting yourself to just the assets you have in-house greatly limits your potential. This is why "Open Innovation" is gaining more and more acceptance – in this methodology, corporations are actively seeking to immerse themselves with startup companies and entrepreneurs, provide them access to the organisation's own infrastructure and working with them. By being in constant contact with startups, the organisation is exposed to a lot more ideas, trends, processes and knowledge – which it could have been exposed to just by doing internal innovation.
There are various ways of working with startups when you are a big corporation. You can designate a special unit to be the gateway for startups in your organisation, you can invest in startups to get a closer view on their technology and their competitors. You can open a corporate accelerator which offers startups to work with you on finding solutions to your problems.
What do you think are the most disruptive technologies that will influence businesses in the near future?
In a recent survey we conducted with 1,300 CEOs from all around the world, the top three technologies which they believe will bring the biggest disruption are Robotics, IoT and AI. This isn't a big surprise, as all three are enabling technologies, which means they provide new abilities that can dramatically change entire industries. When we say "robotics" we mean the ability to automate processes, both on a physical level – which we have been seeing for several decades in the industrial markets – and in the more recent emergence of digital automation. When you turn a manual process into a digitally-automated process, you create a situation in which instead of one person being able to do 50 to 100 tasks in his or her 9-hour work day, an automated system can do million tasks and work 24/7/365.
With IoT we get an enormous amount of data from multiple devices we wear, we touch, we pass by and we use to monitor our assets.  We also get the ability to get updates in real time if something happens. These abilities enable more personalised experiences and products, more efficient processes in businesses and the industrial world, better understanding of our health and much more.
AI might be the biggest disruptor, as it is basically an attempt to create an entity that has the best of both worlds: the knowledge and learning ability of a human, and the efficiency and data storage of a machine.
What is the most important thing financial service companies need to do now?
They need to realise that it is time to become active. Not only actively look for ways to innovate, but understand that the world has changed. The customer is surrounded by options, so they should not expect the customer to reach out to them with questions, ask them to send him information about their services, or wait in line for many minutes until the bank representative finally finds a loan which is the right fit for him. They need to be active – reach out to the customer, but do so at the right moment, on the right device, with the most relevant offer at that specific situation. If a person is shopping for a car, you need to find a way to let them know you can offer them the relevant loan to buy that car, otherwise you are counting on them to remember to approach you, and there is a chance they won't, or they will contact your competitor. Use analytics, use multiple channels, personalise the experience.
How will automation disrupt the way global economy works today?
In the short term, there might be some consequences for loss of jobs because of the RPA robotics coming into play. Disruptive technologies may bring in numerous benefits, but there is also the obvious downside, as they tend to replace physical capital with human capital, and do not create a large numbers of jobs. Online retail sites replace brick-and-mortar shops – the same goes for online finance. Social media and online information resources have long threatened printing presses, and ride-sharing and room sharing services better utilise existing assets.
On the positive side, in the long term, growth in robotics and automation will create more demand in the market and that will supplement the decrease, so, overall, I am positive. Furthermore, as we journey further into the digital age, many believe in the restorative power of information and communication technologies, AI and robotics to reboot productivity growth and through it, economic growth. However, even the techno-optimists foresee a very different society and world of work. They predict a sharp social stratification in the developed world, where the inheritors of wealth, the owners of capital and the highly educated do well. In this scenario, the middle class is hollowed out and the working poor struggling to keep precarious jobs endure falling living standards. In the absence of a crystal ball that looks into the future, predicting movements of people, economic trends and industry expectations, the question of how robotics and AI will impact global economy and whether it in fact has the power to materially lift growth rates to enable a resumption of strong economic growth, remains open.
About Jonathan Lavender
He has over 17 years of experience working with private multinational companies, startups, as well as PE & VC Funds operating in several sectors, such as financial services, technology, life sciences. He joined KPMG in Israel in 2000 and worked in the technology practice advising startups and emerging private companies on their business models.