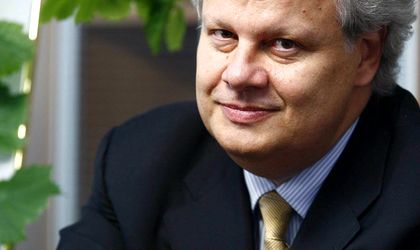 Businessman Jean Valvis is best known for two major multinational transactions: the sale of Dorna Apemin to Coca-Cola and the sale of Dorna Lactate to Lactalis. The owner and founder of Aqua Carpatica, Valvis says he is committed to promoting Romania as the land of naturally pure, clean mineral waters and to building the international presence and global dimension of the brand he created in 2010.
By Daniela Oancea
What should Romania's priorities be in 2018, as regards the business environment?
The answer is very simple: to offer stability in fiscal policy and, in general, political stability. We are not asking for a new fiscal model – we want to finally have a constant fiscal code, so we are not asking for innovation or new models. We're just waiting for the moment when Romania will have the right political and financial strategy – a stable one. The message is: stop changing the legislation!
Do you have any means to lobby for the interests of entrepreneurs in Romania?
I wouldn't call it lobbying. However, I have been involved in the public space and have been promoting entrepreneurship and the need to create added value based on the creativity of entrepreneurs. In Europe, lobbying is an unregulated activity; I prefer to call it an effort, an effort that Coalitia pentru Dezvoltarea Romaniei (CDR) − which is a representative structure − has initiated. It is a non-formal, non-profit effort that local and foreign investors are making in trying to promote the country's executive and legislative initiatives. I served as vice-president of the AOAR (the Association of Romanian Businesspeople) and in this capacity I have actively participated as one of the first members of the CDR. I was also appointed president of the task force for agriculture in January of this year, and we have already had a meeting with Petre Daea, the minister of agriculture. I am always open to discussing and improving things.
What are your own business expectations for 2018?
We continue to increase the diversification of Aqua Carpatica products, increase the distribution of these products and export them as well – which is an extremely positive and promising trend. For 2018 we are now budgeting growth, investments and marketing objectives, and we are directing our efforts to achieve these goals. We want to assure the Romanian consumers of our efforts to be the first guardians/controllers of quality for our products.
What were the company's operational results in 2017?
Aqua Carpatica was the number one in market share in the still water category and we achieved double-digit growth; we had a double-digit growth in sales volume. I am satisfied with the financial results of 2017, because we managed to maintain the expansion of the brands. There has been continuity in the market success of the Aqua Carpatica brand which carries on building its international presence and global dimension.
You want Aqua Carpatica to become the number one mineral water brand around the globe. Are we going to see anything significant happen in this direction in 2018?
It is a long-term aim and it takes a long effort to become number one. We will continue to develop the presence of the brand in three major countries, one of which is Germany. We are optimistic about differentiating Aqua Carpatica in Germany and differentiation is the key word here. The brand has always targeted premium, new, modern networks. We have set our priorities and we will work to bring about results on specific distribution networks.
Are you going to expand your operations in Romania or rather restructure them?
There is no need to restructure; expansion is also a rule for us. So you are going to see a diversification of products, an increase of the distribution network and the consolidation of our communication platform.
How did your wines do in 2017? What are your ambitions for the wine division in 2018?
We posted double-digit growth in this category as well; we are happy to see consumers appreciate the continuous increase in quality and we aim to present a new variety of sauvignon blanc, which will pleasantly surprise a lot of wine connoisseurs. The Romanian consumer will always appreciate something that has a unique sales proposition, and we are confident that the Romanian market is developing in the same ways as in Western countries. We`ve noticed that mid- and high-quality products are starting to achieve significant quantities in sales, so there is a clear orientation of the consumer towards high-quality products, high-quality labels. Expensive premium labels are starting to sell more than, let's say, the affordable ones.
What advice would you give to young entrepreneurs who want to start a business in Romania in 2018?
They need to build a long relationship with their brand and develop a passion for it. The other thing would be to take a measured risk with their business plan. To learn from difficulties and not to give up immediately when they are confronted with difficulties. A love for their brand, a calculated risk, and perseverance – even after they have met the first difficulties – these are the three things to hold on to for anybody starting a business in Romania in 2018.
JEAN VALVIS
OWNER, VALVIS GROUP
Jean Valvis owns Valvis Group in Romania. He is the president and general manager of Valvis Holding and vice-president of the AOAR. He studied at the National Technical University of Athens, graduating in 1979 with an Architectural Engineering degree.
He later attended the University Paris I, Pantheon Sorbonne, getting an advanced graduate diploma in Architectural Aesthetics (DEA), entitled Argument on Space and Architectural Composition.