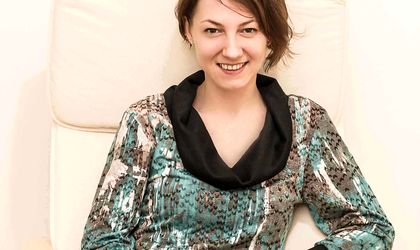 Jazz is defined as a diverse and multicultural musical genre, but also a continuum mix of people, feelings and music. "A festival creates a symbol for the city that hosts it and strengthens its identity. JAZZ comes to celebrate the vibrant cultural energy of Timisoara", say the organizers on the official page of the festival. How is the jazz scene seen from the city of Timisoara? We talked to Oltea Zambori, the head of communication of JazzTM, to find out what's happening on their local scene.
From my point of view, the jazz scene is blooming in Romania. We have more jazz festivals and special jazz concerts then never and the jazz events continue to increase. Does the Romanian public start to listen to more jazz? Do we have the same audience travelling from Bucharest to Timisoara's JazzTM to Garana Jazz festival, to Sibiu's Jazz Festival or to Cluj's Jazz in the Park? 
Oana Vasiliu
I think the Romanian public has always listened to jazz, but only now they discover that is was jazz what they are hearing. Jazz is such an eclectic music genre, going from croons to psychedelic instrumental music passages. I think jazz deserves to bloom because, until a few years ago, it was considered as being the music for high society. And it`s not like that at all.
All jazz events in Romania managed to make their own audience. JazzTM, for instance, is now known as the stage for young Romanian artists and great international stars and all together are trying to reach to the audience that is not naturally drawn to this kind of music, but also the ones that managed to learn the details of jazz music.
How about the local scene of jazz? Are new artists/bands coming on stage with jazz music? Is there a place for them while more and more great names from the jazz world are arriving to our country and offer absolutely amazing gigs?
Timisoara is somehow lucky when we talk about local scene of jazz. There are now amazing young artists that now playing all over the country and are invited to jazz festivals around the world. JazzyBIT and Sebastian Spanache Trio are the first ones that come in my mind, but other projects are born every year. JazzTM is also a showcase for those young artists and will always be the place where Romania`s jazz scene will be strongly represented by jazz artists. For example, the first music act specially produced for JazzTM is happening this year, is called SUBJazz and is a mashup between Subcarpati (underground folklore) and JazzyBIT.
You have the experience of organizing a jazz festival. You have been doing this for a while now. Did jazz music become a trend within the cultural organizations that provide this type of entertainment? Is jazz trendy in Romania nowadays? 
For sure jazz events became a trend nowadays, which is perfectly fine. Jazz is that kind of music that inspires people to feel and, in my opinion, there are not enough stages yet in Romania for all the amazing artists of the world. The audience will grow because young people become more and more interested in this special music genre. Every jazz festival (or event) is an opportunity to visit new places and discover new artists and the new wave of audiences is very interested in this discovery process.
This year, JazzTM will take place from June 30 to July 2, in Timisoara. For this edition, Thomas de Pourquery & Supersonic, Monty Alexander Harlem Kingston Express, The Chick Corea Elektric Band, Miles Mosley feat. The West Coast Get Down, Bill Laurance, China Moses are among the bands who will be jazzing up Timisoara.