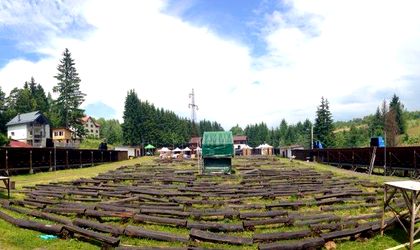 Probably the most known jazz festival of Romania, Garana Jazz Festival, has reached this year its 21 anniversary, celebrated, as usual, in the Semenic Mountains, in the southwestern part of the country.
Yes, people from all over the world come to this small Romanian village for jazz music. Garana Jazz Festival still nurtures the passion for jazz and nature along with the freedom of bringing these two elements together in a unique festival experience. The organizers say that this festival will remain faithful to its initial mission of revealing a distinctive universe where inspiring artistic encounters are made possible. But how?
Business Review talked with Marius Giura, the festival's director, to discover what's their side of the story in that small village from the mountains, where jazz legends have been travelling and fallen in love with the place.
From my point of view, the jazz scene is blooming in Romania. We have more jazz festivals and special jazz concerts than ever before and the jazz events continue to grow. Does the Romanian public start to listen to more jazz? Do we have the same audience travelling from Bucharest to Timisoara's JazzTM to Garana Jazz festival, to Sibiu's Jazz Festival or to Cluj's Jazz in the Park? 
There is definitely an increase in the number of people listening to jazz. Most probably not pure jazz fans, but listeners who find they like a particular style or type of jazz. And the increase, while significant, remains a small one and jazz is clearly not mainstream. So right now we have a hardcore group of jazz fans, followers of specific bands, listeners for whom jazz is just something they enjoy and the casual listener who enjoys listening to it but never actively searches for new concerts, venues or bands.
When it comes to festivals in Romania nowadays, the options are many and they all offer great quality. At the same time, maybe without even realizing it, each one caters to a slightly different audience. There will be those hardcore fans that travel from festival to festival to see a specific project or group, but each festival has its own significant crowd, people who attend every year. There is overlap, but distance and cost play a significant role in attendance as well.
How about the local scene of jazz? Are new artists/bands coming on stage with jazz music? Is there a place for them while more and more great names from the jazz world are arriving to our country and offer absolutely amazing gigs?
We are seeing a very interesting local scene trend these days, one that is very normal in the wider world. There are new jazz groups appearing – though, of course, not as many as for a mainstream genre – and there are more artists approaching jazz, even if just temporarily. And the number of jazz musicians participating in jazzy projects has increased significantly. Fusion has been a growing trend around the world and in Romania as well. As for overcrowding the scene, it has never been an issue. Jazz thrives on new input and collaborations, great gigs from abroad influencing the local scene and vice-versa. Local jazz will remain local, play in the regular clubs and the ones that rise to the top will be invited to festivals. It is the normal way of things around the world and has produced some amazing local projects.
You have the experience of organizing a jazz festival. You have been doing this for a while now. Did jazz music become a trend within the cultural organizations that provide this type of entertainment? Is jazz trendy in Romania nowadays? 
Jazz is not trendy. It has not been since the first half of the last century. Not in a mainstream way anyway. It is a scene mostly parallel to the popular music scene. But it has its own fanbase, and a growing one at that – and the promoters are taking it into account. There are now jazzy gigs at major festivals and every multi-stage event usually has a small jazz section. Jazz, especially contemporary fusion, is getting more and more attention, which is a great thing. Because, in the end, jazz equals creativity and freedom of expression and the audience has grown to enjoy that immensely.
Garana Jazz Festival will take place from July 6-9, in Garana village. Among others, Tonbruket, David Torn, Melt Trio, Bill Frisell and John Scofield will be staged. Please take into consideration the fact that accommodation there is sold out, so you need to find another village for joining the festival.
Photo courtesy of Garana Jazz Festival Facebook page