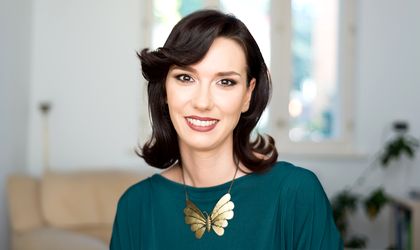 With more than 13 years' worth of experience in advertising and branding at important agencies such as Green Pixel, Proximity and Arsenoaiei & Matasel, Ioana Proca is brand consultant & partner Storience. She talked with BR about the branding industry, both in Romania and the UK, the campaigns she admired last year and also about what she expects for 2018, both for the agency that she is representing and the local branding industry.
By Romanita Oprea
How was 2017 for the agency in terms of turnover /revenue?
2017 was a stable year for Storience. Our revenue reached EUR 190,000 in our two offices (Bucharest and London), with Bucharest accounting for most of it. We communicate our turnover for our two offices jointly because the same team delivers all projects all over Europe.
What were the departments that were most successful? What about the least successful ones?
We work as a team and we do not have departments that are more successful than the others. Each project involves the entire team. The success of a project depends as much on us as it does on the client.
What about the pitches you attended?
Storience doesn't usually participate in creative pitches. The reason for this is that a correct branding process involves a strategic step which precedes and endorses the creative proposals. The strategic step is quite lengthy and is partly done together with the client. Client's feedback and an iterative work process are key to a successful project with long term benefits for the client, and that is why we insist on this process.
Once the strategic step is completed, the brief to the creative team is much clearer and the evaluation criteria are also well defined. This type of process is difficult to be implemented in a pitch, but sometimes the client agrees to implement it and to also compensate the agency for the effort. That's when we usually participate in pitches. This is not your standard "creative pitch", but we're adamant about not compromising on our work standards, to the eventual benefit of the client.
Otherwise, we do participate in agency selections, which involve credential presentation, project approach proposal and a financial offer. In 2017, we won 60 percent of the selections in which we participated, a good ratio considering that we are not the cheapest option on the market, and we're also only talking to desirable clients.
But more important, most of our clients contact us directly, based on our reputation and portfolio, and they only want to work with us. In 2017, most of the projects were contracted this way.
How would you characterize the local branding industry in 2018 in terms of budgets, campaigns, creativity, etc.?
At Storience, we've seen clients becoming more and more appreciative of the expertise that branding agencies can bring to their business. Even if sometimes they don't know how to request branding services clearly, they often start the discussion by presenting their most serious business challenges, and not just a creative brief. In 2017, we've been often approached as a consultant, not only as a services provider. We always consider our duty to critically judge the briefs we receive, and to question the real problems behind the exposed ones, as well as the decisions that the client made before approaching us. We managed to propose quite a few changes to "given" client decisions, and these will make a big difference to our clients. We are seen more and more like business consultants, not just communication experts.
Another tendency is that clients request us to continue the relationship after the branding process is over. This means handling communication assets and activities either directly or by supervising other companies as brand guardians. Mostly we assist them in defining the budget and the communication plan, and then in choosing these complementary partners.
Hopefully, what we experience at Storience are not exceptions, and the industry will focus more on strategy, on building coherent and consistent brands and not only highly creative, one-shot campaigns.
What were the campaigns done by the other agencies in Romania that you admired and why?
The first one that comes to my mind is the fundraising campaign for Magic Home. It's not much about branding, but it is a campaign #ForGood that impacted the entire communication industry. It raised the bar for communication campaigns backing social causes, it attracted a lot of sponsors, and it shook the NGO industry (we've heard of NGOs losing their sponsors who've been attracted by the popularity of the new kid in town). It opened new opportunities for branding and CSR activities in the NGO field… I think it's not too much to say that it opened a new era in NGO communication.
I appreciated the insightful idea, easy to grasp and to relate to, as well as the creative execution and the flawless implementation. All touchpoints were taken into consideration and addressed appropriately. This campaign managed to turn a small group's problem into a nation-wide subject, engaging a huge number of people and surpassing its financial targets.
Talking about #BrandingForGood, I recently discovered (as a consumer) a product that I liked: Apa din Noy. I like its positioning (though I am not necessarily a fan of spelling "noi" with an y) – a local water brand with a social cause, quite disruptive among its category fellows (when all the brands talk about the source of the water, they want to shift the discussion towards where water goes – in our bodies, to the people who lack it, back to nature) and how it makes us feel. Unfortunately, I found out that the product is already four years old and the communication didn't follow-up on the brand, which lacks visibility and awareness.
What were the most important changes & novelties in the agency in 2017 and how did they come to happen?
The most important novelty is of course our repositioning on #BrandingForGood. It happened before I joined Storience and I won't hide that it was one of the reasons why I did.
Then, me joining the team has proven to be another notable event, as I am just becoming a Partner at Storience a year later, joining Adriana Liute who co-founded Storience and replacing Stefan Liute, the other co-founder. Stefan took on another career path (in technology) at the beginning of 2017, and remains a Senior Advisor at Storience.
What trends did you notice on the local market last year and how do you intend to follow them /represent them at your agency?
The first that comes to my mind is the one related to brands' social involvement. Consumers expect it more and more and brands are tackling ways to demonstrate it. This is one of the trends that led to our repositioning and we aim not only to follow it, but to raise the standard. We want to put social responsibility on the agenda of companies and brands from the first draft of their brand definition.
Another trend is for local companies to go international. Several of our clients currently do this and we're very excited to think global along with them, duly applying the insights we get through our London office.
What do you foresee for 2018 from this point of view?
Brands will become more socially responsible, in more relevant ways. They will include this topic in their market research, to discover what makes Romanians tick. Also, more brands will expand internationally, especially brands with an important technology component.
What is your goal for 2018 in terms of revenue, but also new clients, employees, etc.?
We are increasingly partnering with industry leaders, and we want to continue this positive trend. Our projects are more complex than ever, and this gives us a lot of satisfaction. In terms of new clients, we have a good rate of new projects that we wish to keep (roughly 2 new projects per month). We are also planning to become brand guardians for at least two clients this year.
We've already achieved one of the goals – to strengthen our team. We hired two colleagues – one on strategy, and one on design.
In terms of revenue, we want to at least maintain the level in 2017, but chances are we'll surpass it.
What do you wish for the local industry this year?
To keep the focus on long-term benefits, to propose more brand-building solutions and less tactical ones or to mix the tactical with the brand-building ones.
How do you see the Romanian market connected to the international one at this moment?
Through festivals. At least they set the standards, at least we know what to aim for. At most, we also win prizes and put Romania on the map of global branding and communication. At Storience, we aim to win an international award every year. We did that at Rebrand100 earlier this year, where we received a Merit award for rebranding www.30-0.ro.
Through Romanian brands expanding abroad. It is true that most local brands tend to echo what they see in the more developed economies, but there are ambitious companies who innovate and some of them are our clients.
Where is the local industry still lacking and what can be changed?
At an individual level, I would like to see more preoccupation towards higher standards, towards excellence. I still see very basic proposals presented as state of the art.
At industry level, I would like to see more responsibility. I think we, as communicators, have huge responsibility in creating and growing trends, in launching conversations, even in educating. The communication of the brands we work for should reflect this responsibility.