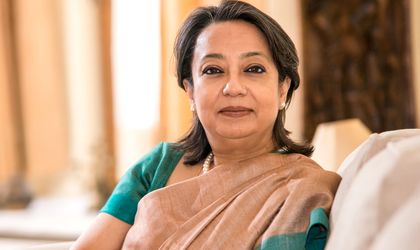 Riva Ganguly Das, the Indian ambassador to Romania, tells BR in an exclusive interview that the Indian investment community in the country is not that visible, even though companies have projects in key areas such as IT and pharma.
Ovidiu Posirca
The ambassador says that one of her priorities is the opening of the local market for Indian companies and, in the future, the setup of a chamber of commerce that could help them get more involved in the country. Furthermore, she says there are Romanian companies looking to invest in India, which is a champion in terms of the attraction of FDI.
Why are Indian investors not that visible in Romania?
They are small in numbers, let's accept it. There aren't too many Indian companies here, but they are present in a very important sector: IT – I think that India and Romania have natural synergies. You are outstanding in IT, we are top-class in IT. So, naturally, this is an area our companies have found it is beneficial to do business in.
We have two companies in IT here: Genpact and Wipro. Pharma is another sector where Indian companies are present. A lot of Romanians don't know that Terapia, which is a very big Romanian company which has been around since 1921, belongs to India. It is owned by Sun Pharma. They have an excellent manufacturing unit in Cluj Napoca, making drugs for the Romanian market and also for exports. They employ more than 700 Romanians.
We have a joint venture with a Belgian company in the textile sector. Dr. Reddy is also active in the pharmaceutical sector. It's a question of a little more visibility and a little more activity.
I have been here four months so I would definitely like to promote much more interaction between Indian and Romanian companies.
What are your plans in Romania?
I think there is a lot of potential in our economic and trade relations. Trade is also quite small. There are many areas where we can collaborate and cooperate. Romania has excellent technologies in many areas, and India has of course a lot of goods and services that we can sell here.
I would try to do business events, and try to have more interaction among the business community.
I think the future looks good for us and we should be able to really upscale our relations.
You mentioned plans to launch the Indian-Romanian Chamber of Commerce. What are the plans in this area?
That is something I would like to do. Let's see how it works out. We haven't found a president yet for this organization. We have to create a critical mass first.
What can you tell me about the Romanian companies that are encouraged to invest in India?
There are many companies which want to do technology transfers, which want to invest into India. India has had a phenomenal success in FDI. We have had a 48 percent increase in FDI, beating all global trends where FDI is going down.
So, India is ranked among the top countries for doing business and I think it's a matter of getting the information across to the right people.
How is Romania looking, from a European perspective, from the point of view of the economy and the political area?
From what I hear from our Indian companies, they are very happy here because Romania has an excellent workforce, high productivity. People speak English and you are part of the European Union, which is a big advantage.
So as as far as that part is concerned, it's a fantastic investment climate. Romania is growing at a phenomenal rate compared to the overall growth in the region so it's a bright spot which I think Indian companies are recognizing. That is why big investments are coming in.
CV Riva Ganguly Das:
Riva Ganguly Das joined the Indian Foreign Service in 1986. She is a Post Graduate in Political Science from Delhi University. Prior to joining the Foreign Service, she was a Lecturer at Delhi University. Her first posting was in Spain.
She served as Consul General of India in Shanghai from 2008 to 2012. After her return from China, she headed the Public Diplomacy Division in the Ministry of External Affairs and she was in charge of the Latin America & Caribbean Division in the Ministry of External Affairs.