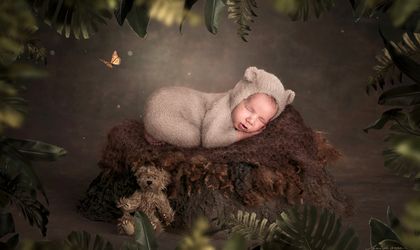 Last year, young parents Anca R. Costea and Dan Costea (well-known advertising senior art director and lead singer and founder of the rock band Coma) decided to launch their first business project together. Under the "Pui De Poze" umbrella the couple photograph and edit the pictures for newborns, bringing joy in the lives of other young parents. One of the brand's differentiating points on the market is that the pictures are taken to children up to two weeks old, offering an unique perspective over those first days, in the years to come. BR talked with them and found out more about the idea and their business plans.
By Romanita Oprea
When did you first discover your passion for photography?
Anca R. Costea: For me, there's always been something that attracted me towards arts, or rather artsy things: I'd spend hours admiring various photographer's and illustrator's works, that I'd stumble upon on the Internet or albums. My e-mail would fill with newsletters from websites that were art oriented. My computer was full of such folders. But I never had the courage of actually DOING something creative, visual-wise, until college, when I got a job for an online shop, where I had to photograph their clothes on models. I quite disliked it, so I remember this feeling of disappointment.
"I've always wanted to use a camera, to take photos. But this doesn't feel right. I don't feel the creativity rushing through my veins, I'm actually not very good at it", I remember repeating to myself. But I then realized that it was only because there, at my job, it was a matter of quantity instead of quality, so naturally, there was nothing creative there. Still, I stood there for some years, enough to learn and practice the basics of photography and editing. It was only after I gave birth to our son and received a photography course as a gift from Dan that I actually felt that shiver, the confidence that I can do it creatively, and I remember thinking after the first class that "I kinda like it after all!", and weeks later, after the exam, I actually said "; This is what I want to do!"
Dan Costea: As an art director as a profession I discovered the amazing photography retouching about 11 years ago when I was working on an advertising project. It was a print layout done with Carioca Studios (a photo & retouching company) and I was blown away seeing what one can do with some well shot photos and fine retouching skills. I knew that I wanted that ever since.
How did the idea of Pui De Poze come to you and evolved?
Anca R. Costea: After giving birth to our son, I was surrounded by baby related info. Of course so, somehow, we someday saw some gorgeous newborn photos online that I wanted to take of him, but never got to, because I was overwhelmed with being a mom and was constantly tired. Therefore, after a while, after he grew up and wasn't a newborn anymore, I felt so bad for not taking any "professional" photos of him, that I wanted to make up for this by photographing as many newborns as I could.  Probably because I wanted to feel the happiness and emotion of having those beautiful newborn and family shots vicariously, through other new parents.
Dan Costea: Well, I've been making print layouts, photo composites & retouching for more than 11 years. Two years ago I found out that I was about to become a daddy and knowing my wife's background as a photographer the Idea sparkled. We didn't get the chance to photograph our baby so after a few months when we got used to being parents we started to learn what NEWBORN Photography is. We called all of our friends and friends of friends that were about to become parents and started Pui De Poze.
Do you have international examples you are admiring? 
Anca R. Costea: I think that, currently, Kelly Brown is my Metallica of newborn photography. There are also countless other photographers that I follow every day, but I absolutely adore that woman! I first discovered the works of Julia Kelleher and Ana Brandt, so they will always have their role in our journey.
Dan Costea: Anca is researching all that is on the internet regarding newborn photos and, of course, she showed me some awesome works done by Noelle Mirabella, Kelly Brown and some others that I can't remember right now.
How did your professional background help you?
Anca R. Costea: It only helped me technically, I think. Those years spent doing product photography helped me learn how to work with a DSLR, how to edit images in Lightroom and Photoshop, at a basic level. Everything else I learned in my free time.
Dan Costea: I think that our professional backgrounds helped our newborn photos look, in just one year, like others look in three. As an art director, doing retouching and making composites all day long as a job helped me a lot. I am lucky that at the office I can learn to do better retouching and get informed about visual trends every day; this keeps me focused. Imagine, if I had worked as a plumber or a firefighter things would have been different, I think.
How much did you invest?
Anca R. Costea: I think Dan can answer this. A camera, the lens, a continuous light, two backdrops and a couple of baskets, was it?
Dan Costea: A very good second hand camera about EUR 1,400 plus the two lens around EUR 1,500 and with the lights the backdrops, blankets and all the hundreds of mini props, I think all the initial investment was somewhere up to EUR 5,000.
When do you hope to reach breakeven?
Anca R. Costea: At this point, I think it will probably take a while, because the investments are huge.
Dan Costea: An optimistic evaluation is one year. That is with the investment that we made until now.
How is Pui De Poze differentiating in the kids' photos market?
Anca R. Costea: Most newborn photographers work alone, from what I noticed. We are a team consisting in a very passionate photographer, an extremely talented and experienced art director and a very cute kid that inspires us daily. And we have this grit that made us reach a visual and quality level in just a few months that you can see at very experienced newborn photographers after years of practice.
Dan Costea: Right now we are trying to master "the classics". Of course I think we give a bit of a different vibe to our newborn classics that most of the market is doing, but we have some fresh ideas, but I don't want to spoil the next surprises. Just wait and see.
How did you choose the name?
Anca R. Costea: After a couple of days of brainstorming and focusing on that IT name, it actually came pretty naturally. I went to bed one very late night, exhausted after mommy-ing all day, on the one hand, and thinking and researching names on the other, and I remember saying "I will not fall asleep until I find the damn name!" and instantly came the idea that we are taking photos of practically "human cubs", so they are tiny photos of tiny human cubs, and then I wrote a whatsapp message to Dan, who was still up in the living room, with a list of names that went around the idea of tiny baby photos of tiny human cubs. He texted me back saying "Pui de poze (i.e. Photo cubs) it is!" and I immediately fell asleep.
Dan Costea: My wife came up with this beautiful name. I am so glad and proud. When she sent it to me, I knew it was "IT"
What were the results in 2017?
Anca R. Costea: I think that the most palpable result is the portfolio. Other than that, but not less important is that basically everything we know newborn photo-wise, happened in 2017.
Dan Costea: We learned a lot. I think the most important result for 2017 is the beautiful memories offered to some overwhelmed and busy parents, that they will cherish forever. And of course we gained a lot of experience.
What do you expect and wish for 2018?
Anca R. Costea: I can't wait for us to have our dream studio this year! I also wish to start creating a solid client base and to make our work known and appreciated by as many as possible.
Dan Costea: I wish for this beginning to become a beautiful family business.
Do you plan to expend your services in the future? Why?
Anca R. Costea: Maternity photography is next on the agenda. I don't know why, I just know I want to make those gorgeous mommas see themselves as beautiful as they truly are.
Dan Costea: We have some ideas, but as I said, I don't want to spoil the fresh stuff. Why? To bring something new to the newborn photography scenery.