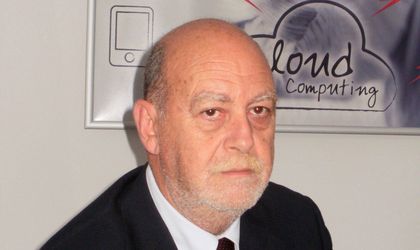 In 2015, SoftOne established an international support center in Romania for all its partners in South-East Europe. SoftOne Romania CEO Haris Zachariades tells BR how the company works locally and what its short-term goals are. He believes that Romanian firms still need educating about the benefits of business solutions such as mobile applications, ERP and CRM.
Otilia Haraga
What are SoftOne Romania's main priorities, as a regional center for CEE expansion?
SoftOne Romania aims to further extend its partner network in 2016 by at least 50 percent, and reach 60 distributors nationwide by the end of the year. At the same time, this year, the target is to increase our portfolio and reach a total of 300 customers. (…) In 2015, SoftOne established in Romania an international support center for all its partners in South-East Europe. This has diversified the company's duties to management, marketing and support for all the partners in the region.
Where has this center expanded so far?
At the end of 2015, SoftOne Romania started coordinating the activities for all its partners in South-East Europe, in terms of marketing, sales and support. SoftOne currently has a network of 40 partners in Romania and oversees 10 internationally, in Cyprus, Bulgaria, Albania, Russia, Moldova and Serbia. Of course, we are considering expanding even more, but, at the same time, we will focus on further consolidating our position here, in Romania, and on developing a closer relationship with our partners.
How are operations divided among the company's offices?
Currently, SoftOne Romania has an office in Bucharest from where the company coordinates its entire activity. In our Bucharest office we also periodically organize special training for our partner network, to give them a better understanding of the business solutions we offer our clients. In the near future we plan to increase our partner network in every county, taking into account that Romania has great development potential, a highly trained workforce and good telecommunications infrastructure (internet), especially in regards to the IT&C market.
What were the company's' financial results last year?
SoftOne Technologies, at an international level, registered a 15 percent increase in turnover in 2015. Currently, Soft1 solutions are being used successfully by over 15,000 companies active in several international markets, as well as in many industries such as retail, distribution, construction, transportation, production and services.
How many employees do you currently have for each division in Romania?
Currently, we have 14 employees in our office in Bucharest, professionals with extensive experience in sales, marketing and international support, to develop and provide top quality business software and cloud services. Also, we are confident that the success of our activities here will be built on the strong and trustworthy relationship we develop with our network of partners.
What are SoftOne's priorities for the Romanian market for next year?
The main priority is to further consolidate our role of hub in South-East Europe for our mother company, SoftOne Technologies, as well as increase the number of cloud installations.
Why is it that in Romania there is a lower degree of mobile business solution implementations than in more developed countries?
Romania has a low degree of implementing business solutions in general. This underlines the fact that there is a major need to educate companies so they understand how they can benefit from using such solutions, whether it's a mobile app, ERP, CRM etc. Nevertheless, things are improving. Currently, 30 percent of SoftOne Romania's clients use a mobile business solution and we expect this percentage to grow by 20 percentage points by the end of the year. At the same time, based on the growing number of small and medium enterprises which have become more open to the adoption of cloud business solutions, we estimate the Romanian cloud ERP market will grow by 15-20 percent in 2016.
Since you entered the Romanian market, what has changed in terms of business climate, legal context and your business expectations?
We entered the local market in 2013 with ambitious plans, knowing that Romania has so much to offer a new company. The business environment here keeps getting better due to improved regulations. Romania's economic climate is a stable one, which means that we will be able to continue to grow and establish new important partnerships in the near future.
What are the three most popular business applications among SoftOne clients in Romania?
The flagship solution for SoftOne is Soft1 ERP – an advanced business solution that provides quick access to information anytime, anywhere and on any device. ERP systems are currently developing fast. The most important factors contributing to this development are cloud technology, mobility and complex reporting systems, which will develop a lot in the following years. (…) A module that can be provided as a stand-alone application and that is increasingly popular lately is Soft1 CRM, which has incorporated the newest CRM technologies and of course the web & mobile applications, mainly due to our on-cloud edition. Also, we have started to notice increased interest in the electronic invoice solution, eINVOICE, which is a cloud service that enables companies to improve the efficiency of invoice processing. It fully addresses the needs of any enterprise, regardless of its size or industry of involvement. eINVOICE completely simplifies and automates the sending and archiving of invoices by delivering electronic ones to customers. It represents an innovative solution that 100 percent eliminates any printing, archiving, mailing and delivery process.