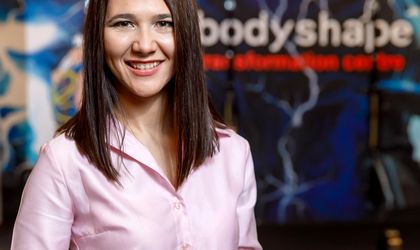 After energizing London with Club Cardio, a business hosting fitness events in a nightclub setting, Irina Alionte entered the Romanian fitness market with Bodyshape Transformation Centre, the company that she founded in 2015 and still runs today. She told BR about the philosophy of the gym and her plans for 2018.
By Georgiana Bendre
What differentiates Bodyshape Transformation Centre from other gyms?
Bodyshape is not just a fitness center – it's your second family. We work out and relax together, we laugh together, we eat and party together and we grow together into our best version. Bodyshape promotes long-term lifestyle changes and supports you in every area (fitness, nutrition and motivation) to accomplish that. We work out and relax together, we laugh together, we eat and party together and we grow together into our best version.
All our programs are results-based programs built on constantly encouraging members and continuously measuring their progress to make sure that they reach their final objectives. Bodyshape fitness sessions are personalized depending on each member's fitness level and all the exercises are scientifically proven to burn up to nine times more fat than a normal aerobics class.
Members benefit from personal training, but in a dynamic group format, which makes it more fun and more accessible for all budgets.
Our nutrition system is based on detox techniques that have helped thousands of women and men create a positive relationship with food. All through the program, our members have access to emotional eating seminars and coaching sessions with our transformation experts which will help them get rid of their sweet cravings and unhealthy snacking, a very important, yet totally neglected aspect of the fitness industry.
Moreover, we are the only center in Romania that rewards its clients for their results: those who successfully finish our "6-week Challenge" program and lose 6 kg in six weeks receive a bonus of another six weeks' training for free. Those who lose less than 6 kg receive credit of EUR 20 / kg lost as a token of our appreciation for their efforts. In this way we offer our clients the support and motivation they need to continue with us for the long term.
Is there a subscription after the "6-week Challenge"? Do you also have corporate programs?
After the "6-week Challenge", our members can continue with 4 week, 12 week, 26 week or 1 year programs. Most of our challengers (that's what we call participants in a six-week transformation program) decide to continue with a one-year program – it's the most popular option for those looking to live a healthy lifestyle in the long run.
Usually six weeks is enough for people to build healthy eating habits, enter a workout routine and get accustomed to making simple adjustments to their existing lifestyle. Once the "6-week Challenge" is over, they find it easier to simply maintain the initial momentum and continue with their new habits.
For companies we offer discounts depending on the number of subscriptions and we also organize teambuilding events which include a fun team workout and a nutrition seminar for all participants.
You also organize seminars/workshops on mindset and emotional eating. Are Romanians open to them?
Yes they are and they understand more and more that they are the only ones responsible for changing their habits and lifestyle. The way they think and feel reflects on their behavior and ultimately on their health and happiness.
How much was the initial investment?
The initial investment in equipment and operational capital to support the business in the first year was EUR 35,000. We reached break-even point within the first 12 months of setting up the business.
What turnover and profit did the center register in the first two years?
We ended 2015 with a turnover of EUR 151,092 and in 2016 we had a turnover of EUR 231,384, which represents 55 percent growth.
What have been participants' results so far? Have they fulfilled their objectives and changed their mindsets?
Fulfilling the "6 kg in 6 weeks" objective is easier than changing your mindset for a lifetime, but it is the first important step, and more and more people are deciding it's time to make a lifestyle change. Our "6-week Challenge" burned over 4,000 kg of fat and we have over 1,000 documented success stories with Before and After pictures.
Is there a peak season for the center, for example after winter Holidays? Or is it more about a lifestyle, a constant training and mindset?
Even though there is a large pool of people who adopt "the Bodyshape lifestyle" all year long, we can still feel a peak just before and after the winter holidays, or before the summer vacation, when everyone wants to look fit on the beach, as well as in the months of September and October, after the summer holidays are over.
What are the objectives for 2018?
We plan to take steps to expand our business, as more and more potential members want us to open a location closer to where they work and live. Right now we are situated in the northern area. I am also working on launching a book and a weekly online TV lifestyle show, to empower people to live a healthier lifestyle and be the best possible version of themselves.
You have also owned other businesses. What have you learned from them that has helped you in your current business and what made you continue as a young entrepreneur?
I owned a marketing consulting and events management company, Born2Succeed, which promoted quite a few international speakers from the UK, USA and Canada. I loved my time organizing events and the experience has shaped me up a lot as an entrepreneur, polished my organizational skills, as well as speaking skills, as I spoke on stages in London, Miami, Las Vegas, besides Bucharest. I had the opportunity to organize over 100 business and personal development events, which helps me a lot in my current business, where I apply this expertise to organize our own in-house fitness, nutrition and mindset events for our members.
Club Cardio also prepared me for running Bodyshape Transformation Centre. What I believe all these have in common is the fact that I love creating fun experiences for people, adding value to their lives and improving the quality of their lifestyle. I'm passionate about seeing people become even more of what they are, fulfill their potential and take major action towards their goals and ideals. That's what motivates me the most and keeps me going as a young entrepreneur.
IRINA ALIONTE
owner, Bodyshape Transformation Centre
She is a 29 year entrepreneur who founded Bodyshape Transformation Centre in 2015 and still runs today. She previously owned a marketing consulting and events management company, Born2Succeed in Romania, as well as a business hosting fitness events in a nightclub setting in London, Club Cardio. She graduated from Warwick Business School, with a degree in MSc Marketing and Strategy.