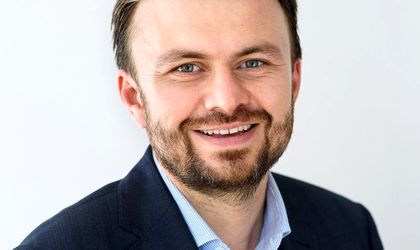 Claudiu Vrinceanu, business consultant and initiator of the Start-Up Bridge, has embarked on a quest to help local start-ups think internationally. After meeting with entrepreneurs across Europe, he says that the millions of Romanians émigrés can be one the main sources of support for local business owners that have ambitions to expand abroad. The project was launched by Romanian Business Leaders Foundation.
What are the main challenges for local entrepreneurs who want to expand their business outside the country?
The main challenge for Romanian entrepreneurs that want to go international has to do first of all with their courage to think and act globally. We believe that there is a mentality that keeps us stuck in thinking and acting mainly locally in business. This is why we initiated the project in response to the need of Romanian entrepreneurs to cross the borders for regional development, but also to overcome the mental obstacles that we have when it comes to business. These mindset barriers can be easily removed through direct contact with entrepreneurs and executives from different business cultures. We want to help Romanian entrepreneurs to expand their horizons further, whether this means the vision of the business, the execution or other market opportunities.
Another significant barrier for Romanian entrepreneurs that aim to internationalize is the limited capital, but from my experience to date, I see an increase in the number of financiers and investors interested and able to finance business scaling processes abroad.
Thirdly, access to people and skills abroad is one of the missing dimensions in the Romanian entrepreneurial ecosystem. This is why I believe that in the coming years we should train Romanian middle-managers that are specialized in international markets starting from the experience of Romanian firms that are already international and send their own employees to the new external markets currently being developed.
Fourthly, another challenge is access to partners and organizations that can enhance the development abroad: chambers of commerce, embassies, hubs, consultants and lawyers. Romanian entrepreneurs are becoming more aware of the role of business communities and of platforms for match-making and consultancy that can create bridges between Romanian markets and the target ones.
Fifthly, the lack of concrete and updated information regarding the target markets is a significant barrier, especially for smaller entrepreneurs that want to expand abroad. Romanian firms need studies and research about business opportunities in international markets.
What were the first markets targeted by Start-Up Bridge? Which ones were more receptive to the needs of Romanian entrepreneurs?
The first countries included in the Start-Up Bridge program were Bulgaria, Hungary, Switzerland, Norway and Spain. We identified a high degree of receptivity from the neighboring countries, Bulgaria, Serbia and Hungary, where the main business development opportunities exist if we look at the actions of entrepreneurial firms such as FanCourier, MedLife and Autonom Rent a Car.
Where do you plan to take the Start-Up Bridge this year?
The markets targeted by the business community around Start-Up Bridge this year are Israel, France, Germany and Poland. Aside from the match-making events organized abroad, one efficient way to analyze markets is through Start-Up Bridge Meetups, events where we analyze case studies of Romanian entrepreneurs that already went international. For instance, SaladBox has already expanded in Europe and North America, while eMAG went to Bulgaria, Hungary and Poland. These companies are already part of the Start-Up Bridge community and provide support, know-how and access to information for entrepreneurs interested in internationalization.
From what fields are the entrepreneurs interested in expanding their businesses abroad?
Entrepreneurs that want to expand their companies abroad mainly come from technology, manufacturing and agriculture.
Have you talked to Romanians living abroad who are thinking of returning home to start a business? How do Romanians from the diaspora perceive the local business environment from the point of view of opportunities?
I have been in contact with a lot of Romanians abroad, entrepreneurs and managers, who want to invest in Romania, but also to support Romanian firms that want to internationalize in the cities in which they have been living for years. Romanians from the diaspora represent a potential that hasn't been used yet; they are facilitators for Romanian entrepreneurs that want to expand and I have already invited them to join Start-Up Bridge. For instance, in Madrid we have many start-up founders and top managers, including CEOs, that know the local market very well and can open the door to Romanian entrepreneurs looking to expand in Spain. The Romanian diaspora is a catalyst for the stimulation of internationalization.
Does the Romanian state do enough to support companies that have international ambitions?
The Romanian state could get more involved in supporting businesses that want to go international, by implementing smart support programs with a 360 degree range, including not just financing, but also access to information and know-how. Through diplomatic representation on external markets for the stabilization of KPIs that can be correlated with the measuring of the performance of the business environment abroad. By engaging in dialogue with entrepreneurs that want to internationalize, for instance by creating a club/group of firms available and interested in international expansion.
What relationships does Start-Up Bridge have with financing organizations (banks, venture capital funds, angel investors, stock exchanges) that could help local companies expand?
These financiers represent one of the most important actors in the internationalization ecosystem. Banks are already involved in Start-Up Bridge, and a growing number of investment funds attend our meetings.
Claudiu Vrinceanu
October 2017 to present -partner & co-founder of VP Connections
August 2017 to present -co-founder of Risers Net
May 2017 to present -senior project manager, Start-Up Bridge Romania
December 2015 – January 2017 -secretary of state for Business Environment, Foreign Investors, Tourism and SMEs
June 2015 – December 2015 -manager and editor-in-chief, Wall-Street.ro
He holds an MBA in Management, Entrepreneurship and Innovation from Maastricht School of Management.