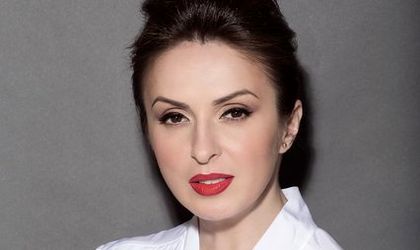 The biggest online retailer for beauty products in Europe, present in 16 countries, including the UK and the USA, is going through an elaborate rebranding process, which includes a new name. Starting March 2017, Notino (formerly Aoro), also appointed Romanian communications expert Gabriela Lungu as global chief marketing officer. BR talked with the recently appointed CMO about her path and objectives in the new role.
By Romanita Oprea
How was your journey with Notino, from proposal to signing?
Smooth. I was looking for a multi-market company with their HQ in the Czech Republic (where I moved in September last year to reunite with my husband who's been working in Prague) where I could really have an impact, a company with high international ambitions. Michal Zamec, our founder and CEO, was looking for someone very experienced, but highly entrepreneurial at the same time, to take the brand to a new level. We both felt we were a good match. We only had a few meetings, and it took only 3 months from the first contact to my first day at work.
Prior to Notino, have you ever wanted to work on the client side or was it just perfect timing?
I started thinking of working on the client side 2 years ago, when I was approached for a role by a tech company that I respect a lot. It didn't work out then and I took another agency role with TBWA\London, but it made me think. Then, when the creative star Tor Myhren (Grey worldwide chief creative officer) left the agency world to join Apple as its VP for marketing communications, I read an interesting article about top creatives moving to the tech industry. I remember that I even shared it on Facebook, and I decided that a role on the client side was going to be on my path as well one day. My experience with Airbnb at TBWA was very valuable. When I moved to the Czech Republic, I looked only for client roles in tech based/new economy companies.
How do you believe that your expertise so far will help you on your new path? With your extensive PR and creative advertising background, what do you believe you bring to the table that is different?
It's been an easy transition – when you have wide-ranging, extensive experience in marketing communications, many of the skills are translatable. It helps that I'm not just a communication or creative specialist, but first and foremost a business leader – I've run 2 agencies (one of them was my own, which strengthened my entrepreneurial DNA).Integration (with deep expertise in different communication areas), bold award-worthy creativity, and a passion for building brands with social purpose, are probably my most different skills, and they make me particularly suitable for a modern marketing role.
What are your main roles in the new position and how will you tackle them?
My responsibilities are the ones you'd expect of a CMO in charge of 16 existing markets and set to launch new ones. From brand vision to leading the global marketing team, from building brand equity to supporting sales and development. Integration, creativity and purpose is my mantra, my approach.
What is your main goal for the first year in this position?
To evolve the Notino brand and voice. Notino is a growing, successful international business merging beauty with technology, and I'm very excited fully reflect this vibrancy in the brand as well. I want to add emotional resonance to, what is today, a mostly functional brand, in all the markets we operate in. We are starting a complex brand development process, together with a top global agency.
You are also famous for the numerous awards received during the years. Will Notino target creative & efficiency festivals in the future?
Of course we will. Awards are a great measure for the value of communication. Winning with our work is one of my top mid-term objectives.
How involved were you in the brand's rebranding process so far and how will that change or not in the future?
Romania is the first market where we'll start rebranding this year, shifting from Aoro to Notino. Several markets were rebranded last year, before I joined the firm. The new global brand name and visual identity were developed therefore last year. What I'm doing now is to add substance and depth to this identity, developing our brand narrative and the whole brand ecosystem: our vision, our mission, our values and so on.
I will lead the rebranding effort, but we have a special team managing the entire process. In Romania the involvement was higher, and a bit more personal to be honest, as it was the first rebranding under my leadership, and because I'm Romanian.
How long will the whole rebranding process take and what will be the most important steps in the process, in Romania and worldwide?
The global rebranding will be finalised at the end of next year, 2018. In Romania, we're aiming for the end of this year, but it depends on how fast Romanians will become familiarized with the new brand, which we'll monitor constantly. Being an online retailer, we have additional challenges compared with brick and mortar retailers.
Who is Notino right now and what do you want it to become?
Notino is now a very appreciated and successful functional e-commerce brand. My goal is to transform it into a meaningful, loved beauty brand, that connects with customers far beyond function, a brand that inspires, not just helps, with a clear social purpose: to democratise and demystify the beauty industry, to make the best and the most popular beauty products accessible to smart customers. Beauty should be accessible for everybody; when people feel at their most beautiful selves, they are more confident and creative to go after their dreams, and make the world beautiful in return.
What do you believe are the most important professional decisions you have taken in your life so far?
Staying in this industry. Many people leave this domain when things get too complicated or too difficult or too repetitive. They change course radically – some find themselves by doing that, but most of them lose themselves completely. I strive to reinvent myself within the industry I know and love, rather than outside of it.
Is there anything you would do differently, with the knowledge you have now? Why?
All decisions I took were, at that moment, the best decisions for me. Anything else doesn't really matter.
You have been an amazing professional strategist, planning your big, important moves ahead. How essential is the strategy in order to achieve a very good professional status and position?
My "big, important moves" as you call them, were not always as deliberate and rational as the word strategist may seem to indicate; I did build a good career, that seems very strategically planned as we look back today, but intuition, vision, and gut feeling played crucial roles.
I think that the essential thing in a career is to do a good job wherever you are. Delivering good work that delivers results (and not being a total arse while doing it, but trying to bring good energy and to be fair) is the best professional recommendation – that is what achieves status and position. I also think it's vital to have the courage to shake things up in your own life when you're in a too comfortable zone, when you feel that you're not growing anymore, or you simply don't feel that you belong somewhere anymore.
Last but not least, I think flair to sense the next best thing is also quite important.
My career has been based on all 3 things. And this is not very common. I think few people actually give their absolute best when they work – I personally can't function in any other way. Even fewer have the courage to change things long before they are broken, just out of hunger for new challenges – I personally love a good challenge.
Gabriela Lungu
With 20 years' experience in marketing and communication, Gabriela Lungu successfully led two communication companies in Romania: Ogilvy Public Relations (2002-2006) and THE PRACTICE (today MSLGROUP The Practice), the company she founded in 2006 which was purchased by Publicis Groupe in 2013. For the past 4 years, Lungu has been living in London, UK, where she worked for some of the most renowned communication companies in the world: Weber Shandwick (in the positions of consumer marketing practice leader for EMEA and chief creative officer UK and EMEA) and TBWA\London (as creative partner).