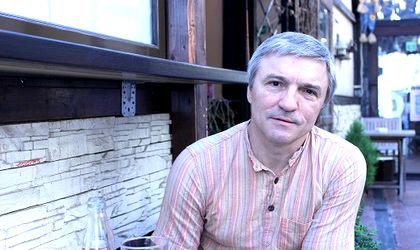 Gabriel Bugnar has a dream: he wants to put Romania on the European map of recreational vehicles (RVs). To that end, he founded Tracia, the first recreational caravan factory in Romania and South-East Europe. His idea won the hearts of the jury at local start-up competition Startarium Pitch Day in 2016, who granted him funds. However, since then, Bugnar has struggled to build the prototype and continues to look for financing to start mass production.
By Daniela Oancea
Gabriel Bugnar: Entrepreneur, founder of Tracia Caravan
He graduated the "George Enescu" Art High School and the "I.L.Caragiale" Academy of Theater and Film. his professional background includes different positions for both public and private broadcasters (producer, reporter, editor, artistic director at the national broadcaster TVR, executive producer at ProTV and general producer at RealitateaTV. Since 2015 he started his entrepreneurial career.
You wanted to open the first caravan factory in Romania. What was your initial motivation?
When I first thought about the existence of a caravan factory in Romania, I had no plans. It happened 15 years ago when I bought my first second-hand caravan from Rotterdam. I travelled three weeks from Holland to Romania with that van and I stopped at many campsites. During my journey, I realized that there was no factory for this RV in this part of the world. I studied the market and I realized that, at that time, the closest factories were in Germany and Slovakia, but they did not sell on the Eastern European market. That's how I realized there was a fantastic potential, and it was the first time I thought about the need for a caravan factory in Romania.
From the first idea until I took an actual step in this direction, 12 more years passed. I'd been working in television for some 25-30 years, and because that was not exactly what I wanted anymore, I began to think more and more about the story of the caravan factory.
In 2015 you participated in a pitch competition for start-ups, organized by Ilfov County Council, with European funds. You were awarded EUR 25,000. How did you invest it?
Indeed, that year, Ilfov County Council launched a pitch competition for start-ups, committing to finance 40 business ideas with EUR 25,000 each, from European funds, so the 40 start-ups could put their business ideas into work. I made a plan and participated with this idea of the first Romanian caravan factory. I was successful and so I started the company and began working on the original concept. At the time, I did not know what it meant to set up a business, but I wanted to go through all the stages personally, so that I could understand and learn things. I did not go to a consulting firm. I went to the Trade Registry personally; I did not go to lawyers. I had an accountant who advised me, as I did not even know how to make an invoice. I learned on this project, for six months, everything that could be learned about starting a business. I invested in office equipment (laptops and printer), and I was able to pay my own and three colleagues' wages. I paid rent for office space, taxes, and I developed our website. Six months later, I had the product project and had spent EUR 18,000.
You won the big prize of EUR 70,000 at the Startarium Pitch Day competition in 2016. What did you invest it in?
In 2016, the caravan project remained in stand-by for a while, because I had no more money to continue making the prototype and start serial production. In the autumn of 2016, I learned that Impact Hub and ING were organizing this Startarium Pitch Day contest. It was a pitch competition, basically, from which 80 projects were selected. Ten projects, including mine, made the finals. Out of the ten, three were awarded a prize. The fact is that I earned this sum, with which I built a production workshop in Silistea Snagov, on a land that I had owned for many years. I built the workshop from scratch, and throughout 2017, I worked on the prototype. The first caravan, Tracia Familia, is 80 percent finished. I bought raw materials for two caravans, because my desire is to make two prototypes. It was good that I made the purchases, because after working on the prototype of the first caravan, I drew some conclusions and made some decisions about the changes I had to make. Although I would have liked the first caravan to have been ready in one year from the Startarium Pitch Day, this was not feasible, because one of the suppliers in the country delivered me a mold that broke off in the thermoforming process. I paid EUR 7,000 to this vendor, who should have completed the front of the caravan. However, the first result was disastrous; I just could not use the front walls they made for me. My mistake was that I paid them in advance.
Is there any financial institution in Romania interested in supporting your project?
I have not searched on purpose and I do not want to do this until the prototype is ready. I hope that by the end of this summer, I will be ready with the prototype through my own forces. I have to fix the mistake of spending the EUR 7,000 from the Startarium budget in vain, and then talk to an investor, be it a bank or an investment fund. Several private investors have shown an interest in the project, but my short-term goal was to finish building this first caravan. Then I will have something to show them. Until then, a body that is in the process of having its furniture mounted is not at all spectacular. The money earned through the Startarium program would normally have been enough if the problem of building the front wall had not come up.
Which designer did you work with and how much does the Tracia Familia model costs?
Cristian Silviu Valentin is an architect and an assistant professor at the Faculty of Architecture. He did the design. A team of four other people, me among them, worked last year day and night to build the first Romanian caravan. The sale price is EUR 12,500 plus VAT.
What are the standard facilities?
It's a four- or five-seater caravan, designed for a family, two adults and two or three children, let's say. There are two suspended beds, but this is the standard configuration. It can be customized upon request. For example, it can be configured for two adults or four. For the prototype model, however, this would be the ideal space. In the caravan you will find home comforts: a bathroom, hot water, toilet, shower, kitchen, refrigerator, electricity, this being the standard equipment. Upon request, you can install air conditioning, for example. You can also equip the vehicle with a mover, a wheel-mounted system that helps you position it correctly in the parking space when you get to the campsite.
How big is the community of caravan owners in Romania?
For example, in 2007, there were 3,800 caravans in Romania; in 2015, there were 22,000. Now I think there are over 26,000 registered caravans. If we have one caravan per thousand inhabitants in Romania, I presume that the market could grow at least 30 fold.
How much have you invested so far in the project and what are your business goals for 2018?
I have invested EUR 88,000 so far. In 2018, I want to finish the prototype and it would be extraordinary to raise the necessary funds for the construction of the first 20 caravans by the end of the year. It remains to be seen if I succeed, because going from a workshop to a production hall and organizing serial production will not be easy. I suppose it will take at least one year, realistically speaking. I want to reach production of at least 100 vehicles per year over the next five years, which would not be too much for Romania. I'm not interested in just the Romanian market, because people from Bulgaria and Greece have contacted me. So have some Romanians who live in Austria and Sweden. Everyone asks me when the caravan will be ready, because they want to sell it in those countries. I cannot wait to finish the prototype and start serial production.
The caravan is a product that needs components from outside Romania, but not all of them. Some can be purchased here, at a better price than outside the country. Also, the workforce is cheaper. I assume that the rental price for production facilities is lower. Overall, production costs are lower than in Germany or France. On the other hand, large producers have very large margins because they also have major marketing expenses. For them, to rent an exhibition space at the Dusseldorf Caravan Salon requires a budget of EUR 500,000. I do not have these kinds of expenses. I, a manufacturer of 100 caravans per year, will not pay the same amount to attend the Dusseldorf fair. So I will allow myself to maintain a competitive price for the same type of product, a caravan with the same characteristics. A van like ours, in the Dusseldorf salon this year, manufactured by a foreign producer, was EUR 21,000. I say that the price difference from EUR 12,500 to EUR 21,000 is quite significant.