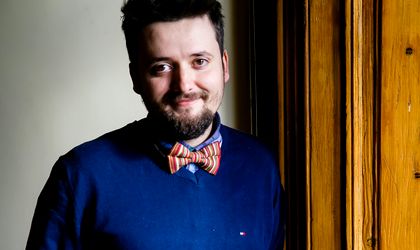 As digital strategist at Grapefruit, Flavian Cristea helps the clients understand what opportunities lay in technology, business, marketing and how they can solve real business problems. With more than 10 years' worth of experience in digital, he has been working for businesses of all sizes, non-profit associations, from a wide array of fields such as FMCG, banking, pharma, energy, tobacco, auto. BR discussed with him about how digital is developing in Romania, the new trends and Grapefruit's results.
By Romanita Oprea
How was 2017 for the agency in terms of turnover /revenues?

2017 has been a prolific year for Grapefruit. We worked hard and our efforts reflected in the growth of our company numbers: our turnover saw a 43 percent growth and our company's profit saw an increase of 58 percent.
What were the departments that were most successful? What about the least successful ones?
Each department brings an important contribution: designs express little without outstanding content, user experiences would be broken with buggy software, impact would diminish without a clear strategy and our work would lack consistency without clear guidance from managers and our leadership team. Our strength resides in the smooth way our departments communicate to implement successful project. We all work hard to deliver and to grow our skills. At this time there is no junior enrolled at Grapefruit.
What about the pitches you took part in?
In 2017, the percentage of pitches we won went up to 71 percent and brought us eight new clients. This raised our client number to 16. We also saw great variety in the industries that we work with: Banking, Energy, Real-Estate and FMCG, to name a few.
How would you characterize the local advertising industry in 2018 in terms of budgets, campaigns, creativity, etc?
There is room for growth in the local advertising industry and digital is the main engine. In terms of campaigns, most of them still have the same 'tit for tat' pattern: you enter a code, send a photo we give you a prize. Regarding of how emotional your message is, the value of the prize will always prevail.
On the other hand, we see more and more brands embracing an inbound approach. They dig deeper into experiences customers have and create emotional bonds using the right content in the right context.
What were the campaigns done by the other agencies in Romania that you admired and why?
We like campaigns that engage users beyond a simple interaction, campaigns that educate the users, fuel their curiosity and cause them to explore more. One such campaign was the Future Chatbot developed for Vodafone. We like the bot's natural tone of voice, his witty language, and how well the links and images, GIFs or interesting videos were integrated in the conversational experience. They also did a good job with wording, response length and timing of replies.
What were the most important changes & novelties in the agency in 2017 and how did they come to happen?
We analyzed the workflow between our teams, the Project Managers and our clients, and came up with a new position: the Delivery Manager. He ensures that the whole team works smoothly, delivers quality and on time. This is what it takes to deliver exceptional digital experiences.
It was hard to find the right person, but we are happy to say that we found a wonderful individual, with years of experience in IT and project management that filled out this position. In the months he has been here, he shined a new light on our internal workflow.
What trends did you notice on the local market last year and how do you intend to follow them /represent them at our agency?
It is important to say that a lot of companies invested time and money in digital marketing in 2017. Beside the most popular platforms, Facebook and Google, Romanians started using Snapchat, Instagram, Pinterest and LinkedIn. And we are glad they did. We think that 2017 was about: social Media marketing, video marketing, influencer marketing, content marketing, native advertising, email marketing, Facebook Live and data marketing.
We started following these trends since 2017 when we decide to create a dedicated Social Media department. We also included those mentioned trends in media strategies designed for our clients. We haven't forget about data. Data is power, so it is our strategy team. We focused on the analytics part a lot in order to create relevant proposals and effective digital marketing campaigns, and to analyze the digital impact.
What do you forecast for 2018 from this point of view?
In 2018 marketing should become more and more natural. Ads will be fully replaced by native advertising, Social Media Marketing will grow considerably, and influencers will be the ones who will bring the natural touch to a brand. Conversational marketing becomes a must, therefore we should prepare ourselves for AI, bots and behavioral marketing.
What will be very challenging is the search engine marketing. Google has changed its algorithms. They are more complex and instead of paid search ads we will see knowledge graphs and instant answers. Therefore, 2018 requires a bigger focus on user data analytics than the last year and a more complex and coherent digital strategy.
What is your goal for 2018 in terms of revenue, but also new clients, employees, etc?
Our objective for this years is to do more with what we have. Last year was a year of growth and this year is one of stabilization. In terms of revenue we predict an increase of around 20 percent, eight new clients and three more employees.
What do you wish for the local industry this year?
To realize the importance of providing great customer experiences with all that it means – offline and online touchpoints – and to implement coherent strategies, to choose the right tactics and to focus on the relevant channels. There are a lot of trends out there, but what are those that fit your customer's needs and wishes? This is the challenge.
To create a complex relevant strategy, not an irrelevant one. Think in micro-moments, take advantage of data analytics and always be there. Especially on holidays.
How do you see the Romanian market connected to the international one at this moment?
Even if Romania is still taking baby steps, there are no major differences regarding digital trends, but we think there's a lack of digital education. For example, the need for digital innovation is also present in the public sector and there are many improvements to be made.
In the meantime, it seems hard for the majority of brands to break away from the traditional media. We think that the trick is to realize how to connect the digital and the offline touchpoints and make the best out of these two environment within the same strategy.
Where is the local industry still lacking and what can it be changed?
Here, we'll bring up the "traditional habits". The local industry is aware of the great impact that digital has, but in the same time, it is so accustomed to traditional media. The thing is to understand how users changed their behavior and adapt the business strategy to their needs. We think that we lack digital perspective a bit. It is amazing, for examples, how we can reach many small audiences differently, split the effort and achieve better results.