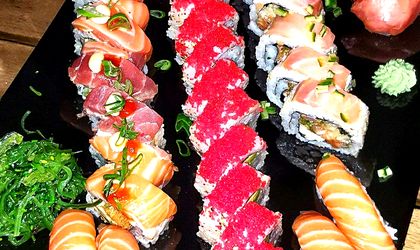 Dorobanti area has clearly become a sushi place, due to the amount of restaurants that appeared here and offer vinegar rice topped with other ingredients, among others. I clearly don't know which one has the best wraps, but I've talked with Ema Litiu, the owner of Hiro Sushi, the newest sushi place in town.       
What does Hiro Sushi mean? 
The word "hiro" has three meanings and the one that we chose is "prosperity".
Why did you decide to open your own sushi bar?
Except the fact that we all love sushi, we had the opportunity to know our two sushi chefs, from before, and taste their creations. And we were lucky to convince them to move back to Romania, after a long stay abroad, where they gained their experience.
What's the house speciality?
We are proud of the entire menu, but definitely it is Leaf Roll, with strawberry and peanuts topping. Is a mixture of flavours, surprising, yet delicious ingredients.
Can you give us a few basic pointers about eating sushi properly?
One, but very important: do not drown it in other ingredients, like soy sauce, wasabi or ginger. Feel the taste that the chef is putting together for you. The rest is only to enhance that amazing taste.
What are some common mistakes people make while eating sushi?
What I noticed is that they don't take the time to enjoy and discover all the flavours, just eating it just as a regular dish. But luckily, most of our clients are trained in the art of eating sushi and you can see that in their honest appreciations.
What is the most important ingredient in a piece of sushi?
All the ingredients are, but a well done rice, of good quality and a fresh piece of fish are the most important. You can have just that and be happy.
The restaurant has All you can eat menu, from Monday to Friday, including beverages like water or juice. Spring rolls (6 pieces for RON 13), Dim Sum (4 pieces for RON 13), Sushi rolls (6 pieces from RON 24 to RON 32), Nigiri (RON 11-19), Sashimi (RON 19-24) and Ramen (from RON 10) are among the menu's specialties. The restaurant is located on 25 Tudor Stefan Street.