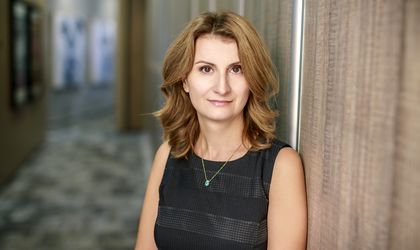 After Globalworth listed corporate bonds on the Bucharest Stock Exchange (BVB) in July, Ema Iftimie, head of leasing at Globalworth, talked to BR about the future plans of the company, announcing that the company doesn't aim to sell any other assets in the near future.

What were the effects of Globalworth's bonds listing on the Bucharest Stock Exchange in July?
The admission of the corporate bonds issue on the Bucharest Stock exchange marked a milestone for the growth path of our company and a great promise we made for future development. It was an important step towards our objective, of further investing, growing and sourcing new opportunities, by simplifying our debt capital structure and reducing our average cost of debt. Also, one of the most important effects of the listing on the stock exchange was the fact that it increased our visibility in the Romanian market.
We are confident that this was a major step, not only for Globalworth, but also for the Romanian market, one that will not go unnoticed by international investors.
Is Globalworth interested in selling any of the projects it has in its portfolio?
Our aim is to create a sustainable and recurring cash flow for our investors. In line with this strategy, in order to be able to deliver on this risk-adjusted returns to our shareholders, we have been accumulating properties in our portfolio and we have only sold our interests in one small project which did not meet our investment criteria.
We have not sold any other assets so far and we don't have plans for such a transaction in the near future, as we believe the market has the potential for further capital appreciation and only if an offer would be too attractive for us to refuse we would consider selling properties in our portfolio.
Large players eased office spaces developed by Globalworth this year, such as Amazon. What is the impact on Globalworth's revenues for this year? 
Since our IPO in 2013, we have consistently increased our rent roll as we acquired and developed Class A office spaces in Bucharest.  In August 2017, our rent roll under contract has increased by approximately 40% through various contracts and acquisitions. We will continue to advance our earnings and support growth in our dividends to shareholders. I believe that our expansion in Poland will bring through 2018 following further investments and leases agreed.
You have several years of experience in real estate market. How did this help you in Globalworth's projects development?
Most of my experience in real estate has been built here, at Globalworth, and that's why I always liked to say that I grew up with the company.
As the job title says, my first mission is to constantly prospect new opportunities in order to achieve or exceed the company's goals and find creative ways to maximize our results in terms of leasing. In order to achieve this goal, scouting the market is essential, but not enough.
Together with the team I lead, I have to work to nurture and maintain positive relationships with actual or potential partners, to maximise relationship to increase partners retention and secure the best partnerships for the company, as well as the best solutions for them. In order to do this, we have to first get to know them, their needs and expectations and then offer them a custom-made solution, the one they could not find elsewhere.
Another challenge, as a manager, is to create inside the team a work environment that encourages innovative thinking, finding creative solutions to problems. To do this, it is the manager's job to lead by example, so it's very important not only to support and mentor the leasing team, but also to improve and share with them the knowledge and expertise of the industry and its trends.
What are industries that will drive demand for office space in Bucharest in 2018?
Following the demand for office spaces in the last year, I believe that companies operating in IT, outsourcing and call-center will be the ones who will have a higher demand for offices in 2018.
What are the areas of Bucharest with high growth potential from the vantage point of Globalworth?
The highest concentration of our portfolio, both in terms of the number of assets and by value, remains in the new Central Business District (CBD) of Bucharest, where we have eight standing properties and one development project, but this doesn't mean that we are interested to invest only in this part of Bucharest.
The areas with the highest growth potential are Pipera, Barbu Văcărescu and Floreasca, more exactly the new CBD of Bucharest. The fact that the biggest companies, such as Amazon, our newest tenant in Globalworth Campus, have chosen the district to host their headquarters, is a clear proof of this trend.
We are always looking for new opportunities, regardless of the area and some examples in this regard are Group Renault's new headquarters that will be located in the Western Bucharest or City Offices that is located in the southern part of Bucharest in the densely populated area of Eroii Revolutii and Unicredit's headquarter that is located on Expozitiei Boulevard, Presei Libere Square.