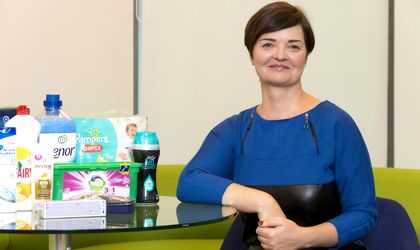 Elena Kudryashova, vice president South East Europe at Procter & Gamble, outlines in an exclusive interview for BR the directions pursued by the company on citizenship projects.
By Anda Sebesi
Which are P&G's citizenship directions?
In P&G, every day we work to be a force for good and a force for growth. We've seen that consumers care about the company behind the brands they purchase and use. They want to know that the products they are buying come from a trusted source and we're working to build on that trust every single day. Citizenship work comes together — across brands, employees, operations and business partners — to make meaningful differences in people's lives.
We focus in the areas where we believe we can have a real impact. This is Ethics & Corporate responsibility, Community Impact, Diversity & Inclusion, Gender Equality and Environmental Sustainability.
This comes to life through both global and local programs and most importantly through the voice of our brands. Brands can be incredibly powerful and meaningful to people especially when these happen to be leading brands like Ariel, Always, Pampers which have decades of history, strong personalities and touch millions of people every day. P&G is amongst the largest advertisers in the world. So, we use our voice to step up on important matters to promote positive conversations…influence attitudes, and change behaviour to help make our world a better place. And we know that doing so leads in driving growth and changing attitudes.
Which are the most important citizenship projects that P&G has been involved in the past year?
Today there is increasing demand for responsible business and growth. 75 percent of people believe companies CAN & SHOULD make a profit and give back to society. 65 percent of our consumers are now willing to pay more for a sustainable product and brands with sustainable credentials are growing by 4 percent versus those without.
So our brands take leadership roles when it comes to social responsibility. Campaigns such as Always School program, LikeAGirl, Panthene Give strength, Pampers Unicef are just a few examples that took a stand and have triggered actions and movements.
Let's talk about Always for example. Three years ago this brand committed to raise the creative bar and make a difference in the world at the same time. Starting from the insight that fifty percent of girls have a significant drop in confidence at puberty for many reasons, amongst which was the use of demeaning phrase you do that "like a girl". Always team set an ambition to change the meaning of like a girl to mean amazing things with this. The campaign continues to have worldwide impact due to the power. Moreover, attitudes are changing. Seventy six percent of people now view like a girl as a positive expression versus only nineteen percent before. That's the transformational power of brands.
What can you tell us about the educational projects that P&G supports? How P&G gets involved in this area?
Continuous education and unleashing people's potential is in our DNA. We believe it is key in order to succeed in a rapidly changing society and to build a strong organization. For us people are the greatest asset, and we believe that once we unleash their full potential everything else will follow smoothly as they will envisage and lead the strategies for the sustainable growth ahead.
Our focus on education has also a strong external dimension. We are partnering with the Academia and reach out to young people to transfer our knowledge and help build future professionals. We also supporting local projects, as part of P&G's commitment towards the communities where we live and operate.
One example is the latest addition of a new classroom for the technical class students from the Brancoveanu Voda Theoretical High School in Urlati, in partnership with Habitat for Humanity Romania. Local students started the 2017-2018 school year in a fully equipped and modern classroom, build from the ground in only 3 months. The project was made possible also thanks to the collaboration of Urlati local authorities and the town's theoretical high-school. Moreover, around 80 P&G volunteers were involved in various phases and activities of the project in order to deliver the project in due time. This new facility complements a series of other activities that aim to support education in Urlati, like giving scholarships to best students, supporting participation in regional and national competitions, or providing professional opportunities within P&G.
How do you estimate the citizenship development in the next years in Romania and what will drive this field?
I believe citizenship will continue to evolve from short term needs relief to long term positive impact in communities. It will no longer be a nice-to-have but a must-have for every business.
Environmental sustainability will also get higher in the agenda for Romania as this is a major global shift. We, at P&G, think about sustainability holistically partnering with the consumers and integrating it into our operations, our brands, with employees and communities we live and operate in. Just to give you a local example, our Urlati the Hair Care production facility is one of the most technologically advanced and environmentally friendly plants of P&G globally.
The areas we are focusing on environment are the ones we believe we can really make an impact: climate, water and waste to drive meaningful change that is good for the environment and good for business. And this goes hand in hand with innovation. To give you an example on how this translates in our case, I would mention the Ariel PODs (unitized dose liquid capsules). This is a sustainable form that helps consumers economize both in detergent and energy: no need to dose because it is pre-dosed and it ensures the right amount of detergent; allows lowering the washing temperature, thus saving electricity.
We will continue in this journey and we are not alone. We are partnering with top industry experts and we are using our innovation capabilities to make meaningful progress against our goals and long-term vision.