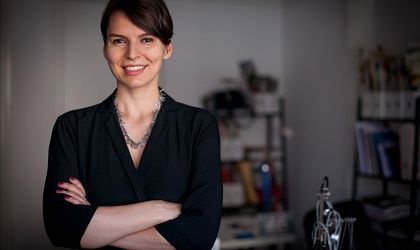 With more than 14 years' worth of experience in the communication industry, founder of aderwise.com (since 2012) and guest lecturer at the University of Sheffield International Faculty, CITY College (since December 2013), Elena Bululete is managing partner Conan PR, a Romanian public relations agency that works for a wide array of companies such as Uber, Heineken, Autonom and Globalworth.
She spoke to Business Review about the agency's results in 2017 and her expectation for 2018, while also describing how she sees the Romanian PR industry connected to the international scene.
By Romanita Oprea
How was 2017 for the agency in terms of turnover /revenues? What is your goal for 2018 in terms of revenue, but also new clients, employees, etc? 
2017 was our best year yet. And as far as I know, it was a good year for the industry as a whole. We've become bigger, better, stronger. We're really proud of the team we have and what we managed to do last year for our clients and our clients' clients. We had EUR 600,000 in terms of revenues and we aim for a 20 percent increase this year.
What were the departments that were most successful? What about the least successful ones?
We have an integrated approach and we design all strategies based on our clients' needs, regardless of the departments/ resources required. We involve as many skills as it's necessary to reach our clients' objectives.
What about the pitches you took part in?
Last year we had a pretty good year in terms of direct requests for offer, but we also won Autonom, the biggest rent-a-car company in Romania, after the pitch held at the end of 2017.
How would you characterize the local PR industry in 2018 in terms of budgets, campaigns, creativity, etc? 
2018 seems to follow on the footsteps of last year's enthusiasm and that's a good sign. We've signed 3 new clients since the beginning of the year and we've had a few direct requests as well, so we expect the best.
What were the campaigns done by the other agencies in Romania that you admired and why?
Magic Home campaign by Jazz Communication is top of mind, without any doubt. But I also admire everything coming from Daruieste Viata.
What were the most important changes & novelties in the agency in 2017 and how did they come to happen?
We've expanded our team, brought in more senior consultants, signed several big brands, climbed into Top 20 PR Agency and won a Silver at Romanian PR Awards with UBER #SmartGeneration. It's been a great year and we believe all this happened because we are staying true to our creative approach to Public Relations.
What trends did you notice on the local market last year and how do you intend to follow them /represent them at our agency?
I don't think one should work in terms of trends. Yes, we evolve, the world is dynamic, the market is growing, technology definitely changed the landscape. But at the end of the day, it's still the creative idea and the ability to innovate that shift attitudes and change behaviors.
What do you forecast for 2018 from this point of view?
I don't believe in trends, but I believe in strategy and creativity, and these two never go out of fashion.
What do you wish for the local industry this year? Where is the local industry still lacking and what can it be changed?
Bigger budgets and even braver clients. We're on the good track, though.
How do you see the Romanian market connected to the international one at this moment?
We're an independent agency, but that didn't stop us from connecting to clients and other fellow agencies from abroad. At the same time, we've signed campaigns that we implemented in Romania and got replicated in other markets as well, within the same company, with great results there as well.