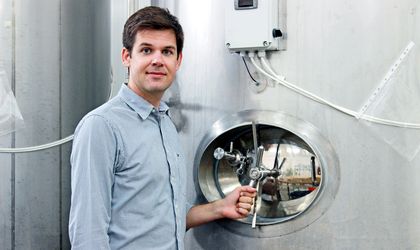 Two Italians, Michele Gazzola and Giulio da Sacco, and a Belgian, David Raets, left their corporate jobs behind and invested around EUR 170,000 in a craft beer production facility in Bucharest, in June 2017. Exclusively for Business Review, David Raets, CEO of Three Happy Brewers, tells the story of the newest brewery in town.
By Daniela Oancea
How did you get your start in the craft beer industry?
I moved to Bucharest three years ago with my wife, who is Romanian. Although we were living in Paris, she was raised here. Initially, I was on my way to London for a job, but in between Paris and London, I decided to go on a small holiday to Bucharest to learn the language a little bit and enjoy the summer. Here, I learned how to kitesurf, I played more tennis, and one other thing I did was to make beer at home. I used to do it in Paris, but there I had access to many different craft beers. Whenever I drove to see my family in Belgium, I would buy Belgian beers, so I really didn`t need to manufacture beer for myself. While in Romania, I suddenly found myself in a situation in which I didn`t have access to those beers – three years ago, one couldn`t find craft beer. There were two independent breweries all over Romania, so I found myself making beer as a hobby. Little by little, I started to bring it to parties, and people wanted to buy it. I came across some restaurant owners, they tasted it and wanted to buy it, too. Therefore, at the end of the summer, when it was time to move to London, I started to look for opportunities to settle here. I liked living in Bucharest, so finally I came up with the idea to continue making beer commercially for Romanians and see what happens next.
Whose idea was it to start this business and where did you acquire the funds to start it?
Actually, it was my partner`s idea, Giulio, the owner of a restaurant in Bucharest. He was the one who pushed me; he tasted the beer and said: "David, this is very good, you must make it commercially, we want to buy it." I was reluctant at first, I declined. I had a corporate career; I was a private equity lawyer. After reflection, I agreed to have a look at the business plan. It sounded good and, on a personal level, my wish was to settle here, so we decided to start The Three Happy Brewers. We are now three partners, each with a corporate career past – I was a lawyer, Giulio was an insurance sales representative and the third happy brewer, Michele, worked in management. We are happy to have left the corporate field and to be making beer and that is where the name of the company comes from.
The money came partly from myself and my two friends, or other acquaintances who had become friends. We invested around EUR 170,000 from our own finances, so far.
How would you describe the Romanian craft beer market and who is your main competitor?
I don`t think that we have a competitor. It might shock some people, but today, there are around 14 independent craft breweries in the whole country. Our biggest problem is not represented by the other craft breweries, but by the market culture; pointing out the difference between industrial and craft beer to consumers is the real issue. Once you convince people of the difference between the two types, then they buy craft beer. We cannot do this for everyone all over Romania, because we are a small company. This is why we seek other breweries to join us and help us to create a shift in the Romanian beer culture, because they, too, can educate people in Oradea, in Iasi, in Maramures, where we haven't expanded yet, what craft beer is. Industrial beer companies are not really competition, they are situated at a different price point and appeal to different consumers. Luckily, we are at the very first steps of the craft beer industry, where we are our own enemies. We need to get out there, to educate. The percentage of Romanians who drink craft beer today is a tiny fraction of 1 percent. In the US, it is 22 percent, so Romania is at the very beginning and we can grow as an industry to a 10-15 percent of the whole beer market.
What`s the philosophy behind The Three Happy Brewers brand?
We want to make the best possible beer that we can. Each of us three happy brewers travelled a lot before, in our corporate lives. It was not travel for fun – but with it, we discovered many beer styles – from The Baltics, Africa, America, England, France, all very different, great nevertheless, but incomparable. So, our philosophy today – it may change in the future – is to try to bring a little bit of this diversity to Romania. There is more to it than just a blonde lager, a Pilsner, or an IPA. There are so many different styles that are good and you can find this in our current range – we make beer from the Czech Republic, America, England, Belgium. Next week, we`ll make a beer from Germany and most probably in November, a Scottish one, very dark, kind of like a Guinness. So, in a way, diversity is what inspires us, while maintaining the best quality that we can. We are learning, we are improving every day, and we hope that our beers can only get better in time.
8,000 – 10,000 is the number of bottles that the company produces each month
What is your favorite beer and how would you introduce it to someone who is trying craft beer for the first time?
It depends on the situation. There are beers that I prefer when it is very hot and some that I prefer with deserts. If there were one beer that I need to choose, it would be the Australian Pale Ale, our green-colored label. The reason behind it is that I went to university in Australia, I studied in Perth. There was a brewery in Perth, which I loved and I often drank their beer. When I left Australia and came to Europe, there was no one that made that same pale ale − with Australian ingredients. In Europe, I would drink Belgian, Italian, French, but it was not the same taste and I missed that. When I started the brewery, I wanted to – well, not to recreate it, but to feel inspired by that beer that I loved. How would I describe it? It`s a pale ale, more bitter but with a very strong, complex body, very dry and on a hot summer day in Australia or in Bucharest, it is very good. A complex beer with a very strong tropical fruit aroma that comes from particular hops that we buy from Australia.
Are there particular styles or ingredients The Three Happy brewers are experimenting with? Any beer we should keep our eye out for?
For the moment, we import all the raw ingredients, unfortunately. We buy malt from Germany and England, the hops come from all over the world − Czech Republic, Germany, England, Belgium, Australia and the USA. Romania has a traditional brewing industry, and in Transylvania, there are many hop farms, so we are talking to them, trying to convince them to grow the hops that we use. Today they make hops for the industrial breweries and they are not the same. We are trying to change that. In terms of style, so far, we have three types of beer that sell very well – it is the Australian Pale Ale, the lager and our Belgium blonde. They each aim for different categories of people – restaurants tend to sell more Belgium blonde, because it is easier to drink, it`s round, mellow and soft − with no strong bitterness. In restaurants, one finds less of the expert consumers and our Belgian beer is more appealing. In specialized beer bars, the consumers are younger and want to drink a beer that is different, extreme compared to industrial beers. Our Australian Pale Ales are made in that style – a newer, modern, contemporary style. A beer with more hops, bitterness and flavor. There were many festivals here this summer and during a festival, in the middle of the day, when it was very hot, we sold our lager – a Czech style pilsner that is very dry and refreshing – it is not extreme in any way, very easy when drunk cold. Incidentally, we don`t set a recommended price, our beers are sold for between 10 to 15 lei, depending on the location`s policy.
90 percent of the production is  mainly sold to Romanian HoReCa
What are your plans for the winter season and what to you expect for next year?
We started to brew a pumpkin ale to celebrate autumn (with pumpkin and pumpkin spice) and we shall make a darker beer, a stout, for November. In winter, we want to come out with darker beers, to experiment with recipes from Scotland, America and Belgium. For Christmas, we want to make a Belgium inspired quadrupel that has a high volume of alcohol, a spiced beer with coriander, cloves, the similar spices used in mulled wine. It's matured for a long time, and then served in winter, when it`s very cold and it`s snowing outside and maybe you are sitting in front of the stove and you are drinking this spiced beer. Your husband or friend might be drinking hot tuica with pepper at that time. We`ll be experimenting with different styles, trying to make beer that matches the season. We want to continue growing at points of sales and to promote craft beer as an industry, an alternative to industrial beer.
We don`t just make beer, if you understand the brewing process and how industrial beer is made, you will know that it's not a natural drink. We, the craft brewers, do not pasteurize, filter or use enzymes and although the craft beer industry is very young, the industrial brewers felt threatened. Now they are all making non-pasteurized assortments: it`s the new fashion. Why? Because we came and showed people that our beer tasted better. However, our beer tastes better because we buy premium ingredients. We need to continue educating the public and people's tastes will change over time. We currently sell in Timisoara, Arad, Cluj, Sibiu and Bucharest. Soon we`ll be in Brasov as well and in Iasi before the end of the year.