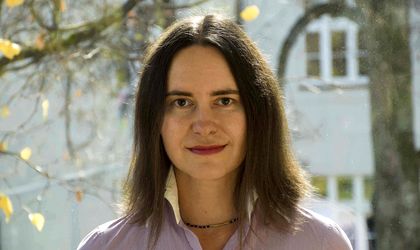 The last 15 years of PR history, summed up by best practices in the 15 years of the Romanian PR Award's competition, now feature in The Golden Book of Romanian Public Relations, the local communication industry's first big collaborative effort. BR sat down with Dana Oancea, coordinating editor of the book and organizer of the awards, and learned about the book's inspiration and creation, plus Oancea's take on the industry.
 By Romanita Oprea

When and how did the idea of launching this book come about?
When the 15th Romanian Public Relations Awards were approaching, the idea of a Golden Book of Romanian PR occurred to me naturally. Over the years, the national PR competition was the starting point for some important educational initiatives in our field, the most important being perhaps the portal PR Romania. The book started from my simple conviction which I arrived at after more than 15 years of involvement in the development of the PR profession in Romania: PR cannot be practiced as a management function accepted by organizations and society, unless the practitioners have a solid body of knowledge based on study, dialogue and reflection.
The book represents in my opinion the biggest collaborative initiative of this kind in Romania, bringing together a wide range of perspectives and professionals. It also marks an important milestone in the way Romanian PR has changed in the last 15 years and is still changing. More substantially, however, it represents fresh ways of ordering resources and linking different areas of expertise into an integrated whole. The Golden Book of Romanian Public Relations not only provides helpful guidelines for practical action, but raises important questions about the impact and implications of our profession as well.
PR is a management function but it can only make its full contribution if practitioners have a comprehensive base of knowledge, commonsense and resources.
Has the concept changed over time? If so, why?
The first concept of this book started from the fact that a truly practical book written by practitioners for practitioners and future talents was missing from the Romanian public relations landscape. So I met with members of the local PR community in March 2017 and we said that we wanted the young generation of practitioners and PR students to learn better by involving them in a personal and practical journey that brings together a significant number of successful communications programs of the last 15 years and a diverse range of personal experiences and opinions. Therefore, the core of the book consists of 95 selected gold-awarded communications programs in the last 15 years, giving the volume a substantial documentary dimension. These programs are the living testimony of the evolution of the local PR industry's concerns over this period and reflect to some extent the anxieties and hopes of Romanian society. These programs talk about the institution of partnership and its values, about the rights of others and the responsibilities to them, about communicators' efforts to understand their audiences, about our talent to listen and to integrate the expectations of different stakeholder groups into organizational strategies etc.
The starting concept has been significantly extended by adding a very prolific debate about our profession and its values, bringing together 52 contributors, senior communications practitioners and ardent exponents of their areas of expertise, which makes the volume a true companion in the analysis and the study of Romanian PR practice.
Why structure it in 18 areas of expertise?
These 18 parts reflect the main categories in the Romanian PR Awards competition. It was very important for me to help readers understand the broad business and societal context in which PR plays a role. Included here, for example, are chapters on corporate communication, crisis management, public affairs and lobbying, internal communications, media relations, corporate social responsibility, digital and social media, NGOs, public institutions, cultural PR and emerging specialisms such as technology PR, financial PR and health PR etc. We also focused on the importance of context, be it social or political, in understanding and delivering PR campaigns.
PR is an evolving discipline and its growth requires continual questioning to challenge its boundaries and establish its terrain.
What were the criteria in choosing the people writing the opinion pieces?
I wanted in principle senior communications practitioners and passionate exponents of their areas of expertise to make the volume a truly practical handbook. This volume has been a unique and creative collaboration among 52 practitioners. It is opened by two distinguished authors – James E. Grunig, Professor Emeritus at Maryland University, USA, and Aneta Bogdan from Brandient, a reference name in Romanian and international branding. Although I cannot name here each of the authors individually, I want to acknowledge their efforts to produce contributions that I believe are insightful, informative, and forward looking. We all hope that these opinion pieces promote healthy dialogue and constructive change regarding the current and future role of the PR profession in both business and society.
How were the themes of the opinion pieces chosen?
I first produced editorial guidelines for all the texts included in this volume and made a first allocation of potential contributors for each chapter. I also proposed for discussion a first selection of the case studies and their structure to be included in the book. Of course, there were a lot of permutations, creative discussions and improvements to reach the final version. As some of the awarded projects included here are of 'historical' value, I did some detective work here and there to find the right dialogue partner in organizations, as the original contact people were no longer working there.
How long did it take to gather all of them and were there any challenges?
I must admit, it's been a long journey to this point. Planning and coordinating such a project has been quite a challenge for me, but it was ultimately a very rewarding experience to see so many forces brought together by this collaborative effort, not to mention the launch of the book in a very warm atmosphere at Carturesti.
How much time did it take from the first concept to the launch of the book?
From the kick-off meeting with the local PR community at the end of March 2017 to the launch of the book on 21 November, it took us almost eight months.
Besides the 15-year anniversary of the Romanian PR Award being an important milestone to mark, why did you choose this moment for the launch?
The launch was given special and individual attention, but of course there is a symbolic link between the 15th anniversary of the Romanian Public Relations competition and the Golden Book, showing that PR is now a true profession in Romania. In fact, both projects have a strong educational face and advocate the positioning of the profession through knowledge.
How has the crisis of 2009-2010 impacted the industry in your opinion and what have you discovered in the case studies?
I think the crisis showed us as PR professionals the need to develop a sense of risk – when decisions carry excessive risk for the public or for organizations. The control of risk is at the center of the concepts of social responsibility and sustainability. Making decisions that carry too much risk is irresponsible and unsustainable. So I think PR professionals need to sense when risk is high and ask questions to reduce the chance that they might engage in risky, irresponsible, and unsustainable organizational behaviors.
The crisis was also a turning point in the understanding of PR as a strategic management function whose role is to help management make better decisions and build relationships with members of the public affected by management decisions.
Our communications world is now social and democratic, because it gives voice to all. This provides a unique opportunity for communicators to be transformative. Communications professionals will need to think and behave like social activists – as real agents of change. They should challenge socially irresponsible decisions and unethical behavior.
To answer your question, I saw from that moment on a notable increase in projects that were embracing the strategic management approach to PR. These programs were at the same time more innovative because they were trying to break away from the traditional messaging/publicity approach to PR to embrace a more strategic-management approach. We can call these programs "meaningful" because they were focused on improving relationships with the public, were engaging in true interaction or dialog with the public, offered the potential to influence organizational behavior, and served the interests of the public/communities/society as well as the interests of the organization. At the same time, the crisis also helped by advancing the necessary "measurement debate" on communicators' agenda.
Do you believe a possible second crisis would have such strong effects as well?
The world is getting more complex. Many critics of PR would question whether PR professionals were ever capable of understanding the "very big" and "very complex" in this world. The point is that the PR professional does not have to understand everything. The best professionals are those who seek the advice of many types of experts and use their skills as communicators to bring people with different types of expertise together to solve problems collectively. So PR professionals can't be expected to understand everything, but they should know whom to consult to bring the necessary knowledge together to solve problems.
Do you think that the Romanian PR industry is learning from its past?
I can only hope so. For me the past of our profession is a prologue to its future. Every practitioner should get a sense of the beginnings to better understand this field. Coming back to the Golden Book of Romanian Public Relations, I truly believe in its educational role as companion in studying the evolution of the PR profession in Romania over the last 15 years. The volume bets on the link that exists between the need to position the local PR industry through 'knowledge' and the approach of understanding and the conceptualization of practice. This effort to understand and reflect helps us to dissociate ourselves from the image of "improvised practitioners", people who practice PR without any knowledge of why they practice as they do and why PR is important for an organization.
PR is a profession in which we can improve relationships throughout society and the world. We must resist the temptation to be no more than apologists for organizations. But knowledge, dialogue and research are critical. One cannot simply declare himself or herself to be a PR professional and begin practicing the discipline. You must study, and continue to study, the body of knowledge in PR to be able to practice it effectively.
What are the main aspects you believe Romanian PR specialists should take into account about the industry's history and learn from?
PR has been practiced sporadically since the earliest times, even though the name is comparatively recent in origin.
Let's look at the history of PR from the perspective of intellectual history – that is, the history of ideas. There are a lot of good ideas in the history of the discipline that can be traced to particular fathers or pioneers. If we take only the US as an example, Ivy Lee introduced the idea that organizations could hire their own journalists and that these journalists could write their own articles (press releases) to hand out to newspapers. Edward Bernays, a nephew of Sigmund Freud, had the idea that social science theory and research methods should provide a basis for PR practice. He probably introduced the idea of calling the discipline public relations in its current sense, although others had used the term before. Scott Cutlip probably introduced the idea of PR as a management discipline, although Arthur Page of AT&T practiced PR as a management function years before Cutlip wrote his first textbook. James E. Grunig introduced the idea that PR should adopt a symmetrical model – that is, a profession that promotes the interests of both organizations and the public.
There have also been a lot of bad ideas introduced into PR. An example would be propaganda, and I won't speculate here where that idea originated. Members of the US Institute for Public Relations Measurement Commission have debated in recent years who came up with the idea of using advertising value equivalencies (AVEs) to measure the value of PR. No one could decide to whom that dubious honor should be awarded!
So, you see, there seem to be parents of PR ideas everywhere. What the discipline needs more than parents, however, are initiatives that bring good ideas together into a cohesive framework that also excludes bad ideas.
From the local perspective, I see The Golden Book of Romanian Public Relations as a first attempt to conceptualize the local practice with benefits for its future understanding for both practitioners and the academic world. It should develop a better understanding of the true nature of public relations, how it can be effectively practiced, and what it can accomplish in this complex world. And I'm really excited to see future papers and publications trying to conceptualize local PR practice and put it in a global context.
How do you see the local PR industry at the moment and what are the challenges for the future?
We all see that society is becoming more atomized and more activist as a result. Power and influence are increasingly asymmetrical, both in business, society and politics. So, traditional theories of leadership are simply not appropriate in this complex context. PR practitioners should take this evidence into account, because leadership will be increasingly synonymous with society-first.
A co-produced approach to trust will bring benefits for the PR industry and society alike, making it more rooted, credible, authentic and powerful. So, it is time that the PR industry treats trust as an outcome, something deeply behavioral, not as a message.
Ethics has a central role to play in our profession today. Ethics and behavioral trust should be embedded in every business and organizational action. This will increase in importance as technology advances.
Communications professionals will need to think and behave like social activists – as real agents of change. PR is more often associated with the private sector, but following the local developments in the political and societal spheres, the activities of NGOs as campaigning and pressure groups are on the increase in response to a wide range of issues. Many of these issues are coming to prominence via social media, to galvanize public opinion and present challenges for politics and corporations alike. The future is likely to see a further rise in NGOs and informal platforms as their ability to mobilize public support contrasts with the slow-moving forces of other actors.
What are your hopes for Romanian PR in 2018?
Use your knowledge, insights and enthusiasm to move this world further, while contributing to the growing knowledge and understanding of PR and its practice. And don't forget – be wise in deeds, not words. Words today have the stability and performance of soap bubbles. Good luck!
Dana Oancea is president of the Forum for International Communications, a Romanian foundation which has been organizing the Romanian PR Awards since 2003. She edited the newly launched volume The Golden Book of Romanian Public Relations. She has more than 15 years' experience in PR, both in Romania and abroad, and holds a PhD from Ludwig-Maximilian-Universität in Munich. She has conducted a variety of interviews and published many articles in her role as editor-in-chief for PR Romania, an online resources portal she set up in 2009 with the support of other international organizations.