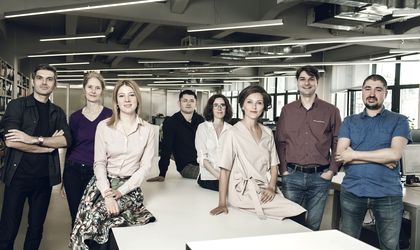 The representatives of the architecture office CUMULUS, formed through the merger of  PZP, SYAA and ARXTUDIO, talked exclusively with BR and said that that they would like to be able to work on major public projects. The new office formed following the merger starts with a turnover of EUR 1.5 million and 40 employees.
How did you come with the idea of the merger between the three offices?
The merger came naturally to us, because we share the same ambitions: to create the necessary infrastructure to enable clients to get the outmost by integrating all specific architecture expertise leading to sustainable edifices. At the same time, we all want to make sure that our clients benefit from an extensive team made up by professionals who understand a wide range of needs and behaviours when it comes to the way people live a designated space.
If you take in consideration the fact that PZP and SYAA were sharing the same working space and resources since 2013, and that, over the years, ARXTUDIO has proved itself to be a reliable business partner in all the projects we have worked together, you can see that the merger was the next foreseeable step. However, a decisive factor for this merger was our common goal: to create a great team of architects who can react quickly and efficiently to any request.
You can imagine that managing the merger was not an easy task. We had to juggle with rebranding, hiring more people, structuring new procedures and so on and so forth. It was a demanding process for all eight partners and definitely for the CUMULUS architects.
Moreover, this merger is also a response to a real necessity for having professional and well-built architectural services. In a way, CUMULUS is the product of the Romanian society's needs. It is our strong belief that in the last 30 to 70 years, the architecture has suffered some brutal fractures regarding the fundamental core values which should be its core. However, over the last few years, the society started to demand and appreciate good architecture and we feel that this tendency will only grow in the future.
Should we expect more mergers on the local architecture market?
We would like to see more architects that share our belief: together we are stronger and we can serve our clients better.
However, it seems that they are more inclined to work in smaller teams due to the fact that a larger team is more difficult to manage, it needs specialized management resources, this being something that architects do not necessarily enjoy doing. I mean, we tend to focus solely on our projects and put all our energy into it, thus the administrative responsibilities become a non-priority to us.
What differentiates CUMULUS from other architecture offices?
First of all, CUMULUS means force, seriousness, rigorosity, accuracy and creativity which all convey the final goal: quality and efficiency in all our services.
We see CUMULUS as the source of a new and productive energy. More people, more ideas, more solutions.
Besides the impeccable services we are ready to offer our clients, we also focus on creating an excellent work environment for our architects. We want them to flourish, to learn, to be creative and to be able to work with pleasure.
What have been some of the largest projects you have developed up to now?
Along the time, each of us has managed important projects. We would like to name a few, but, to be honest, there are so many.
Back in 2005-2008, Victoria Center was a challenging project because of the location in a historical area and, of course, because of its size: more than 15,000 sqm.
Recently, we have been involved in delivering the execution design for Timpuri noi, a 75,000 sqm office complex. Also, we have done very large residential schemes, Quadra Place being one of them having more than 40,000 sqm. We have been involved in industrial architecture as well and we did the building permit for a logistic project of 80,000 sqm. Moreover, we worked for very large master planning projects, one of them being Impact Green Field having more than 45 ha.
We are currently producing documentation for a public project consisting in a bridge over Dambovița river and a public parking facility of more than 15,000 sqm.
What are the main challenges in architecture industry in Romania?
There are so many challenges that we face in the Romanian architecture that it's quite difficult to compress them in an interview. From a larger perspective, the society has to deal with the urban congestion due to the fact that nowadays not enough attention is paid to the quality of living and, for sure, to the space that the city has to offer. Historical values lost their significance as the object / building architecture lost its identity and comfort. Not to mention the high energy consumption versus the difficulties of inserting "green technologies" that is still an issue in Romania. In a nutshell, being able no longer to conceive friendly objects on a human scale…
Romania has its peculiarities: a lack of major public investments, excessive bureaucracy that you have to endure when dealing with state authorities, a confused perception of what is in fact the architect's job in a society and the list could easily go on.
We would say that the fundamental challenges of architecture relate to the relationships between people and the relationship between people and nature. We do not hope to solve all the complex problems of these relationships, but we want to bring our input through the architecture that we conceive in order to help these relationships to develop naturally and harmoniously. Through our architectural projects, we would like to make people more aware, to build an attitude, to change mentality and customs, to strengthen communities.
In Romania, we find the same problems and situations as everywhere else in the world. We are only in a different phase of understanding and addressing them. Romania is in that chronicle phase of transition to a multi layered society, based on merit, with relationships and interests based on sharing common ideas and common values.
We believe that Romania now needs a sustainable architecture that could translate the needs and desires of the environment into progress and evolution.
What are the expectations of CUMULUS in terms of turnover and number of employees/clients for this year?
Taking into consideration the fact that the merger is still fresh, we will work our best towards consolidating our position on the market. Starting with a turnover of approximately EUR 1.5 million and a team of 40 architects, our strongest objective is to become known as one of the biggest and most serious company in the industry.
We intend to access as many important projects as possible and we would be glad to be able to work on major public projects – of course, to the extent that the public authority will accelerate the investment program. Romania needs real estate investments, theaters, hospitals, social housing, cultural centers, sports facilities and many others, obviously supported by the authorities.