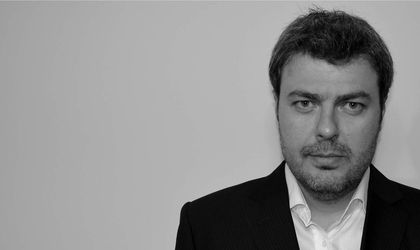 With an extensive experience of almost 19 years in media planning and buying gathered at key agencies, Cosmin Cojocaru has been Carat's managing director for more than three years now. BR met with him and discussed about the media industry in Romania, its ups and downs, but also about the agency's plans for 2018.
By Romanita Oprea
How was 2017 for the agency in terms of turnover /revenues?
2017 was another very good year for us both in terms of turnover and revenue. In Romania we are getting very close to Dentsu Aegis Network's global goal: 100 percent digital by 2020.
What were the departments that were most successful? What about the least successful ones?
In media you cannot have "successful" and "unsuccessful" departments. I believe that a healthy media agency has different departments with different agendas, but interdependent goals. If one agenda wins, then we all lose.
What about the pitches you participated in?
Last year we entered 17 pitches and won 10 new clients, which is a very good success rate. Despite the fact that there is always a gap between a good presentation and a pitch won, I am proud to say that every pitch submission we had last year was better than our previous one. The good news is that we see more and more decisions taken locally, so this constant improvement is actually paying off.
How would you characterize the local advertising industry in 2018 in terms of budgets, campaigns, creativity, etc?
Our local advertising industry has an exaggerated appetite for low prices. Media agencies in Romania are still perceived, mostly, as media buying agencies and this is mainly our own fault. This situation is damaging for all the players: media owners have less resources to invest in quality content, media clients lose visibility when everyone can buy cheap exposure and media agencies cannot afford to allocate senior resources.
Since chasing the lowest price is the main concern across the industry, you would expect clearly defined cost benchmarks at market level. Unfortunately, we are far from it: media buyers can only operate with incomplete data, unofficial information and personal relationships.
I think all these are signals of serious educational problems: people don't really understand what media can do and what it cannot do.
What were the campaigns done by the other agencies in Romania that you admired and why?
In media you cannot judge a campaign unless you have a significant amount of data. Things don't strike you just by seeing a commercial, it takes time and resources to understand the media strategy behind. Additionally, the first thing you learn as a media person is that your own opinion is not only biased and irrelevant, but it can be quite dangerous.
I don't have any campaign that I admire lately, but it is true that I am spending less and less time studying media campaigns.
What were the most important changes & novelties in the agency in 2017 and how did they come to happen?
Improving internal processes is an indispensable activity and a continuous concern – but is not the goal. Making the product great is the goal.
One important novelty from 2017 in Carat Romania was starting the "Agile Working" program – something I strongly believe in. It is all about giving each and every employee the responsibility and the flexibility to organize their own time and resources in a way that allows them to balance best their personal and professional lives.
If the people you lead need fixed schedule to do their job, then you have bigger problems to solve than the time they come in and the time they leave the office. Besides obvious administrative and technical issues that had to be solved, my biggest challenge was to get over my own preconceptions regarding working hours.
What trends did you notice on the local market last year and how do you intend to follow them /represent them at your agency?
I already mentioned the crazy chase for the lowest price. If you think about it, this is also a great opportunity. On the long run, the fact that for years now we seriously invest in our strategic product will place us in a very good position when there will be no more costs to cut. Just to be clear, I don't ever expect the price to completely disappear from the list of media priorities, but I think we will soon reach a point when other criteria will significantly increase as differentiators. And we are preparing for that moment.
This appetite for low prices is not specific to the media industry. From retailers to pharmaceuticals, from automobiles to cosmetics, you rarely find a successful product in Romania not proclaiming the lowest price. Why is this important? Because, ultimately, people's taste dictates economy. And economy dictates how each of us live.
What do you forecast for 2018 from this point of view?
Change and uncertainty are part of the game. Our job is not to resist them, but to build the capabilities to recover when unexpected events occur. Despite what news are always suggesting, I don't believe that change happens that quickly. It is somehow trendy these days to predict stuff and to say things like "the pace of change is faster than ever" or "TV is dying and Online is rising".
The truth is that things don't die that easily, habits don't suddenly emerge and people need their routines. After all, there is nothing more sterile than a demand that life be constantly exciting. TV is actually doing very well not only in Romania but everywhere in the world. TV is not dying, TV is having babies: YouTube, Netflix, Online Video etc.
What is your goal for 2018 in terms of revenue, but also new clients, employees, etc?
In the end, the race is only against ourselves. We aim to be better than us last year, when we were better than us previous year.
What do you want for the local industry this year?
I would love to see more thinking on the long term.
How do you see the Romanian market connected to the international one at this moment?
We still like to fool ourselves into believing that we are somehow exceptional (not always in a good way) and that whatever happens in Romania is unique and it's not happening anywhere else. I am sure that Germans, French or Polish people have the same illusions. It is simply the side effect of spending way too much time among your fellow countrymen.
In a digital economy boundaries between local and international fades, trends travel much faster and information is always available. We are inevitably connected, whether we like it or not.
Where is the local industry still lacking and what can it be changed?
We are still very young as an industry. Media people here grew up alongside with the industry. We had to skip steps and this is not always a bad thing. But is not always a good thing, either. We basically moved from starving to 4G in less than 30 years.
In my opinion, what our industry is lacking the most is a proper formal media education.