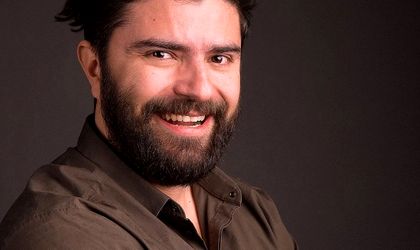 McCann Bucharest has taken the number two spot in Contagious Pioneers 2018, the prestigious magazine's global ranking of the top performing agencies. This is the first time a Romanian agency has made the list. BR talked to Catalin Dobre, recently appointed regional creative director at McCann CEE, about his new role and goals in the position.
By Romanita Oprea
How did your new position come about? Were you expecting it?
I started 2018 with this promotion in the network and I'm looking forward to investing time and energy in taking the creative culture in the CEE region to the next level. I was already in close contact with the creative directors in the region, developing some interesting projects together; therefore the role follows this process of development.
What does the new job involve?
My ambition is to build a creative culture based on the strongest values and highest ambitions. It needs to be a culture that generates famous work for our clients. Work that makes a difference, work that travels and places CEE on the hot map of the most creative places in the world. This way we will be able to attract more and more talent from around the globe, creatives who can bring diversity and enrich this culture. We have a problem with the "brain drain" in CEE. We need to stop it in order to grow as a region.We need to be, without a doubt, the network where ambitious people need to come in order to have the best chance to do great work.
How will it change your everyday work? How much time do you think you will be spending in the offices abroad?
I'm still based in Bucharest and I'm keeping the position of chief creative officer at McCann Bucharest. So I have a strong focus on the local business. At the same time, I'm organizing my time in such a way that I can be involved in the important projects at a regional level. We are building a very collaborative network so we are approaching the big battles as a group, as a creative community. I would spend one day a week in every office, but this is impossible. I try to visit as often as I can and to "creative huddle", working on different projects. Today we also have technology helping us avoid some plane journeys. So, even though I prefer live interaction, I must admit I also "visit" a lot through Skype.
What are the first decisions you have taken?
The first thought is to invest some time in the "creative relationship" in the region. We'll restart planning meetings with the creative directors on a regular basis, hosted by different agencies across CEE. It's essential to spend time together, to grow the work, to spot opportunities, to learn from each other. We are making a habit out of this.
What are your plans and goals for 2018?
We need to see more outstanding projects coming from the region getting recognition in international festivals, and I'm putting in place a system that allows us to grow the work. It's early in terms of preparations, but ideally I would see this year's Cannes Lions as the first milestone. Then, Golden Drum, where we have the Network of the Year title to defend and, of course, Eurobest.
What are McCann's star countries in CEE besides Romania and why?
Lately there is work from Prague, Belgrade, Milan, Tel Aviv and Warsaw getting some big distinctions in festivals. Also, I have seen a lot of ambition and very interesting ideas from across the region and it's just a matter of time until we see winners coming out of more and more countries.
What do you believe distinguishes CEE from Western Europe when it comes to advertising nowadays?
I always like to say that here, in the region, we are lucky enough to have a lot of problems! Because each of the problems can be the start of an amazing idea, as it forces us to come up with a smart solution. We learned this the hard way as we grew up in this part of the world. We needed to find solutions to our everyday problems and this trained us as creatives. It made us more inventive. We got used to looking for the non-traditional approach, for the lateral ideas. And you can see this as a red line in the work coming from the region.
Do you believe that technology will totally blur those differences one day or not?
Technology is just a tool. A tool that gives us access to great opportunities. But, in the creative industries, technology without insight is powerless. People are the ones who need to make the most of technology, to give it value. I would say that technology should help us promote and maintain our creative identity.
What were the weakest points that you want to improve and how will you do it?
It's all about the people. I want to see McCann in CEE as the sexy destination for creatives worldwide, but we are fighting the brain drain. Talented young people are tempted by the big Western city lifestyle and this is pushing them to make a career move. Sometimes they are underestimating the advantages of the region, where you can have a great combination between the opportunity to produce solid work for both local and international clients, a shorter time for the work to get produced and a really good quality of life that is not as expensive as in the West.
I'm considering a branding campaign for the region and, maybe, in the future even starting an advertising school that can grow both local and international talent.
Catalin Dobre
Chief creative officer at McCann Worldgroup Romania and regional creative director at McCann CEE
He started working in advertising as a copywriter, 15 years ago. In 2017 Dobre was named regional creative director for McCann CEE and his first accomplishment was winning the Golden Drum 2017 Network of the Year distinction. More recently, he has also started teaching at the ADC School in Bucharest.