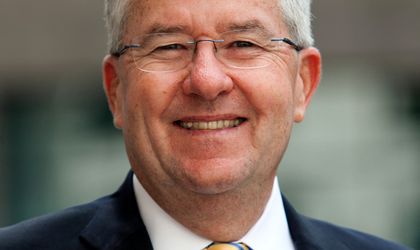 Have you ever thought of the cause and effect of inequality and how leaders of the world can best address its challenges? It may sound very political and distant from Romania, but in reality, it's not. The Romanian chapter of United Way co-organized The United Way Roundtable on Philanthropy in Bucharest, between 27-29 September, a "gathering of like-minded people who believe that positive change in our communities is possible, that we all have a responsibility and the opportunity to make that change," as the event is officially presented. BR went to find out more, going behind the scene with Brian Gallagher, CEO of United Way Worldwide.
Is Romania any different from the reports versus the reality you found here?
First of all, democracy is still young. It seems to me that progress has been made and there are challenges. You could be like the US and have 200 years of democracy and still face challenges, to say the least. Romania is not different from the reports I read. I expected a friendly place from the beginning, and as I mentioned before, the democracy being so young, the enthusiasm is in terms of adolescence, and I like that. Also, this is my second time in Romania, but I have only been to Bucharest so far, and things are always different outside the city capital. But no, it's not different from the reports. One of the things I learned from that question is that I don't have expectations anymore when I go places because you get disappointed if you do. If you go with an open mind, then it is what it is.
What outcome do you expect from the The United Way Roundtable on Philanthropy that president Klaus Iohannis attended?
I for one I'm really pleased that he is going to be there. I wasn't directly involved into the organisation of this meeting, but I suspect that the President recognizes the importance of this roundtable from across the world visiting Romania. They aren't representing NGOs, but they are being important contributors to NGOs as philanthropists who are also leaders into their own countries, my expectation is the meeting itself is an important step. We are not a political organization, but we are willing to get involved with political leaders in order to make them understand our work and what issues we face. To me, it's about relationship and awareness. And in this case, I think this is a good use of his time.
Do you agree with the statement "education must be free of charge and public"? Do you also agree with the fact that education isn't free at all, while several costs should be taken into consideration, such as school supplies, clothing, footwear, food, just to name a few? Who should pay for all of these?
All education should be accessible to anyone. Maybe it should be free of charge for those who really can't afford it, but it must be accessible. People say that the solution is free education. Yes, agree, but we have to create tax levels that will pay for them. However you do it, you have to figure it out how to pay for it. (…) It's about access to quality education.
What should be the role of the government in the non-profit sector? Is there a country which can lead by example on this matter?
Just to be clear, everyone complains about their government. In terms of role, the government has the responsibility to create a safe environment in society, a basic living standard – education, financial support, access to healthcare, that's what the government should provide. In addition to that, the government should create as best as it can an environment that encourages people to get involve into their communities. I would say that one of the Romanian government could do is working on the tax code to create more financial facilities for NGOs. One of the questions for US is why people donate such large amount of money – because is in their own interest.
I will give you three examples because I don't think that is a right way to do it because the government should be a reflection of the culture and history of a country. My examples are US, Canada and Germany. In US, we are very involved into the policy making. (…) The Canadians have summits for their issues, putting together NGOs, business leaders and government officials at the same table to negotiate the social contract for the country. And then Germany, where they are trying to figure out how to integrate the NGOs in the communities because there are not only Germans anymore. The NGOs are currently creating priorities with information coming from the communities. So, one is influencing legislation (US model), one is negotiating social contract (the Canadian model) and one is giving voice to the community (the German model). And Romania should figure out how to put that social contract together. I would say that is needed a national body that represents NGOs. A voice to the public and a voice to the government.
In an interview for The Guardian, you declared that you "mobilize volunteers, sponsors and community organisations for the common good." Can you define this common good?
Let's talk about industrial revolution and how all these started. People where moving from the countryside to the cities for jobs and there was no public wealth and there were no organized places to help people with their need to act collectively – the common good. The core value of who we are is that if a community does well, it may take me a little longer, but common good is a philosophy that if the group succeed, then I will succeed. And the opposite of that is individual success. So our commitment is that the group will succeed. That's common good.   
From my point of view, donating money for a cause is one of the best ways to receive what's called "good PR". Some companies really need it, but how do you convince VIPs like famous actors to donate considerable amount of money for the United Way causes?
Well, actors don't need PR, sometimes they really avoid it because they don't want to be in the spotlight. So when someone like Leonardo di Caprio makes a contribution (editor's note: at the end of August 2017, Leonardo DiCaprio's foundation has donated USD 1 million to relief efforts in the wake of Hurricane Harvey to United Way) it's a matter of trust that the money will be used well, that our work is transparent, that he will get a report. An individual celebrity may not be looking for publicity, they care about the brand. They want to be associate with people and causes that are effective and transparent and ethical. All you have to do is to run your organization that way. Then in time, people will come to you. In the case of Leo di Caprio, we didn't go ask him for money, he found us. And he had never made a contribution to us before. I think I know who made the suggestion, another celebrity, but I won't tell you the name. It's the same thing like to every human being. Your friend asks you to do something, or suggests you to do something. Your brand matters. Your brand is about how you do your work. (…) Do the right thing when no one is watching. And then when you do that, great things will happen to you. Do wrong things when people are not watching, sooner or later you will get caught.