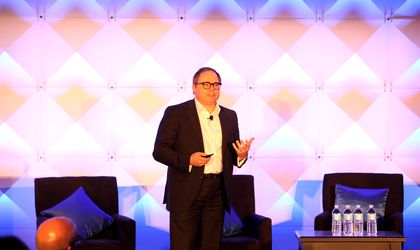 In a market set to exceed USD 5 billion by 2024, UiPath, an RPA software vendor with a Romanian connection, is trying to help reinvent the future of work. After seeing a 600 percent growth in direct sales, the company expects a turnover of USD 35 million and is preparing two major releases for next year. Boris Krumrey, UiPath's Chief Robotics Officer, explains what makes the difference in a highly competitive market.
UiPath has fast become a top global RPA software vendor. What is your competitive advantage?
It would be hard to settle for just one. We have managed to weave into the fiber of the company two major attributes – a relentless commitment to providing a superior technology and a truly customer-centric approach. The best minds in software development are UiPathians, and they have built an open platform that is now able to integrate not only with the latest AI technologies, but also with the strongest security and compliance solutions, allowing our product to respond to a wide array of our customers' needs.
When you ask our customers, it is clearly our technical support assisting them to realize their RPA projects as well as their service integration partners and our robust technology that allows User Interface automation even in very difficult set-ups like remotely operating through Citrix. They also enlist our open architecture which allows them to easily integrate other technologies, our highly scalable architecture, e.g. we are currently running 7,300 robots in our Community Edition in just a single cloud environment with robots distributed all over the world. Last but not least it is our ease-of-use which can enable even non-technical users to create and operate their own RPA.
How did you get here?
It all started with our managers, who decided to play a different game. We were the first to discretize our product and launched its Community Edition that everybody in the world can still download and use. Not only that, but once tens of thousands of specialists started using our product, we continued to innovate it based on constant feedback. In April we launched UiPath Academy, which already has over 30,000 students that are training with our product online, from wherever in the world, and free of charge. And just a few days ago we opened our second massive open online course (MOOC), Academy 2, which goes deeper and trains advanced RPA developers who will be ready for production. Right now when the entire business world has woken up to the imminence of digitization, we offer an unmatched enterprise-grade software platform able to scale up with ease and we have the trained and certified people to handle deployments.
How have you used the USD 30 million financing from Accel Partners so far?
The financing is being directed to hiring the best people, growing the sales, technical customer service organization and product development, expanding into key markets and an infrastructure that is globally expanding. Apart from the headquarters in New York City, we now have offices in Australia, France, India, Japan, Romania, and the UK, and an employee base of over 400 people. Right now, we are focusing on growing and strengthening our partnerships with our service integrators, service providers, consulting partners and technology partners. Especially with the integration of leading technology partners such as Oracle, Celonis and ABBYY, we have realized an expandable and business agile RPA platform that can actually realize a "digital workforce".
In the past few months, you have announced partnerships with Oracle, Deloitte Spain and Celonis. What's next?
We are of course continuing to sign new strategic partnerships with technology partners, but also commercial ones. You will see further strategic partnerships in the Digital Process Automation/BPM and Case Management areas as well as in Cognitive Computing, Deep Learning, Digital Assistants, and Process Intelligence. In our core platform we will focus on further reducing the operating effort with monitoring, intelligent scheduling and additional Data Analytics. We're preparing for the launch of the UiPath product new version to enable these previously mentioned highlights. Our schedule is full!
What releases are you planning for next year?
We are planning two major releases next year. Both of them will introduce new cognitive and several closely integrated technologies that will realize a more human-like capability of our RPA platform. With each release we will aim to improve RPA implementation in reducing time and effort by 20 percent to enable business agility. These releases will set out a platform that is designed for large-scale business operations, an RPA platform that is easily integrated into a large organization by collaborating with the users, robots and AI Services as one would do orchestrating tasks amongst humans. In the second release we will also introduce more granular controls that go beyond role-based security levels.
How many hours of work per year does RPA technology save globally? How about in 2025?
While this is highly dependent on the industry, a latest Deloitte University Press report attributed to intelligent automation (AI-enhanced automation) the potential of saving 1.2 billion work hours annually in the government sector alone. Usually we see tens of thousands of saved hours through an automated process throughout the year.
How will RPA reshape the workforce?
We have heard this doom and gloom approach that RPA will render employees obsolete, but we are seeing that this is absolutely not the case. While RPA is cutting jobs in sectors like BPO and Shared Services, with the help of RPA people are working less on mundane and boring tasks (e.g. entering orders, allocating invoices to accounts, sorting and processing e-mails, etc) and their time is being repurposed for strategic work, such as data analytics, interacting with clients, making judgment calls and getting more creative. In addition, organizations will benefit from the digital workforce – software bots that work 24/7, with an output three to five times bigger, and delivered with zero errors.
In fact our ambition is to bring the software robots closer to humans and enable them to create simple process automations without the requirement of technical skills or any programming knowledge. We believe that Cognitive First is an important strategy to bring AI and RPA closer to people, in the same way as we today use smartphones to help us in our daily life.
In what sectors do you see most growth potential for RPA services?
While RPA can be universally adopted, we are seeing great benefits when deploying RPA in financial and insurance services, healthcare, manufacturing, BPO, telecommunications and the public sector.
Which are, according to you, the countries that will lead or reap most benefits from the fourth industrial revolution?
I can clearly see that history in robotics is almost repeating itself in Japan. Japan is taking the lead in advancing into large-scale RPA deployments in the banking sector with UiPath aiming for 10,000 robot configurations, almost similar to what Kawasaki did in manufacturing at large-scale with the first industrial robots in 1969. Now, with Software Robotics and more mature AI technologies, a new disruptive wave will impact our future way of working. We also see how strong in particular the demand is in the US as well as the large back-office operations in Indian service delivery organizations. Western Europe will see momentum as well but with a much more conscious and cautious view of data privacy and workers' rights protection. Whereas Eastern Europe will most likely strive in this area, even more in countries that have established an outsourcing nearshore delivery.
How much of a Romanian company are you?
UiPath was founded in Romania by two Romanian software engineers, and the company now has a life of its own. We have grown exponentially since its incorporation in 2015, hiring the best talent from literally all over the world, and working with clients worldwide. UiPath is a truly global company.
What is your advice for other Romanian tech startups that want to take over the world?
It all starts with a good idea that responds to a specific market need. While it helps a lot to be a visionary and a pioneer in a field, hard work should not be discounted. UiPath is certainly not the first company to offer RPA, but it's clearly the one that puts the most effort and dedication into creating an outstanding product. A good idea needs to be matched with a strategic approach, a lot of hard work, and a team of brilliant, dedicated people. One particular characteristic of our Romanian CEO and founder that has shaped this company is the ability to learn and adapt. We have learned from our customers how our product should be best designed and where the highest demand for our technology will be. Our adaptability to a growth mindset that attracts talent, helping us to build for the next growth level of our organization, and allowing us to look beyond what we have imagined half a year ago, are key for a successful expansion.