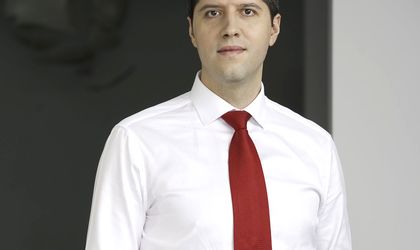 Outstanding talent pool, the digital infrastructure and services offered combined with experience make a Romanian company attractive for investors. Plus, economic context and industry's strengths line up to create opportunities for Romania's technology output.
Anda Sebesi
In which technologies are investors from Romania most interested?
We're currently living a dramatic development in both technology itself and the way it influences the business world around it. What we are witnessing is the rise of disruptive new paradigms, bringing a wave of change that will sweep the economic land-scape. So, currently, companies from various industries are scrambling to catch that wave, especially if it is outside their main area of activity. We're seeing a lot of interest in Romanian technology expertise, whether it is in a support role or directly as IP development assets in these areas, like Internet of Things, Immersive Interaction, Symbiosis with Artificial Intelligence or Cyber Physical Security.
In your opinion, what are the main issues that an investor looks at when deciding to invest in a Romanian company?
The decision to invest is certainly one that depends on many variables and so one should take into account many factors – not all of them related directly to the company it-self. The overall state of the economy, for ex-ample, is an important one. Right now Roma-nia is a very attractive destination from this point of view, having one of biggest growth rates for 2015 and being expected to main-tain that very positive trend for the coming years. I'm referring to tax reductions, and the existing and coming reduction to VAT, for example. Geopolitically, Romania has been a remarkably stable country throughout the last decades, even when facing the volatile situation in the region.
If we were to go deeper, the IT sector is even more attractive because of its high contribution to the GDP (6 percent at the current time, with real possibilities to reach 10 percent this decade), which means it will benefit from the interest of all stakeholders as a strategic development area.
What are the main advantages of a local company in the eyes of investors?
I believe three big factors intersect to create the current growth for the IT industry and make Romanian companies increasingly attractive.
The first one is talent – Romania benefits from an outstanding talent pool, created by a combination of specialized education and work opportunities. The 100,000 people the industry employs give it first place in Europe when it comes to the number of IT certified specialists. There is a good collaboration between institutions and private organizations.
For example, Teamnet has several partnerships with technical universities in Romania, aimed at developing educational programs that create relevant and modern expertise for students.
The second factor is the digital infrastructure and services offered, which are some of the best in Europe from a business standpoint. Romania has a real chance to build on that and exploit the increased adoption of current technologies like Internet of Things, for example, which relies greatly on connectivity. At the same time, investors look at how a new technology meets current needs, for instance the cadastre topic. Through our solutions, we facilitate the modernization of land management systems by integrating solutions that can collect and process a high volume of data. Also, at
Teamnet, we promote their interfacing with mobile devices and with UAVs, systems applicable to developing countries targeted by the World Bank's initiative in this field.
The third factor is experience. Historically, outsourcing coming from major western technology companies has been one (and still is, to a slightly lesser degree) of the main drivers of Romanian IT growth for more than a decade. Still, Romanian companies – even start-ups – are made up of veterans in the field of technology. And the combination of creativity and experience is very attractive.
What is the value of the total investments attracted as a result of the partnership between Teamnet and the World Bank?
The investment plan has been conducted in three rounds so far by the International Finance Corporation, a member of World Bank Group: EUR 5 million in 2014, EUR 1.36 million in 2015 and EUR 4.5 million in 2016. The financing obtained as of 2014 from prestigious financial institutions such as the IFC and Black Sea Trade and Development Bank has been based on the business strategy developed in order to expand Teamnet Group at regional level.
How big is Romania's potential in the technology sector now?
I feel that we are still undervalued as an industry – so there is tremendous growth potential for investments. But what's even more exciting is the increase in Romanian entrepreneurship: original IP that is created and developed right here, and that can be exported.
Teamnet is one of the proponents of original Romanian IP – we've innovated in many of our areas of activity and our products are now deployed throughout the region, as we have offices in seven countries and plan to expand further. Our emergency response integrated systems and our unmanned flying vehicles have found great interest abroad. And I think that's where Romania's potential lies – in becoming a technology exporter of the original Romanian IP. This is a goal we work intensely towards.
To what extent is Romania perceived as a player that brings its added value in the technology field?
Aside from the factors mentioned previously, I think there are a couple of key differentiators, when it comes to foreign perceptions of the Romanian technology industry. The first is a cultural compatibility with the top players in the field. The mix between a very well prepared, multilingual and highly skilled labor pool and the cultural proximity to Western Europe makes our country one of the top choices when it comes to IP creation and development for both European and North American companies.
Another is that Romania is both a creator and a market for technology, so we don't have that cultural separation between product and product creator that happens in some of the more exotic locations developing global IT technologies. A Romanian product developed for the Romanian market can have global appeal as well, making the transition to export much easier and more seamless.
How competitive is Romania in the technology industry now?
As one of the fastest growing economies in the EU and with a strong IT industry that has enjoyed continuous growth for years, I think Romania is uniquely positioned to become one of Europe's IT powerhouses in the near future. As one of the leading technology companies in the country and the region, Teamnet will build on this trend, by investing significantly in new products and services. Innovation is at our core and our entire range of solutions confirms this, bridging that gap between business and technology.
How did Teamnet influence Romania's development from a technological perspective?
Teamnet is a pioneer in the industry. We began to research and develop technological solutions in Romania, when their potential wasn't anticipated by the market.
A current example is that although the local drones industry is still at its beginnings, Teamnet is the only company in the country which has already exported 100% Romanian Enterprise UAVs at regional level and that NATO acknowledges for its "Romanian Hirrus", after the participation at Unified Vision trials.
We also anticipated the importance of GIS competences for the technological development of our country, thus contributing to the implementing of the INSPIRE Directive in Romania, standard set by the European Commission for all Member States.
Teamnet has also developed the national 112 solution, the most important system of a country. Did you know that in 2015 Romania has been declared the country with the best 112 Emergency Calls Center in the European Union, according to the results reported by the European Emergency Number Association? And the list of such examples can continue.
Bogdan Padiu is CEO of Teamnet Group, one of the leading system integrators in Central and Eastern Europe, with offices in seven countries. Padiu started programming out of passion, in 1994, amassing relevant experience and developing his expertise. In 2001, he decided to start his own business in the IT field, founding what is today known as Teamnet Group. With an EMBA from Wirtschafts University of Vienna, his career encompasses 20 years of experi-ence in business development, business strategy, project management, enter-prise software and cloud technology.