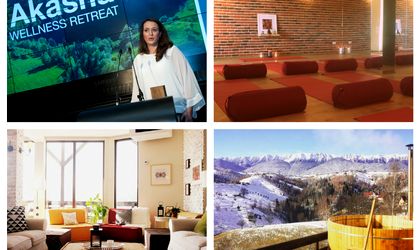 After 20 years living abroad, three local entrepreneurs decided to set up a family business in Romania, combining the idea of offering a unique retreat experience with that of getting people thinking about their own health and wellness in their daily lives. Irina Raileanu, co-founder and retreat coordinator at Akasha Wellness Retreat, tells Business Review the story behind her business and plans for the future.
Anda Sebesi
How did you enter the Romanian business scene and when?
For years, whilst living in London, we had the dream of returning to Romania in some manner. We were not sure at that time if we wanted to start a business here, with the economy, bureaucracy and politics of Romania at times putting us off even considering it. In 2015, we started looking for places we could buy in Romania that would become the space where we could live, work and offer a truly unique experience for our guests that is also in line with our personal goals. It took us almost a year to find what is now the location for Akasha Wellness Retreat. In 2016 we bought an existing successful guesthouse that was running as a boutique hotel and restaurant in Pestera. In November last year, we launched Akasha Wellness Retreat, offering it as a space for conscious living in the heart of the Piatra Craiului mountains.
Why did you decide to launch such a business in Romania?
Travelling around the world, we did indeed consider more popular locations such as Spain, Greece and France that have a history with retreats of this nature. If we had done it in a different country, not only would we have been just another retreat amongst hundreds, but we would also have had to start again, living in a different country.
Secondly, we felt the toxic and stressful effects that living in cities was having on our health and, once we started practicing a healthier way of living, we realized that, like us, there are many others out there, perhaps in Romania and throughout Europe. We knew there would be a market for this and we wanted to share this in a place that had even more meaning to us, Romania.
What was the vision of your business and what is the story behind Akasha?
When we were designing the concept for our business, only one name came to mind, Akasha. It means aether, or space, in Sanskrit. It's the fifth and most important element, from which all the others (fire, air, earth and water) come. The vision was to offer an intimate space for this balance to develop naturally in each person that comes here. Our mission is not just to offer the retreat experience, but also to get people thinking about their own health and wellness in their daily lives, and perhaps be the catalyst of change and forming better habits.
What are the main challenges facing you in your business and how do you solve them?
The main challenges for us are: the difficulty in finding qualified, professional staff in Romania, the preconception people have about what is and isn't healthy as well as the taboo associated with the practice of yoga in Romania. Our instructors are international and live here in Pestera for three months at a time, bringing with them their own experience of running retreats, yoga styles and skills. Part of our work is not only delivering the service, but also educating people about what is good for them, from the food they eat, the way we form meaningful connections, all the way to how to form good habits.
How fierce is the competition in your field of activity and what do you think differentiates you from the crowd?
In Romania, there aren't many centers like ours, intimate dedicated spaces that focus on wellness alone. Of course, there are yoga retreats organized in Romania and we love to see that the idea of taking this type of holiday is becoming more widely accepted. Our concept is the main differentiator: here everything from the decoration of the rooms, the facilities available, the staff and instructors, the community feel and the food are all elements of wellness and they work together to give the retreat experience, not simply a hotel that organizes retreats or a spa.
Recently Akasha presented the Best Start-up award at the 2016 BR Awards Gala to ReFlex, and offered its entire team a retreat. What are the characteristics of your offers for the business, corporate and entrepreneur segment?
The most successful startups and venture capital funds know that to produce results is not about burning the candle at both ends. A long-term strategy is about creating the right environment for your team to thrive.
We want to encourage the entrepreneur community in Romania to learn about and apply this balance between work and life through startup retreats here at Akasha. A holistic approach to corporate wellness includes mindfulness activities for teams, yoga and meditation courses, food that nourishes and heals and dedicated workspaces during their retreat to work and create. So far, we have hosted a number of startups with remote teams and we've seen that they not only love being together outside the office, but they are learning to communicate more efficiently here as individuals, not just as colleagues. They are creating and being inspired by nature and leaving Akasha with the intention of maintaining a regular yoga practice and being more careful about eating healthily when returning home. Our mission is not just about giving people the retreat experience when they are here; our goal is to help them maintain the retreat habits on an ongoing basis at home, the retreat being just the start of the journey to wellness.
Who are your guests?
So far our guests have come from abroad and from within Romania; it's a 50-50 split. We know that outside Romania the idea of going to a retreat is widely accepted and some of our guests go on a few retreats per year. Almost 80 percent of our guests come on their own without a partner, without their friends from home; they meet and make new friendships here as each week, each group becomes like a little family.
What are your plans?
Right now we have Akasha Wellness Retreat version 2.0. In February this year, our spring rotation of instructors and massage therapists arrived and so we are focusing on curating the retreat experience for incoming guests together. Every three months here at Akasha there is a new version; we always look to improve what we do, introduce new elements and new activities, as each resident teacher here adds his or her own experience and skill to the experience.
Our plan and vision is for Akasha to become a hub for creative and gifted facilitators and instructors in the wellness and healing arts from all over the world. We want them all to come together here and offer curated programs. In the future, we'd like to focus even more on the integrative medicine aspect of Akasha and how to prevent disease through a more clinical approach and personalization of each experience; we're working on this to be launched later this year. Right now, we are also preparing for spring and our main goal is starting to grow our own food, from farm to table in less than 50 meters.