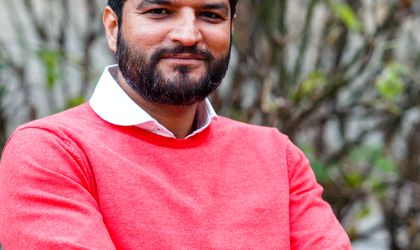 With more than 17 years' experience in advertising and marketing, Ajay Naqvi, former country marketing manager for Airbnb India and creative excellence general manager for Coca-Cola India and South West Asia, visited Romania to serve as president of the jury for the biggest local digital advertising awards competition – Internetics 2016. He sat down with BR to look back on his career.
Romanita Oprea
Advertising was your first passion. Do you believe you chose it or that advertising chose you?
I did my master's in advertising. It was 1999 and given the global recession at the time, jobs were hard to come by. I was studying in this rather small city in India; therefore the only thing I really wanted to do was get out of there and go to a big city. When we went to Delhi, I landed a job at an events management company.
Then, it was always at the back of my mind that I had to get back into advertising, because I always believed there was a reason I had studied advertising. I've always felt that I could do well [in the advertising industry], because I wasn't particularly exceptional at anything else! I tried different services, but I was never cut out for those things and somehow I knew that.
I think that the answer is both: me choosing advertising and advertising choosing me as well. I really felt that I had to move back into advertising when I joined Ogilvy. I believe what they say, that Ogilvy is the Mecca of advertising. If you want to learn advertising, it's the best school and the place where you should be. I spent a lot of time at Ogilvy (four years and three months) and I don't regret it at all.
What do you think are your best skills for the advertising industry?
First, I believe it's emotional intelligence: I put a lot of emphasis on aspects that are not the skills or theory you learn at university or all the books that you read. It's more about how emotionally intelligent you are (are you able to understand people? to observe behaviors? are you able to push and see why a certain behavior exists? observe cultures? etc.). You should be very open and ready to observe things.
Because my father was in the foreign services while we were growing up and we traveled a lot, we were always exposed to many kinds of people, cultures and behaviors. The learning that comes from there eventually reflects on the brands you handle. I strongly believe that brands are nothing but a reflection of the brand owner or creator and his/her value system, beliefs, how he/she wants to see the world and wants the brand to act in the world.
The second skill is very sharp observation.
How did the shift from advertising to marketing come about, especially after so many years of advertising and your love for it?
I've risen very fast in my career, probably because I've had the right people around me and the right brands to work on. I have worked with the best advertising agencies. What I think happened was that I kind of reached the ceiling too fast. In 2005 I was already thinking about what's next. While trying to answer that question, I moved from India to Singapore, where I set up the account and planning functions for Bates Asia. To me, it was like the great things I've done in the past. I've done work that has been solid both on creative and efficiency levels. Therefore, at that time I decided to get out of advertising. However, I didn't go into marketing; instead I became an entrepreneur. I came back to India, spent two years as an entrepreneur in an industry where we were responsible for designing stores, at Shark Design Studio. The business belonged to some friends from high school. I let them take care of the design jobs and I did the merger and acquisition talks. However, I still didn't find the answer.
So I went back into advertising in 2009, leading the largest mobile telephony brand – Airtal, with 300 million subscribers in India. I was a country head of the advertising business,  leading a team of 91 people in 6 offices. I enjoyed the scale of it, leading large teams, being with the best of the best; it was a different perspective. I did that for one year, a period that took its toll on me (I lost a lot of weight, I got grey hair, etc.), working for up to 18 hours a day.
I got out of that and started to work with DDB, where I was responsible for the whole office, including the part of profit and loss, leading the whole north of India. Happily for me, at the same time, I was working on a project for Coca-Cola, after receiving a call from them. The important story is not that I eventually joined Coca-Cola, but the fact that I felt that I had to work for them, and I pushed very hard for it. I felt, at that time, that the Coca-Cola brand was pushing the limits of leadership and creativity, their headline "Happiness Factory" being the best chapter written for the brand in the last 100 years. I thought that this is what I would like to tell the world through a brand. What is it that we should eventually all strive for? To be a leader, to become a part of something that is good for the world or do something that is good for the world.
I also thought that because the brand was not present in India with that positioning, I could translate that for Indians and make them feel a little bit happier. I wanted to do something meaningful and this is how I got into marketing. It has always been about trying to provide meaningful solutions for real problems.
So is this the reason you chose the project StayUncle in which you have now invested and are a business angel?
While everybody knows that India is culturally very rich, there are still a lot of things that keep India back. It's still not realizing its full potential and this is probably because there is a little bit of regression in our culture and part of this is that it is very difficult for couples to go out in public if they are not married. Or to book a hotel room and not feel like somebody is giving them dirty looks. Even hotel managers will sometimes refuse to give them a hotel room. When I met the founders of the project, we decided to change that. They are two young guys that want to make a very large change to the culture and I decided to help them grow the project.
Today they are doing really well, with about 1,200 transactions a month, and they are ready to grow even more.
Going back a little bit, tell us more about your experience at Coca-Cola. What are the most important things you learned while working for this very popular brand?
I found my hero. I personally think that people can spend their entire lives not being able to find their hero, but I was lucky enough to find him in Jonathan Mildenhall, now the CMO of Airbnb. He was my function boss in Atlanta. In my opinion, he is probably the best human being around and he is a super great marketer. He is the guy that made Coca-Cola the Cannes brand of the year.
Also, I think that I produced the best work of my life at Coca-Cola. I never thought that I would be given such a large mandate. I remember that Jonathan hired me the next day after a nice pitch of just minutes. The switch from advertising to marketing can be overwhelming, the scale can make you shiver. I was responsible for India and South Asia, eight brands (a few of them billion dollar ones), and they all needed massive marketing help. For instance, in India, Coke was always behind Pepsi, for the longest time. However, we changed that in three and a half years, overtaking Pepsi by preference, volume and market share. Coca-Cola became the most exciting beverage brand in India. Moreover, with local billion dollar brands and multinational ones (such as Sprite and Fanta), I had the chance of completely repositioning them and being recognized for doing so both inside the company, and regionally, outside it. We received awards every year for creativity, efficiency and marketing excellence.
It has been a huge learning and satisfying professional experience.
Therefore, you moved to airbnb because your hero was there or how did it happen?
I quit Coke because I wanted to be with my family. My wife and my son are living in Romania. In six months after taking the decision I was out of India and living in Romania thinking about all kinds of possibilities from organic farming to starting a pension in Viscri, all kinds of things.
Officially soon I will be a farmer in Romania, having a blueberry farm.
But when Jonathan called and ask for my help in setting things up for airbnb in India, with the promise that if I didn't like it I could always quit, I couldn't say no. So I went, set things up, launched the first marketing campaign of airbnb in India, after 4 and a half years of airbnb existence in India, but after 6 months I quit. I told him that, in my opinion, the business is rather small and is not going to be a challenge for me, keeping me busy.
He then asked me to come work with him in San Francisco, but I realized that I don't want to keep on working for large companies and brands, that I want to be able now to give back. Giving the way the world is changing I believe that there will be a lot of people out there that will need the help of people like me, so I decided to spend some more time in India and Romania, on my own.
When you first came to Romania how did you perceive the advertising world and what are the major changes you see that happened in the meantime?
Fortunately for me, when I came here the first time, I made some really good friends in advertising. All the multinational agencies in India that have offices in Romania offered to put me in touch with their representatives here. The only offer that I took up was to meet with Stefan Iordache from Leo Burnett, we met at a coffee and didn't discuss advertising at all. We kept on meeting, I bought some cigarettes from some friends of his, because I was out of cigarettes, and it was a great way of entering the Romanian advertising scene.
I think that, not because I was able to observe the change in the advertising in Romania, but because of the amount of work I've been going through as the Internetics 2016's Jury President, I have to say that I am really excited about the kind of advertising that is happening, especially in the digital space. I've posted some things of Facebook  about the campaigns that I thought that are really responding to the real-time conversations in the social space or in the cultural space or in the world at large (from responding to Brexit to responding to Bernie Sanders). I think that is something really amazing. It tells me something about the speed of reaction, about the fact that the agencies are ready to take things head-on and deliver quality, in short notice.
With all of that combined, I think it's just a matter of time until de Romanian work starts getting spoken about even more in the larger world.
About
Ajay Naqvi, investor in StayUncle & president of the jury at Internetics 2016
He invests, incubates and advises startups in India in the social economy and IoT space. Established as a creative revolutionist, with a strong brand positioning, and integrated communication expert, Naqvi has worked at some of the most respected advertising agencies and iconic brands. He has helped reposition brands such as Tata Sumo, Tata Safari, Limca, Coke India, Thums Up, Maaza and Sprite and has won several major awards.