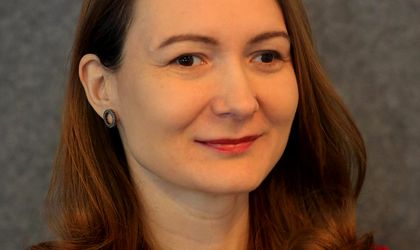 Adriana Record, executive director of the French Chamber of Commerce in Romania (CCIFER), says that although opportunities are at their highest in the country, the inconsistency in the application of economic laws, regulations, policies and procedures is still a burden for many companies.
 Anda Sebesi
How has the business environment evolved in the last year from CCIFER's perspective?
French investors in Romania have found business opportunities since the early 90s and built a long-term relationship with Romania. Today, CCIFER has more than 450 members, representing 15 percent of the GDP and more than 135,000 employees.
Every year, including in 2015, we feel a real dynamic from the newcomers and an optimistic perspective from the investors that are already here. Our community is constantly developing and we are confident that the newcomers are here to stay. For example, last year Airbus opened a new factory in Brasov, Lactalis bought the Romanian company Albalact and Leroy Merlin presented its plans for expansion and regional development, thus creating more than 60,000 new jobs. Our quarterly barometer showed an optimistic trend at the beginning of the year and throughout all the consultations we have had with companies we can easily confirm this perception.
What are the main challenges for French investors that have businesses in Romania?
The CEOs of the CCIFER member companies believe that Romania is more and more attractive to foreign investors as the economic, political and social environment has improved in recent years. The big French groups were the first to penetrate the Romanian market and over the last 20 years they have structured their activities and were followed closely by lots of SMEs. French investors struggled to develop their activities in a rather difficult economic context which was not that open or favorable to new investments.
Amongst the main challenges faced by investors we can mention the ability to adapt to an ever growing market, the potential of diversifying products and increasing the quality of human capital on a competitive market. Opportunities are at their highest in Romania but the inconsistency in the production and application of economic laws, regulations, policies and procedures is still a burden for many companies.
What are some of the initiatives undertaken by the CCIFER aimed at improving the local business climate?
Over the 20 years of its existence, CCIFER has assisted more than 1,000 companies interested in the Romanian market: searching for customers or providers, providing support and helping firms set up offices in Romania. At the premises of the CCIFER offices we also have an Incubator which aims to help firms become immediately operational in its Bucharest business headquarters. CCIFER provides French and Romanian companies with space for their head offices, a postal address and work spaces for their staff.
CCIFER gives access to a network of professionals throughout all the key economic sectors. We are trying to develop our network outside Bucharest and accompany our members in their areas of work by bringing valuable expertise from the community.
Throughout our working groups on agriculture, investments, construction, European financing, human resources, new technologies, social responsibility and the French Hub, we gather members around the same theme of business and activities in order to reflect upon key measures and to propose further position papers to help the Romanian authorities with our expertise and "savoir-faire". We present ourselves as a key strategic partner to help with the development of the country and to attract new investors. Our advocacy measures are public and transparent, seeking to initiate an open dialogue between public and private players. Last year we had a position paper on the Labor Code and this year we have just released a position paper on the dual education system, to highlight our companies' need for a skilled work force.
In addition, this year we have created the French Hub, a club for entrepreneurs open to all CCIFER members who have developed their business from scratch. With our expertise and that of our members we offer mentoring, dedicated workshops, and consultation in project development and financing opportunities.
What are your expectations for Romania's economic growth in 2016?
At the moment the economic growth in Romania is among the highest in the EU and is forecast to remain above potential in 2016 and 2017. CCIFER members are quite optimistic about the economic situation and the current state of the business community in Romania. According to the Department for Foreign Investments and Public-Private Partnership, the real GDP growth rate was 3.8 percent in Q4 of 2015, one of the highest in the EU 28, with forecasts maintaining a positive outlook.
 What are the attractive sectors for a French company that would like to set up shop in Romania now?
When speaking about the most profitable business sectors, we can mention the automotive industry which contributes the most to economic growth. In 2014 the automotive industry represented almost 11 percent of GDP, from a global value of EUR 16 billion. Another branch with high potential is the energy industry, using both conventional and unconventional resources. Other key sectors are electrical engineering, IT, electronics and chemicals, rubber industry, textile/shoes/leatherwork, wood treatment and the food industry.
How many members does CCIFER have and how much have they invested in Romania?
French investments in Romania are up to EUR 4.1 billion, with France the fifth biggest investor in Romania. In addition, France is Romania's fourth biggest trade partner with a 6.8 percent market share.
The local subsidiaries of big French groups have a strategic and sustainable place in the Romanian economy and they occupy in general first or second position in all key areas of industry and services.