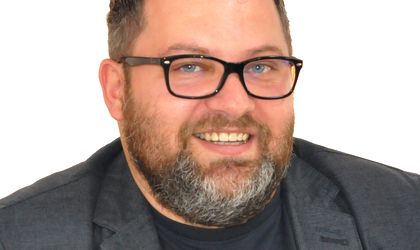 Adrian Sita, head of IT company Gentlab, tells BR in an interview the company is looking for finance to expand its products abroad, while locally it plans to increase its headcount and turnover, which might exceed the EUR 500,000 mark this year.
What was the turnover of Gentlab last year and what is the target for 2017?
Last year turnover was EUR 380.000 and the target for 2017 is a 25 percent growth from the previous year, from outsourcing and product sales
How many employees does Gentlab have at this moment? Is the company looking to hire new people this year?
At this moment we have 30 employees in our office in Bucharest and 10 employees in Onesti office. We plan to hire over 10 people by the end of this year.
What are the figures of the three products developed by Gentlab (Komm.io, Knolyx and Kinderunity) in terms of number of users and revenue generated by each one of them?
Kinderunity serves over 50 private kindergartens with 350 of users; Knolyx is used by 7 companies.  The platform has now entered 7 pilot projects. Meanwhile, Komm.io is used 7 companies. We estimate a total revenue of EUR 24,000 by the end of 2017.
Is Gentlab looking to develop new products?
For the moment, our focus is to develop these three products which are totally adaptable to the needs of each organization. We are trying now to access an investment fund and to extend the presence of these three platforms on international markets.
What does the massive expansion of AI and IoT projects mean for Gentlab? Is the company working on projects in these fields?
We are fully aware of the AI and IoT growth. Actually we are looking to keep up with the development of technology to update our products.  For sure we will focus on communication paradigms based on IoT, for our platforms.
What are the main challenges for an IT company in Romania?
As many IT companies, the main challenge is to find new employees. Also, as mentioned before, the global growth of Gentlab is a challenge for us this year.
How many highschool students work as interns at the company's office in Onesti? How many of them were hired by Gentlab?
In the Onesti office, Gentlab hired five highschool students.