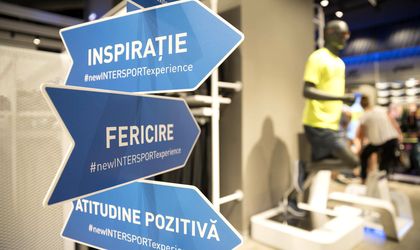 Sport retailer Intersport, present in Romania since 2004, announces the launch of the first innovative home concept store in AFI Cotroceni, Bucharest.
"What makes the new store concept special is the increased attention we give to training areas, the needs of the female audience, but also to the improved experience the consumer can have when it comes to the Intersport store in AFI Cotroceni. With a different approach to sports, equipment and nutrition, this is the first 2.0 store concept in Romania, "said Antoniu Niţuleasa, general manager of Intersport Romania.
The modernized store covers an area of ​​825 sqm and is designed so that the sections divided into sports activities are distinct and consumers can easily discover the areas.
In the store can be found products from all major sporting categories such as Running, Fitness, Outdoor, Winter Sports, Team Sports, Swimming, Tennis, and new Sports Style trends.
Also, the children's section is well represented, with a variety of products, from clothing, shoes, accessories to various types of sports.
Customers can find out information and test products in dedicated areas such as:
"Action areas" and "Deco Points", specially designed spaces for product presentation and hosting of different actions, new technologies and seasonal proposals;
"Soccer Grass Split", a special area for testing footballers according to the field;
"Digital Screens" with special touch screen displays for e-Shop browsing and online shopping.
The last category also benefits from a range of services such as:
"Foot scan & Dynamic Analysis and 3D football analysis", providing accurate footforms and morphology, as well as details of specific footwear models that fit the features of the foot;
"Score For More", the Intersport loyalty program that offers unique benefits to its members.
Intersport Romania is a member of the Fourlis Group, which has 14 stores in Greece, Cyprus, Bulgaria, Turkey and Romania. Worldwide, Intersport International holds the leading position in the retail sports and sports goods market, with 45 countries, with a network of 5,400 stores.